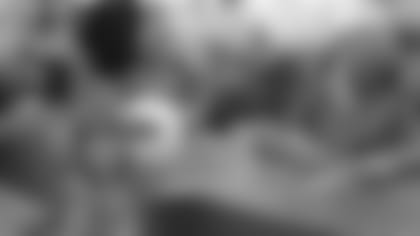 A young Titans fan waits as offensive tackle Michael Roos signs his autograph for her Monday at the Kroger in White House, Tenn.
WHITE HOUSE, Tenn. -- Matt Hasselbeck remembers how much it meant to him to meet an NFL player as a child -- even though his father, Don, spent nine years in the NFL as a tight end with four different teams.
"I remember how excited I was to get to see some of the people that I saw on TV and just touch their jersey or catch a pass from them," Hasselbeck recalled Monday. "To be one of those people now that gets to impact kids that way is really a great opportunity and I'm looking forward to it."
Hasselbeck joined offensive tackle Michael Roos and cornerback Jason McCourty Monday for the opening day of the 2012 Titans Caravan, sponsored by Grange Insurance.
The annual goodwill tour  throughout Tennessee, Kentucky and Alabama began in 1998 as a way to help Titans players, coaches and staff connect with fans as the franchise moved from Houston to Tennessee. It's been such a popular, anticipated annual event that the organization has kept it in place over the years.
Fourteen years later, Titans Caravan has made over 700 stops, traveled approximately 50,000 miles, visited close to 300 schools and allowed the team to interact directly with an estimated audience well in excess of 100,000 fans.
Titans Caravan will spend the next two weeks making 50 total stops, including school visits and public autograph signings with Titans players and T-Rac throughout the Mid-South.
Roos, a two-time All-Pro tackle, got things started Monday with a combined school program targeted at students from Greenbrier and Watauga Elementary Schools at Robertson County's Greenbrier High School.
The school portion of Titans Caravan emphasizes the NFL's "Play 60" initiative that encourages children to study hard and get a minimum of 60 minutes of outdoor, physical activity each day. In addition, the program introduces students to the Tennessee state park system, encouraging them to take advantage of state parks and get outside.
Roos was greeted by an enthusiastic crowd of students that chanted "Roooooos" as he was introduced inside the Greenbrier High School gymnasium.
"There's really nothing else you can compare it to seeing how happy and excited these elementary students get just to look at an NFL player," Roos said. "It doesn't take a lot of effort for us to do this and it's fun to do.
"We have a lot of fans throughout this region that support us on Sundays, so it's fun to come out here and at least let them get an autograph and see some of the players and tell them we appreciate them supporting us...hopefully it puts a smile on their face."
Roos also understands the importance of the team's message to students -- study hard, eat healthy and stay fit.
"When I was a kid all we did was go outside and play all day," Roos said. "Some kids have gotten away from that with TV, video games and that kind of stuff. I think it's important to stress the importance of going outside and playing 60 minutes a day, and it's beneficial to have players from the Titans emphasize that point and drive it home."
Hasselbeck joined Roos at the White House Kroger, where fans anxiously awaited the arrival of the specially-decorated motor coach provided by Grand Avenue.
Hasselbeck, in his second season with the team, is more than happy to take part in this year's caravan tour.
"I think it's exciting any time you get the chance to see the people that support you," he said.
Monday's visit, however, wasn't Hasselbeck's first to White House. He said he's been here before for his children's youth soccer games and tournaments.
"So when I came into this Kroger the first time, there wasn't all the cameras and I didn't have my jersey on," he said. "It was a very normal experience. This will be a little bit different. T-Rac is following me around...this should be fun."