NASHVILLE, TN, May 13, 2008-Titans cornerback Nick Harper continued his involvement with the U.S. Armed Forces by visiting with recently enlisted soldiers preparing for basic training. Held at the American Legion Post 88 in Donelson, Tenn., close to 100 students, parents and Army recruiters were in attendance to meet and listen to the second-year Titans player.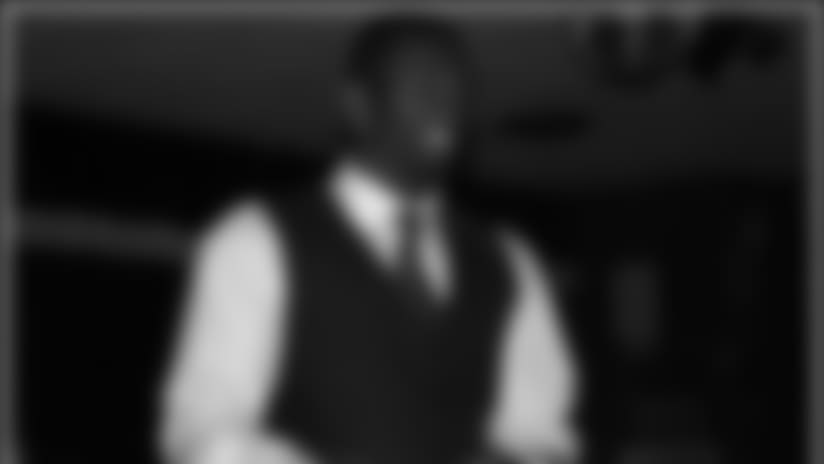 "I am so inspired by you," Harper told recent U.S. Army enlisters during a gathering at American Legion Post 88.

An atypical journey to the NFL not instantly filled with the glamour, stardom and big contracts, Harper shared with those in attendance his personal story of dedication, hard work and perseverance that eventually led to him becoming a Super Bowl Champion. "In life we are dealt cards and with those cards, we have to play them to the best of our abilities," said Harper. "There are going to be some rough patches, but as long as you are dedicated to your goals and are focused on them, believe me, you will not stray."  
Arranged by the U.S. Army as part of a program that encourages the recruiters, new enlisters, parents and friends to come together once a month to fraternize, eat and listen to a guest speaker. According to Lt. Colonel Sam Williams, "We couldn't have had a better person come and speak to our young people today than Nick Harper."

All eyes were glued on Harper as he spoke about his path to the NFL and his experiences while visiting troops in Iraq.

In addition to speaking on his path to the NFL, Harper also touched on his trip to Iraq last offseason. As part of the Gridiron Greats Tour 2007, Harper along with two fellow NFL players, traveled to Iraq and during their 10 day trip, visited 10 separate military bases, uplifting morale, signing autographs and taking pictures. "I am so inspired by you," Harper told the young men and women in attendance. "You risk so much so that your family and my family can be safe and for that I am appreciative." 
Being able to see the realities of what is happening in Iraq and the strength of the soldiers, to Harper, is "so uplifting."
After his address, Lt. Col. Williams presented Harper with a commemorative coin, signifying the Army's appreciation of him taking time out of his day to meet with the future soldiers and their families. Soldiers then were able to talk with Harper one on one, get an autographed poster and pose for a picture, something Harper let be known means more to him than they know.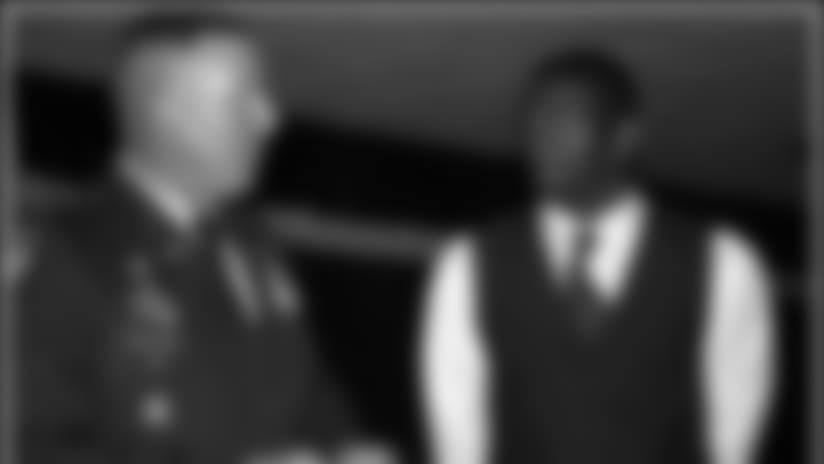 Harper (right) is presented with a commemorative coin by Lt. Col. Sam Williams.

"Anytime I can get out in the community and meet with young people, it's a blessing," said Harper. "But to be able to come out and meet with young people that are not only Titans fans but people who have chosen to defend our freedom, I am not only more than willing but I am honored."