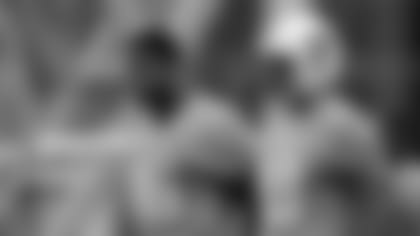 Top draft pick Derrick Morgan (left) watches from the sideline during Tuesday's practice.
NASHVILLE, Tenn. -** So much for the eagerly anticipated arrival of Tennessee's top draft pick. The Titans are going to have to wait just a little bit longer to see how defensive end Derrick Morgan does with the whole team.
Morgan watched Tuesday as the Titans convened for their first minicamp as a full team this offseason with veterans and rookies combined. The 16th pick overall tweaked a hamstring running sprints Monday, and the Titans chose to let him rest up rather than risk further injury.
"He is just a little tight,'' coach Jeff Fisher said of Morgan. "It is a precautionary thing. We are just going to watch him. A significant injury right now could result in a huge setback, so we are just going to watch him.''
The caution is because the Titans watched top draft pick Kenny Britt start training camp last year on the physically unable to perform list after hurting his hamstring in May.
Morgan is one of several new players Tennessee added to get younger and faster on defense. Morgan is the youngest of a a draft class featuring five defensive players, and the Titans also added defensive end Jason Babin, linebacker Will Witherspoon and cornerback Tye Hill.
Now the Titans are busy putting those pieces together to improve a unit they desperately need better production from after missing the playoffs last season at 8-8. By the time the season starts Sept. 12 against Oakland, the Titans could have as many as four new starters on a defense that finished 28th in the NFL in total yards allowed and next to last against the pass.
How quickly can the revised defense come together?
"I can't answer that. I don't know how long,'' cornerback Cortland Finnegan said. "But it's got to come together by the first game. We've got OTA.s (minicamps), training camp and preseason to get it all together. I think we will take the coaching, self-critique you all the time, and we'll get better as individuals and as a team.''
For now, the open starting spots are at right defensive end where Kyle Vanden Bosch was allowed to leave in free agency for Detroit, left cornerback where Nick Harper was allowed to just leave and outside linebacker where Keith Bulluck is an unrestricted free agent recovering from a torn anterior cruciate ligament.
A fourth job could be open depending on the health of outside linebacker David Thornton. He has yet to practice as he recovers from shoulder surgery, which ended his last season in late December, and also a hip injury that limited him much of the season. Gerald McRath, who started five games for Thornton in 2009, is playing in that spot right now.
Fisher said Tuesday that Thornton's health is a legitimate concern and the coach repeated himself that he would love for Bulluck to finish his career with Tennessee. Bulluck's name plate is still above his locker, but the Titans want to see him healthy first before the season starts. Then there's trying to get him under contract.
The competition to start opposite Finnegan features former first-round draft pick Hill along with Rod Hood, Ryan Mouton, Jason McCourty and rookie Alterraun Verner, a fourth-round draft pick with 13 interceptions at UCLA. Fisher said they will compete into the preseason before they settle on a starter.
This defense works best when the four linemen don't need extra blitzers to sack quarterbacks or at least force them to throw the ball before they want. Tennessee got only 31 sacks in 2009, and that is why the Titans drafted the 6-foot-3, 266-pound Morgan.
The All-American and the Atlantic Coast Conference's defensive player of the year had 19 1/2 sacks in 27 starts at Georgia Tech with 29 1/2 tackles for loss. Assistant coach Jim Washburn said Morgan is tough and a good football player, but he's waiting to get excited once he sees Morgan a few times in full practices with the team.
Babin, a first-round pick by Houston back in 2004 now on his fifth NFL team, intrigues Washburn even more. The Titans signed him in March, hoping for a find similar to 2005 when they took a chance on Vanden Bosch and watched him go to three Pro Bowls.
Washburn said Babin has "flopped'' everywhere he's been with some of the blame his own and the rest to teams trying to make him fit their schemes. Tennessee just lets linemen chase away, making offenses adjust.
"I think if he's got a chance, if this is his last train to Clarksville, ... he's got a chance here because he's good at what we do,'' Washburn said.
NOTES: Fisher said rookie running back Dominique Lindsay out of East Carolina hurt his Achilles tendon at the end of the Titans' rookie orientation, which ended May 1. Lindsay has had surgery, ending his season. ... Verner and running back LeGarrette Blount missed the minicamp session because school hasn't finished yet at UCLA or Oregon.