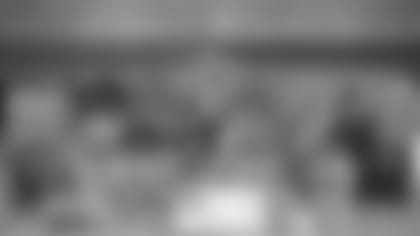 Titans fullback Ahmard Hall pictured with students at The Discovery School in Dickson, Tenn.
NASHVILLE, Tenn. -- Titans fullback Ahmard Hall made a surprise visit to The Discovery School in Dickson, Tenn, which won the appearance as part of the NFL's Back to Football Friday Super School sweepstakes.
The NFL selected one school in each of the 32 NFL markets and two non-NFL markets as super fans for the ultimate school appearance and a $10,000 grant.
For selection purposes, The Discovery School was considered a national "non-market" winner. The Nashville market winning school, Mt. View Elementary School in Antioch, TN was selected last October and also received a $10,000 grant and visit from Hall.
To celebrate the start of the 2010 NFL season, Titans fans were encouraged to demonstrate their passion for their favorite team by planning a unique Back to Football Friday event for their school, all to support youth health and wellness. Approximately 5,500 schools from across the country entered the Back to Football Friday contest by submitting photos of their event and answering brief essay questions that were evaluated by the NFL for their show of support for their favorite team and their commitment to health and wellness.
Hall helped present the $10,000 grant from Titans Owner Bud Adams, his fellow NFL owners and NFL players league-wide to the school for health and wellness programming and equipment.  He also participated in the "Ultimate NFL Physical Education Class," leading 5th graders through stations that included jumping rope, resistance exercises and a football relay.  The sweepstakes was part of the NFL's "PLAY 60" campaign, which encourages healthy living through and active lifestyle that includes 60 minutes of play per day as well as a eating a balanced nutritional diet.
The Titans are partners with the Southeast Dairy Association and American Heart Association in relaying the Play 60 message.
Titans mascot, T-RAC, was on hand to greet the students and show off his best PLAY 60 moves for the crowd that filled the auditorium before Hall, a fifth-year pro and one of Tennessee's captains, was introduced to the school.
Hall told the students that he began to find his love for football when he was their age.  In addition, he spoke about the importance of living a healthy lifestyle, eating right and getting plenty of exercise.  Hall detailed a typical day at the office for the students and what it is like to be a professional football player, making many comparisons to being a student.
The school's principal, Mrs. Bogdan, credits her staff for their winning entry into the contest.   The school plans to use the grant money to continue to promote healthy lifestyles to students.   She also felt that the appearance and Hall's encouragement of leading a healthy lifestyle would serve as a lasting memory for the children.
Hall is the Titans PLAY 60 campaign spokesperson and continues to deliver the important message of leading a healthy and active lifestyle for all generations.* *
About the NFL/Titans "Play 60" Campaign:The Titans "Play 60" initiative encourages youth to get at least sixty minutes of physical activity or play per day in effort to fight childhood obesity. Partnerships with local non-profit organizations, like Nashville Metro Public Schools, American Heart Association and the National Dairy Council, have enhanced this mission and opportunity to reach out to America's youth.  Since the NFL's Play 60 inception, the NFL has committed over $100 million to youth health and fitness through programming, media time for public service announcements and grants from Titans Owner K.S. "Bud" Adams, Jr., and his fellow NFL owners and players.  For more information about the NFL's Play 60 campaign please visit http://www.nflrush.com/health.
About the Southeast Dairy Association:
On behalf of dairy farm families, the non-profit Southeast United Dairy Industry Association, Inc. (SUDIA), works with schools, health professionals, retailers, dairy processors and the public to promote dairy foods. For more information, visit www.southeastdairy.org or click here to connect with SUDIA on Facebook.
About the American Heart Association:
The American Heart Association is a national voluntary health agency whose mission is to build healthier lives, free of cardiovascular diseases and stroke. To find out how to help kids live heart-healthy lives, visit www.heart.org/kids. To learn more about your heart health and what you can do about it, take the "Life's Simple 7" quiz at http://www.mylifecheck.org/. Titans fullback Ahmard Hall made a surprise visit to The Discovery School in Dickson, Tenn, which won the appearance as part of the NFL's Back to Football Friday Super School sweepstakes.