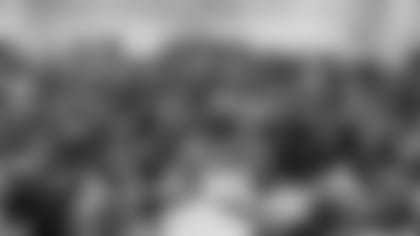 Titans fullback Ahmard hall greets students at Mt. Mount View Elementary on Tuesday.
NASHVILLE, Tenn. -- Students at Mt. View Elementary School on Tuesday gave a rock star's welcome to Titans fullback Ahmard Hall, Titans cheerleaders Brianne and Danielle, mascot T-Rac and representatives from the team and the NFL during their PLAY 60 Super School visit.
The appearance was part of the NFL's Back to Football Friday Super School sweepstakes in which the NFL selected one school in each of the 32 NFL markets and two non-NFL markets as super fans for the ultimate school appearance and a $10,000 grant.   
To celebrate the start of the 2010 NFL season, Titans *fans were encouraged to demonstrate their passion for their favorite team by planning a unique *Back to Football Friday *event for their school, all to support youth health and wellness. More than 5,500 schools across the country entered the *Back to Football Friday contest by submitting photos of their event and answered brief essay questions that were evaluated by the NFL for their show of support for their favorite team and their commitment to health and wellness.
Hall helped present the $10,000 grant from the NFL to the school for health and wellness programming and equipment.  He also participated in the "Ultimate NFL Physical Education Class," leading students who were chosen for their citizenship through stations that included jumping rope, resistance exercises and a football relay.  The sweepstakes was part of the NFL's "PLAY 60" campaign, which encourages healthy living through an active lifestyle that includes 60 minutes of play per day as well as a eating a balanced nutritional diet.  The Titans are partners with the Southeast Dairy Association and American Heart Association in relaying the Play 60 message.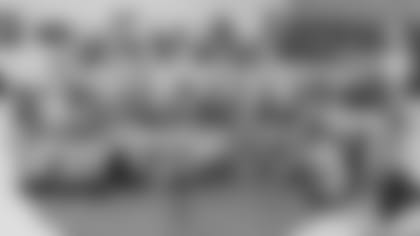 Hall pictured with students at Mt. View Elementary.
Hall, a fifth-year pro and one of Tennessee's captains, told students he wanted to play guitar or piano when he was their age, but he also had a love for football.  He told the school's nearly 900 students about the importance of living a healthy lifestyle and about what it is like to be a professional football player, making many comparisons to being a student.   He also told students about the rigorous work the Titans do during the week to prepare for games. He said he arrives at Baptist Sports Park, the Titans' practice facility, about 6:30 a.m. on routine Wednesdays and players study film, terminology and a playbook of more than 100 plays each week before hitting the practice field for "our recess" before they go back and study more after practice before they go home to their families.
The students' response to Hall was overwhelming, with cheers, high-fives and hugs throughout the visit.
"It was awesome," Hall said. "I felt like the Beatles or Michael Jackson.  It's a great feeling when all those kids support you, listen to you and take into mind what you're trying to tell them."
Mt. View Elementary teachers decorated their classroom doors, the PE teachers painted the lines of a football field while art teacher Wesley Butler and students painted the Titans' logo at midfield on the hillside in front of the school that faces Murfreesboro Road in Antioch, TN.  The school plans to use the grant money to start "Mt. View in Motion," a program that promotes healthy lifestyles to students and their families.  In addition, Principal Julia Lamb said the school plans to purchase playground equipment to improve recess opportunities.  Lamb added the school was overwhelmed when it found out they won the grant.
"You could hear us all the way down Murfreesboro Road," Lamb said. "They were so excited because we really need playground equipment."
Lamb said the visit from Hall and the other guests completed the experience.
"It was the chance of a lifetime, an opportunity for these kids and the teachers and for me as well," Lamb said. "You could see they were so excited and I know this is an experience that they'll never forget."
Hall told reporters that the PLAY 60 campaign is an important message for everyone and the response to the program has been great.
"I think it's doing very well," Hall said. "When you can get some public figures that kids recognize and respect, since it's NFL players coming out here and teaching them and letting them know the things they can do to help their bodies and live a more healthy life, I think they'll listen."
About the NFL/Titans "Play 60" Campaign:
The Titans "Play 60" initiative encourages youth to get at least sixty minutes of physical activity or play per day in effort to fight childhood obesity. Partnerships with local non-profit organizations, like Nashville Metro Public Schools, American Heart Association and the National Dairy Council, have enhanced this mission and opportunity to reach out to America's youth.  Since the NFL's Play 60 inception, the NFL has committed over $100 million to youth health and fitness through programming, media time for public service announcements and grants from Titans Owner K.S. "Bud" Adams, Jr., and his fellow NFL owners and players.  For more information about the NFL's Play 60 campaign please visit http://www.nflrush.com/health.
About the Southeast Dairy Association:
On behalf of dairy farm families, the non-profit Southeast United Dairy Industry Association, Inc. (SUDIA), works with schools, health professionals, retailers, dairy processors and the public to promote dairy foods. For more information, visit www.southeastdairy.org or click here to connect with SUDIA on Facebook.
About the American Heart Association:
The American Heart Association is a national voluntary health agency whose mission is to build healthier lives, free of cardiovascular diseases and stroke. To find out how to help kids live heart-healthy lives, visit www.heart.org/kids. To learn more about your heart health and what you can do about it, take the "Life's Simple 7" quiz at http://www.mylifecheck.org/.