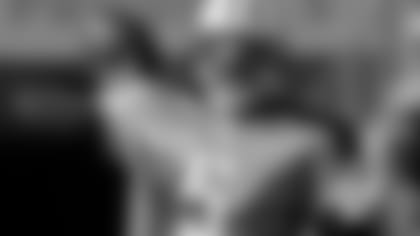 Veteran QB Kerry Collins is joining the AFC South-rival Indianapolis Colts after spending the last five seasons in Tennessee.
INDIANAPOLIS -The Indianapolis Colts are bringing one veteran quarterback out of retirement.
The Colts agreed to terms Wednesday with Kerry Collins, making him the likely starter in case Peyton Manning hasn't completely recovered from offseason neck surgery when the season opens Sept. 11.
Collins said he has been given no indication that Manning won't play at Houston.
"Hopefully, Peyton will be back, but if he's not maybe I can be one of the guys that can help this ball club,'' Collins said in a conference call with reporters Wednesday night. "The biggest draw for me coming here was just being with a team that I have a lot of respect for and a lot of history with, and really to be with a great team and play with one of greatest quarterbacks of all time.''
Collins agreed to a one-year contract and acknowledged he could be talked into staying longer than 2011.
Not everyone in the Colts locker room is enamored with the move.
"We don't even know him, we ain't vanilla, man, we ain't no simple offense,'' receiver Reggie Wayne said. "So for him to come in here and be the starter, I don't see it. I think that's a step back.''
Colts coach Jim Caldwell wasn't available to talk with reporters about Collins, a player he coached at Penn State, because the official announcement didn't come until after practice. Caldwell spoke with reporters before practice. But he struck a calm tone in a statement released by the team.
"He is a veteran quarterback who has started many games and he brings dimension and depth to the quarterback position, which will be helpful,'' Caldwell said. "He is familiar with our division and will make a great addition to our roster.''
The move is another indication that Manning's streak of 227 consecutive starts, including playoff games, is in serious jeopardy for the first time since 2008.
Manning had surgery May 23 to repair a nerve in his neck, and the recovery has gone slower than expected partially, Manning said, because he couldn't work out with team trainers during the 4 1/2-month lockout.
On Saturday morning, Colts owner Jim Irsay wrote on Twitter that the Colts should be prepared to play without Manning in the opener against the division-rival Texans. Later that day, Manning acknowledged he did not expect to play in the final two preseason games and that he would need the next two weeks just to get healthy.
Collins said the first call from Indy came Saturday, too.
Caldwell hasn't said when he expects Manning to return to the field after signing a five-year, $90 million contract to stay in Indy last month.
"I think he laid out pretty well where he is, and that he is working extremely hard to try and get back as quickly as he possibly can,'' Caldwell said Monday. "He's going to work hard at trying to get back and get ready, and he's doing everything he can to do so.''
And if he's not ready? Well, there's Collins, who has played in 195 career games with Tennessee, New Orleans, the New York Giants, Oakland and Carolina before retiring in July.
Collins has a career 55.8 completion percentage and has thrown for 40,441 yards, 206 touchdowns and 195 interceptions. As the starter, Collins has led his team to the playoffs four times, including a Super Bowl appearance with the Giants in the 2000 season.
Wayne, a five-time Pro Bowl player and one of Manning's favorite targets, has supported backup Curtis Painter. And while he called Collins "a great guy,'' he said he was worried about the Colts getting better.
"Who says Kerry's going to be the starter?'' Wayne said. "Just because we bring him in doesn't mean he's the starter. He's got to learn too, right? Unless they gave him a playbook months ago, he's got to learn to.
"I don't care who you are, I mean I'm not going to let anyone just come in here and just push someone (like Painter) aside like you're that dog now, you know what I mean?'' Wayne added.
Painter has started both preseason games this year, completing 8-of-16 passes for 95 yards with no touchdowns and one interception. In Friday night's 16-3 loss to Washington, Painter managed only one first down and couldn't get the offense past its 29 despite playing the entire first half.
He hasn't played in a regular season game since 2009. Another backup, Dan Orlovsky, has played in 13 games in six NFL seasons, and the other quarterback on the roster is undrafted rookie Mike Hartline.
For his part, Painter doesn't expect it to take Collins long to get up to speed.
"He's a veteran guy, been around a while, I'm sure the terminology across the league isn't too different,'' Painter said. "I expect he'll come in and pick it up quite well.''
Collins didn't waste any time getting started, either.
"It's going to be like learning a foreign language,'' he said. "The concepts will be the same, but the terms will be completely different and that's why I need to bust my tail and get in the classroom so I can get out there and operate the offense sooner rather than later, hopefully.''
The good news is that Collins already has some familiarity with the Colts' brain trust.
Indy vice chairman Bill Polian took Collins in the first round of the 1995 draft, No. 5 overall, when he was in charge of the Carolina Panthers. And Caldwell was Penn State's passing game coordinator from 1988-92, during part of Collins' college career.
The other big question is whether Collins has rediscovered his passion for the game since announcing his retirement July 7. He said then he was unsure he was committed to properly preparing for game day.
Two weeks later, Collins said he had even considered retiring at the end of last season.
But the chance to win a Super Bowl ring, something he doesn't have, was enough to end the retirement after seven weeks.
"I know we're going to have a heck of a football team here, and it would be great to be on a team that ultimately wins the whole thing,'' Collins said. "But I know we've got a lot of work ahead of us, and I've got a lot of work ahead of me.''
Irsay had tweeted to ask for suggestions about signing a veteran free agent and on Sunday said he was in Hattiesburg, Miss., stirring speculation that he might be trying to lure Favre out of retirement (again). Instead, it was Collins.