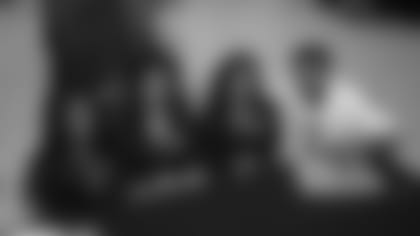 Former Titan Blaine Bishop (right) pictured with Titans Cheerleaders during a back to school event at Hickory Hollow Mall.
NASHVILLE, Tenn. -- Titans Cheerleaders Chocez, Tanzye and Yalea joined Titans alum Blaine Bishop at Hickory Hollow Mall on Friday morning for an appearance on the nationally syndicated radio show "The Tom Joyner Morning Show" aired on 92Q locally.  
Joyner's show broadcasted live from five locations across four states to include Cincinnati, OH, Columbia, SC, Memphis, Nashville and Philadelphia, PA to promote his back to school campaign entitled "Taking Old School to New School Back School Fair."
Joyner's campaign is geared towards promoting education from pre-school to college as well as healthy living.   The appearance brought smiles and support to the education fair atmosphere with school supplies donated to students.   Bishop along with the cheerleaders also conveyed the importance of the Titans PLAY 60 message that encourages youth to get at least sixty minutes of activity per day. 
Ironically, all three cheerleaders are educators themselves and were an appropriate fit for this back to school initiative.  They enjoyed talking to students and parents about healthy living and getting back to school as they signed Titans folders and flags for fans.
"It was great to interact with the fans and all the kids," said Yalea, a rookie cheerleader making her first appearance.  "I wasn't expecting this much excitement and it was great!  I really enjoyed myself."
For more information about the Titans PLAY 60 initiative, visit www.nflrush.com.