A Snake wouldn't seem to offer much help on a football field.
Unless that snake was named Stabler.
Ken Stabler, who led the Oakland Raiders to a Super Bowl victory and was the NFL's Most Valuable Player in 1974, has died as a result of complications from colon cancer. He was 69.
His family announced his death on Stabler's Facebook page Thursday. The statement said Stabler "passed peacefully" on Wednesday while surrounded by family, including his three daughters and longtime partner, who wasn't named. Raiders owner Mark Davis said the team, which was informed by the family, was "deeply saddened by the passing of the great Ken Stabler."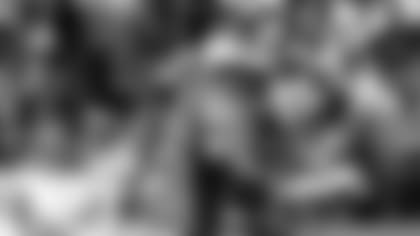 "He was a cherished member of the Raider family and personified what it means to be a Raider," Davis said in a statement. "He wore the silver and black with pride and poise and will continue to live in the hearts of Raider fans everywhere. Our sincerest thoughts and prayers go out to Kenny's family."
The family's statement said he was diagnosed with Stage 4 colon cancer in February.
Stabler's coach with the Raiders, John Madden, said his former quarterback was cool under pressure.
"I've often said, if I had one drive to win a game to this day, and I had a quarterback to pick, I would pick Kenny," Madden said. "Snake was a lot cooler than I was. He was a perfect quarterback and a perfect Raider. When you think about the Raiders you think about Ken Stabler."
Stabler was a four-time Pro Bowl selection with the Raiders, leading the franchise to consistent success during the 1970s, including a 32-14 victory over the Minnesota Vikings in the 1977 Super Bowl.
Stabler first showed his professional chops in the game best known for the Immaculate Reception. Mostly forgotten was his replacing starter Daryle Lamonica and leading the Raiders to what seemed to be the winning touchdown in the fourth quarter— until Franco Harris' spectacular catch and run won it for Pittsburgh.
Oakland lost two of its first three games in the next season, 1973, scoring no touchdowns with Lamonica behind center. After a loss to archrival Kansas City, Madden gave Stabler a chance to show what he could do in practice. Stabler did enough for Madden to start him, and the Raiders beat the Cardinals, and then won four straight games after that.
Stabler remained the starter for more than seven seasons, allegedly studying the game plan by the light of a jukebox — if he studied it at all. He prided himself on being able to wing it, and few quarterbacks did it better in the clutch.
But for all of his bravado, Stabler was not a wild thrower. He was one of the most accurate passers of his time.
"The bigger the situation," Madden said, "the calmer he got."
Stabler's favorite songs were playing when he died, from Lynyrd Skynyrd's "Sweet Home Alabama" to Van Morrison's "Leaves Falling Down," the family said. His brain and spinal cord were donated to Boston University's Chronic Traumatic Encephalopathy Center to support research into degenerative brain disease among athletes, according to the family.
"He was a kind, generous and unselfish man, never turning down an autograph request or an opportunity to help someone in need," the family said. "A great quarterback, he was an even greater father to his three girls, and grandfather to his two 'grand snakes.'"
The Foley, Alabama, native threw for 27,938 career yards over 15 seasons, which also included stints with the Houston Oilers and New Orleans Saints.
During his college career, Stabler led Alabama to an undefeated 1966 season and was chosen the Sugar Bowl MVP after a 34-7 rout of Nebraska. He also ran for a long touchdown on a rain-soaked field during the 1967 Iron Bowl to lead the Tide to a 7-3 win over Auburn.
Alabama coach Nick Saban got to know Stabler from golf tournaments and the ex-Raiders quarterback's stint as an analyst on Alabama radio broadcasts.
"I think anyone who had the chance to get to know Kenny would appreciate the great person he was and the pride he had for the University of Alabama," Saban said in a statement. "I have had the chance to be around some of the best to ever play college and pro football, and Kenny may have been one of the greatest competitors to ever play the game."
RECOMMENDED: