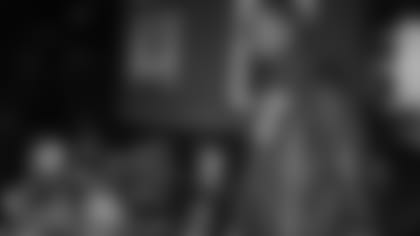 Defensive end Jacob Ford hosted a VIP party for children who were successful at reading during the first nine-week grading period.
NASHVILLE, Tenn. --** Many Titans enjoy giving back in their own particular way, and Jacob Ford has found his niche.

The Tennessee Titans defensive end realizes the importance of reading for fun, having partnered with the Preston Taylor Boys and Girls Club/YMCA to inspire, empower and motivate youth ages 6-18 to read more books for pleasure and comprehension with the Jacob Ford Tuff Reading Club.

Every nine weeks, students who complete the most book reports and achieve a grade of an A or B in reading, or make the honor roll, will receive an incentive from Ford, who will donate $500 for every sack he makes to help sponsor the program.

"It feels good giving back and helping children accomplish more," said Ford. "I know it sounds cliché, but reading is fundamental. If you can't read, it's much tougher to accomplish more in life and I believe reading is the first step."

Thirty youth who accomplished success during the first nine-week grading period recently attended a special VIP party at West Nashville's Buffalo Wild Wings, hosted by Ford.  The defensive end greeted, conversed and congratulated the youth for their hard work.  Ford also signed autographs and took pictures with all the youth.

The Preston Taylor Boys and Girls Club/YMCA serves youth ages 6-17 in the West Nashville community.   They are a unique youth development program located in McKissack Middle School.  The Boys and Girls Club / YMCA of Middle Tennessee have united to develop the first collaborative effort between the organizations in the state of Tennessee. Project Learn is an educational philosophy that makes every moment an educational moment in our daily programs.  Project Learn consists of (1) homework help/tutoring, (2) incentives, (3) school collaborations, (4) parental contacts and (5) high impact learning activities. As part of that philosophy, they are taking on the responsibility to encourage youth to find enjoyment in reading.

Across the state of Tennessee, students reading levels are below the national average.  Some educators believe this is due to many children looking at reading as a job and not an asset for success.

For more information or to learn more about the Jacob Ford Tuff Reading Club, contact Done' Ford at 615-243-3355 or Dantriel McWilliams at 615-341-0101.