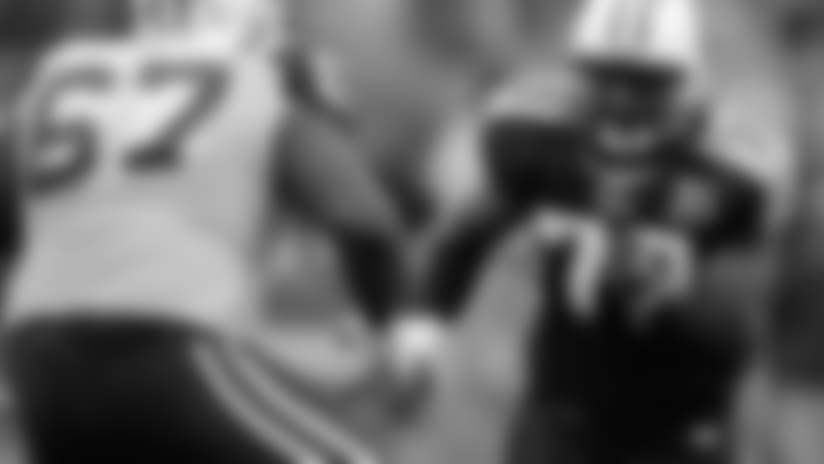 Defensive end Jacob Ford has overcome personal adversity to excel on the football field.
NASHVILLE, Tenn. —** Defensive end Jacob Ford was a force last season in the trenches for the Tennessee Titans. Ford accumulated seven sacks on the season, which ranked second on the team and sixth among all AFC defensive ends. Now in his third season with the Titans, looking back, Ford is grateful for the opportunity he has to play in the NFL.
"There are a lot of people not in the NFL who are talented and don't get a shot. I got a shot and I've had the opportunity to make the most of it," said Ford.
Growing up in Memphis, Tenn., Ford endured many hardships. During his junior year in high school Ford's father, Fred "Sweet Daddy Goodlow," passed away. His dad was an accomplished jazz musician best known for his talents on the baritone saxophone. One of Sweet Daddy Goodlow's most popular hits was "Hound Dog" in 1952 with Big Mamma Thornton.
After Ford lost his father he knew he had to work hard to make his dream of playing professional football a reality. Ford spent his freshman season at the University of Memphis where he earned All-Freshman Conference USA honors. He had a good freshman year on the football field, but Ford struggled with his grades and left school after the season.
Ford was out of football for the next two seasons, working in Memphis and Houston for FedEx and Hewlett Packard. In 2004, he enrolled at Holmes Community College and played one season before transferring to Central Arkansas, the only school willing to give him a chance to finish his college football career.
During his two seasons at Central Arkansas, Ford excelled on the football field. He was decorated with multiple honors including being named first-team All-American his senior year after starting all 10 games and leading the team with eight sacks and 15.5 tackles for loss.
Shortly after his career at Central Arkansas was finished, Ford was living in Houston when he received some devastating news. His 19-year-old sister had passed away from a pulmonary embolism.
"It was very difficult. She passed real unexpectedly," said Ford. "It was real tough. I am close to everyone in my family, but she and I hung out all the time. For her to just pass like that, it kind of shook my world."
Ford had an opportunity a couple months later when was given a chance to prove himself at the NFL scouting combine. Despite being devastated by losing his sister just a few months prior, Ford knew he had to get past the circumstances and focus on his future. After posting the second fastest 40-yard dash among all defensive ends, Ford caught the attention of the Tennessee Titans. The Titans selected Ford in the sixth round (204th overall) of the 2007 NFL Draft.
Ford's rookie year was one he would rather not recall. Even though it was a time to learn and grow in the NFL, he had to do it from the sideline. Ford ruptured his Achilles in the first preseason game and was out his entire rookie season. Before he even had one game under his belt, he was done for the year and very discouraged.
"I'm down again. I worked so hard just to get my grades up so I could have the opportunity to play football again and out of nowhere it gets taken away from me," said Ford. "I was thinking, 'What else can happen? Less than eight months ago I lost my sister and now this happens.' Achilles injuries are career threatening and I really thought I might lose football."
After spending the 2007 season on injured reserve, Ford focused on rehabbing his Achilles and preparing for the 2008 season. Living what was essentially his rookie campaign all over again, Ford capitalized on the previous year he was injured and used the things he learned during that time to turn 2008 into a productive season. Ford played in 14 games, including three starts, and was second on the team in sacks.
Now in his third season with the Titans, Ford has made an impact on the team and the coaching staff. "He's a good guy and a good person. He's not your average person. He thinks different and I don't think he's worried about what people say," said defensive line coach Jim Washburn. "If there's one guy in that locker room that's his own guy, it's Jacob Ford. He's a really good football player, really smart and a good person."
Even though times were difficult in high school and college for Ford losing both his father and sister, he learned many important life lessons. "Time passes fast and you can sit and wallow on stuff. You have to get over it and move forward," said Ford. "I'm trying to move forward in my life and not get stuck."