**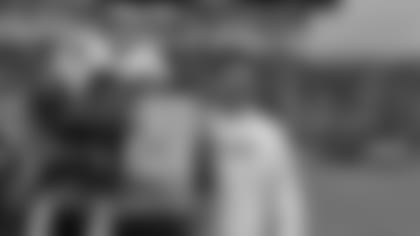 Titans head coach Jeff Fisher would like to meet with running back Chris Johnson before the team's next minicamps in June.
NASHVILLE, Tenn. -** Tennessee coach Jeff Fisher said Tuesday the Titans would like to meet and talk with unhappy running back Chris Johnson before the team's next minicamps in June.
Johnson has stayed away from the team's offseason program and voluntary minicamps including Tuesday's session. The Associated Press NFL 2009 Offensive Player of the Year wants a pay hike after becoming the sixth man in league history to rush for at least 2,000 yards.
The Titans have argued publicly that Johnson has three years left on the five-year, $12 million deal signed in 2008 that guaranteed him about $7 million. Team officials also have noted rules in the final year of the league's collective bargaining agreement limit pay raises to 30 percent, also making a new deal impossible without paying millions up front.
"I think it makes sense to get everybody together, and I think that's what we'll push for,'' Fisher said. "There's no purpose, no set agenda. But it would make sense to get together and try to sort things out. It may happen before we come back in June, it may not. It makes sense to do that.''
Johnson has said he'd like to become the highest paid offensive player in the league, which is unlikely for a running back. Right now he isn't even the highest-paid running back on his own team with a scheduled $550,000 salary for 2010.
His agent, Joel Segal, did not immediately return a telephone message left by The Associated Press on Tuesday. Johnson did not immediately return a text to his cell phone.
The running back is coming off a rare season.
Johnson ran 358 times for 2,006 yards, and Johnson was the NFL's leading rusher by a margin of 590 yards more than Steven Jackson of St. Louis. He set the single-season record for yards from scrimmage with 2,509, topping Marshall Faulk's mark of 2,429 set in 1999 with St. Louis. He became the first player in NFL history to rush for 2,000 yards with 500 yards receiving in the same season.
He also was the first player in NFL history to rush for three touchdowns of 85 yards or longer in a career - all in one season. Only Eric Dickerson (3,318) and Edgerrin James (3,262) ran for more yards in their first two seasons than Johnson with 3,234 to start his career.
Asked if the meeting would be to air out feelings, Fisher said no.
"We clearly have an issue. We're going to try to get it resolved. That's all I can say,'' the coach said.
Johnson isn't the team's only player unhappy with his contract status. Tight end Bo Scaife, who signed a one-year tender for $4.9 million, joined the offseason program Monday and was on the field for his first minicamp session Tuesday. Linebacker Stephen Tulloch was offered a one-year tender but has not signed.
Fisher said he hopes to have Johnson back for the June minicamps with the first session scheduled for June 14 but that he couldn't predict what would happen. Fisher said he hasn't talked to the running back lately. Johnson is scheduled to hold a youth football camp in nearby Franklin, Tenn., on June 16.
"He invited me to participate in his football camp,'' Fisher said. "I told him I'd like for him to participate in mine.''