**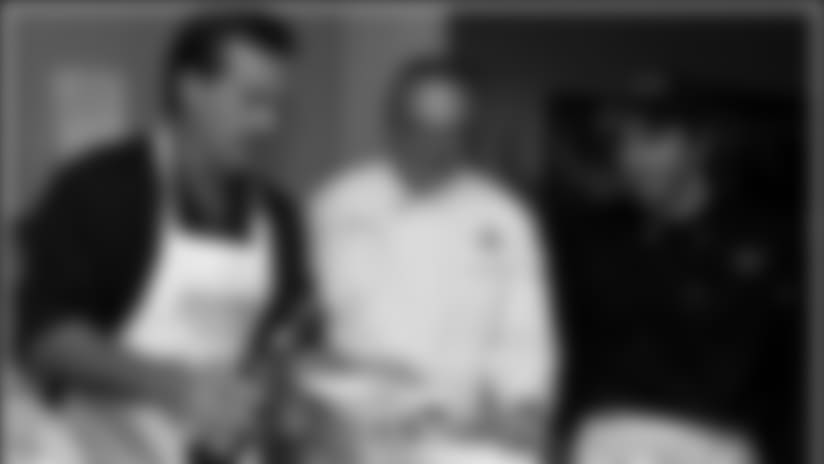 Head coach Jeff Fisher prepares a meal during his annual charity dinner at Second Harvest Food Bank.

NASHVILLE, TN, July 23, 2007 — **Titans head coach Jeff Fisher hosted his 2nd Annual "Cooking Wild with Jeff Fisher & Friends" on Saturday evening, July 19, at the Culinary Arts Center at Second Harvest Food Bank, the beneficiary of event. Just a few days before Training Camp kicked off, Fisher found time to raise funds for the neighbor non-profit, located just a few blocks away from Baptist Sports Park.
The event has now raised $45,000 to date.
The one-of-a-kind culinary event featured Coach Fisher as he teamed with top local professional chefs to produce a five course "Tennessee grown" meal for patrons. The talented chefs that created the amazing culinary experience for the intimate VIP crowd included Chef Debra Paquette from Zola, Chef Brain Uhl from Cabana, Chef Michael DeGregory from Mirror, Chef Jeremy Barlow from Tayst, Chef Will Uhlhorn from F. Scotts and Chef Nancy Vienneau along with support from Mark Rubin and Robert Seigle.
The evening began with a cocktail reception and silent auction where guests mingled and visited with Coach Fisher as they listened to the talented jazz guitarist, David Anderson. Then, the Wild Game Dinner was a culinary delight of exotic food and fine-paired wines by Lipman Brothers. The evening also included Coach Fisher sharing some engaging stories during dinner and guests enjoyed music from John and Dino Elefante from the 80's musical group Kansas.
"This is one of my favorite events," said Fisher of the VIP evening, which is a continuation of his "Jeff Fisher & Friends" charity events. The second year proved to be another successful fundraiser for Second Harvest and will continue to be an annual charity event for "Jeff Fisher & Friends."
The Tennessee Titans, long-time supporters of Second Harvest, will also conduct their annual food drive at LP Field on Nov. 23 vs. New York Jets to benefit Second Harvest Food Bank.
ABOUT SECOND HARVEST
Today, Second Harvest Food Bank of Middle Tennessee is one of the largest and most comprehensive of over 200 food banks and food distribution centers nationwide. During the 2003/2004 fiscal year, Second Harvest distributed more than 14.5 million pounds of food to hungry men, women, and children. Second Harvest Food Bank of Middle Tennessee was named 2003 Affiliate of the Year by America's Second Harvest. The Food Bank is proud to share this prestigious award with the thousands of supporters and leaders who have supported Second Harvest over the past 25 years.
Second Harvest's vision of ending hunger is more important than ever. Hunger is a big problem, and it cannot be solved without everyone's help. There are 35 million Americans deemed by the government to be food insecure, and there are more than 8 million children receiving food assistance. One in five people in a soup kitchen line is now a child. In Middle Tennessee alone, 47% of the people Second Harvest serves are children.