**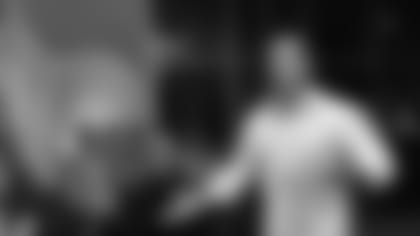 Titans head coach Jeff Fisher speaks to guests during his wild game dinner charity event at Second Harvest Food Bank.
NASHVILLE, Tenn. --** Titans head coach, Jeff Fisher hosted his 3rd Annual "Cooking Wild with Jeff Fisher & Friends," a Wild Game Dinner, on Monday night at the Culinary Arts Center at Second Harvest Food Bank.
As Fisher was putting together his game plan for the Texans, he found time to raise funds for the non-profit located just a few blocks away from Baptist Sports Park. 
This delightful culinary annual event benefits Second Harvest Food Bank with Coach Fisher teaming up with local professional chefs to produce a five-course "wild game" meal.  The talented chefs included: Chef Hal Holden-Bache (Eastland Cafe), Chef Brain Uhl (Cabana), Chef Erica Thompson (Flyte), Chef Guerry McComas (Yellow Porch) and Chef Nancy Vienneau, along with support from Mark Rubin and Robert Siegel.
The incredible menu consisted of Hors d oeuvres served during the reception to include Cappaccio on Brioche with Pear and Smoked Bleu Cheese, Wild Mushroom Terrine, and Lobster Medallions with Micro Greens and Remoulade.  Patrons then entered the elegantly themed Culinary Arts Center to enjoy the fine menu of: five onion soup with crispy shallot & fresh chive garnish was followed by a constata romanesca zucchini cake with citrus remoulade on bed of Drury Farm Arugula. The fish was an Alaskan Day Boat Halibut with sweet potato & bacon pancake. The final entrée served was Roasted Kentucky Bison Tenderloin with truffled potato puree and wild mushroom demi-glace.  The dessert was poached pears with caramel cream, orange sorbet and cocoa nib.
Fine wines paired with the dinner were provided by EOS Estate Winery that included Lost Angel Chardonnay, Lost Angel Cabernet Sauvignon, EOS Sauvignon Blanc, EOS Petite Syrah, and EOS Tears of Dew Late Harvest Moscato.
The night included an evening of fine food, wine and engaging stories that only the head coach could share.  After dinner, patrons enjoyed live music and dancing.
"This is one of my favorite events," Fisher said of the evening, a continuation of his "Jeff Fisher & Friends" charity events.  The third year proved to be another successful fundraiser for Second Harvest and will continue to be an annual charity event for "Jeff Fisher & Friends."
The event has raised an estimated $73,000 over the last three years.  The Tennessee Titans, long-time supporters of Second Harvest, will also conduct their annual food drive at LP Field on Nov. 15 vs. Buffalo Bills to benefit Second Harvest Food Bank.
ABOUT SECOND HARVEST
Today, Second Harvest Food Bank of Middle Tennessee is one of the largest and most comprehensive of over 200 food banks and food distribution centers nationwide. During the 2003/2004 fiscal year, Second Harvest distributed more than 14.5 million pounds of food to hungry men, women, and children. Second Harvest Food Bank of Middle Tennessee was named 2003 Affiliate of the Year by America's Second Harvest. The Food Bank is proud to share this prestigious award with the thousands of supporters and leaders who have supported Second Harvest over the past 25 years.
Second Harvest's vision of ending hunger is more important than ever. Hunger is a big problem, and it cannot be solved without everyone's help. There are 35 million Americans deemed by the government to be food insecure, and there are more than 8 million children receiving food assistance. One in five people in a soup kitchen line is now a child. In Middle Tennessee alone, 47% of the people Second Harvest serves are children.