**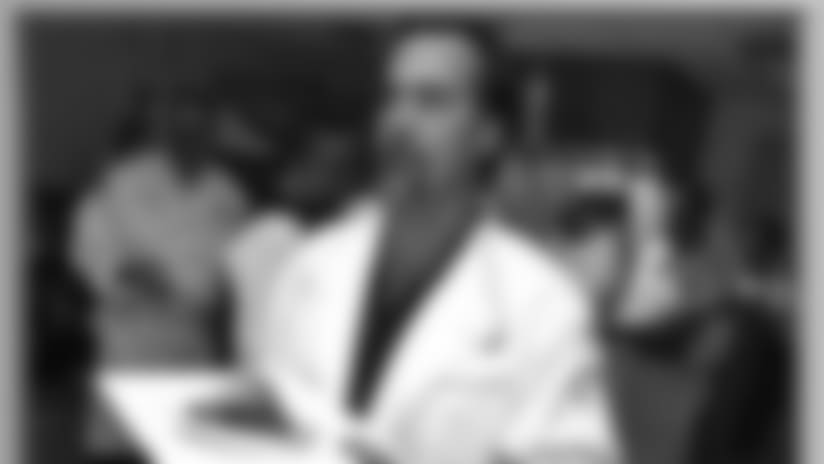 Fisher serves up a meal during last year's "Cooking Wild with Jeff Fisher & Friends" fundraiser at Second Harvest Food Bank.


NASHVILLE, TN, July 7, 2008 — **Titans head coach, Jeff Fisher will host the 2nd Annual "Cooking Wild with Jeff Fisher & Friends," a Wild Game Dinner, on Saturday, July 19 (6 p.m.) at the Culinary Arts Center at Second Harvest Food Bank.
Benefiting Second Harvest Food Bank, this delightful culinary event will feature Coach Fisher and others teaming with local professional chefs to produce a five-course "wild game" meal. The talented chefs will include: Chef Debra Paquette (Zola), Chef Brain Uhl (Cabana), Chef Jeremy Barlow (Tayst), Chef Will Uhlhorn (F. Scotts) and Chef Nancy Vienneau, along with support from Mark Rubin and Robert Seigle.
The night will include an evening of fine food, fine wine and engaging stories with intimate seating for only 50 guests. The $250 ticket (per person) includes a cocktail reception, dinner and the company of Coach Fisher and friends. Tickets, available on a first-come, first served basis, can be purchased by calling 615-627-1565 or by visiting www.secondharvestnashville.org.
ABOUT SECOND HARVEST
Today, Second Harvest Food Bank of Middle Tennessee is one of the largest and most comprehensive of over 200 food banks and food distribution centers nationwide. During the 2003/2004 fiscal year, Second Harvest distributed more than 14.5 million pounds of food to hungry men, women, and children. Second Harvest Food Bank of Middle Tennessee was named 2003 Affiliate of the Year by America's Second Harvest. The Food Bank is proud to share this prestigious award with the thousands of supporters and leaders who have supported Second Harvest over the past 25 years.
Second Harvest's vision of ending hunger is more important than ever. Hunger is a big problem, and it cannot be solved without everyone's help. There are 35 million Americans deemed by the government to be food insecure, and there are more than 8 million children receiving food assistance. One in five people in a soup kitchen line is now a child. In Middle Tennessee alone, 47% of the people Second Harvest serves are children.