**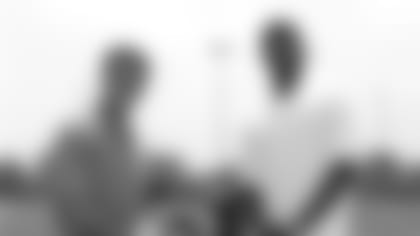 CB Cortland Finnegan (left) and QB Vince Young (right) will host a celebrity golf scramble July 26 at The Governors Club in Brentood, Tenn.
NASHVILLE, Tenn. --** Vince Young and Cortland Finnegan have joined together to host the 1031 Celebrity Scramble 4 Kids to be held on Monday, July 26 at The Governors Club in Brentwood, Tennessee. 
Proceeds from the golf tournament will benefit The Vince Young Foundation and The Cortland Finnegan ARK31 Foundation. The two teammates decided to combine their annual charity golf events together for a friendly competition between Team Vince/Offense vs. Team Cortland/Defense. Both Pro Bowlers are extremely active in the community and look forward to coming together for the same purpose!
The Vince Young Foundation was established in 2007 with his mother Felicia Young, to assist charitable organizations throughout Tennessee and his home state of Texas. The foundation is dedicated to serving underprivileged children through programs that focus on inspiring and empowering today's youth to better utilizes the educational and civic opportunities available to them. 
The foundation provides financial support to nonprofit agencies that promote self-esteem, self-confidence and self-worth among children, as well as many other charitable organizations. Annually the foundation host three football camps in Austin, Houston and Nashville, the Community Fun day attended by over 4000 people, Christmas giving with VY and the YOUNGmen Mentoring program.
The Cortland Finnegan ARK 31 Foundation is a nonprofit organization committed to serving children with special needs and disabilities throughout the middle Tennessee area. Throughout his Titans career, Finnegan has been involved in many community events and is always willing to take the extra step to help others. He has a vision of truly making a difference and believes changing the world involves "one Act of Random Kindness" at a time.
With a passion for helping children, Finnegan was runner up in The Leukemia & Lymphoma Society's Man of the Year campaign in 2008. During his campaign, he learned how leukemia is affecting more and more children every day. Finnegan's love of athletics fuels his passion for working with Special Olympics TN.
The ARK 31 Foundation hosts Karaoke For A Cure, ARK 31 Celebrity Golf Tournament, Milton High School's Football Camp, Kid's Carnival Day at the Zoo and Cortland's Christmas Dinner annually.