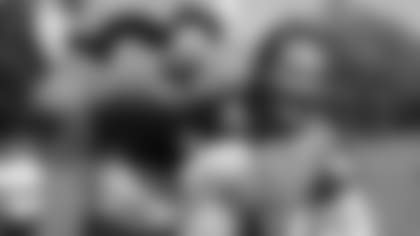 Join Titans cornerback Cortland Finnegan for his second annual Kid's Carnival Day on Saturday, Nov. 20 at the Nasvhille Zoo.
NASHVILLE, Tenn. -** Titans cornerback Cortland Finnegan will host his second annual Kid's Carnival Day on Saturday, November 20 from 10:00 a.m. to 4:00 p.m. at the Nashville Zoo.

Titans teammates will join Finnegan for a day of fun to benefit The Cortland Finnegan ARK 31 Foundation, a non-profit organization committed to serving children with special needs and disabilities throughout the Middle Tennessee area. **

The Kid's Carnival Day tickets include admission to the Zoo and to the carnival area which includes games, prizes, goodie bags, face painting, music, inflatables, Titans autographs, pictures with the cheerleaders, and much more!

Confirmed players include Stephen Tulloch, Ryan Mouton, Leroy Harris, Jason McCourty, Will Witherspoon, Rusty Smith, Ahmard Hall, Michael Griffin and Dave Ball.

"This is my favorite event the foundation hosts because my teammates and I get to play with the kids and interact with the fans," said Finnegan. "I am very excited about this event and it looks to be a great success for ARK 31!" Finnegan was just nominated for Titans Community Man of the Year and has been one of the Titans Community All-Stars for the past 2 years. He is known for his philanthropic efforts throughout the Nashville community. In addition, Finnegan hosts his Annual Karaoke for a Cure event, Celebrity Golf Tournament and Christmas Dinner! ARK 31 supports The Leukemia & Lymphoma Society and Special Olympics TN.

The event is hosted by the ARK 31 Foundation, open to the public and will be held in the Historic Home Area of the Nashville Zoo. The Kid's Carnival Day tickets are $15 and must be purchased in advance to receive the combination discount. Proceeds go directly to The Cortland Finnegan ARK 31 Foundation. Please visit www.ARK31.org to purchase your tickets!

Special thanks to our sponsors: National Institute of Dentistry for the Developmentally Disabled, Loden Vision Centers, Daily's Convenience Stores, Pepsi Beverages Company, 104.5 The Zone, Nashville Zoo, Lyons GM of Lewisburg, FOX 17, Performance Business Forms, ACS Security & Sudden Service Convenience Stores.