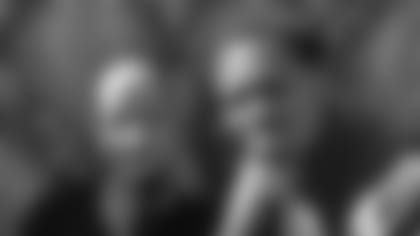 Twelve year old Titans' fan, Rae Tennent, sat beaming as Titans cornerback, Cortland Finnegan, took the clippers to her hair. For the second year in a row, Rae chose have her head shaved at the St. Baldrick's Team Teddy Nashville fundraiser to benefit pediatric cancer research. This year, she was more than thrilled to have Cortland as her honorary barber. In addition to his appearance at the event, Finnegan's Ark 31 Foundation has also made a monetary contribution to the cause.
"It was true honor," said Finnegan about being a honorary barber. "The fact Rae decided to do it two consecutive years to raise cancer awareness, is a true indication kids are a blessing."
St. Baldrick's Foundation funds more pediatric cancer research grants than any other organization other than the government, partially through volunteer driven head shaving events such as these. Since 2000, more than 189,660 volunteers, including over 17,200 women, have shaved in solidarity with children with cancer at events in dozens of countries and every U.S. state. Thanks to generous friends and family, these "shavees" have raised over $117 million for life-saving research, and each is a walking billboard for the cause!
The St. Baldrick's Foundation is a volunteer-driven charity committed to funding the most promising research to find cures for childhood cancers and give survivors long and healthy lives.