**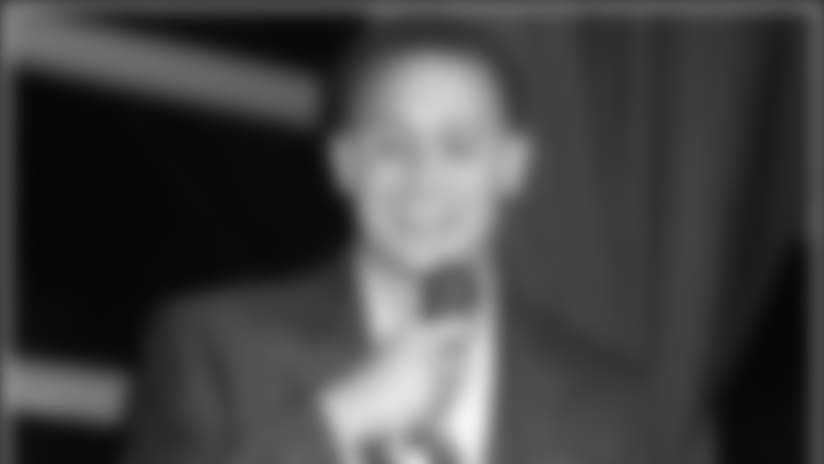 Titans cornerback Cortland Finnegan sings during his karaoke event that raised money for the Lukemia and Lymphoma Society Tuesday at Cabana Restaurant.

NASHVILLE, TN, April 2, 2008 –** Titans cornerback Cortland Finnegan kicked off his fundraising efforts as part of the annual Man & Woman of the Year campaign on April Fools Day at Cabana Restaurant in Hillsboro Village.
Finnegan, his Titans teammates and country music artists came together for a unique Karaoke event to raise funds for the Leukemia and Lymphoma Society (LLS). The event, emceed by Storme Warren of GAC television, was arranged by Finnegan, who is trying to raise the most amount of money for LLS and their Man and Woman of the Year Campaign.
The competition came about from LLS, which nominates a select group of candidates who compete locally to raise money for the Society through a variety of events over a 10-week period. The man and the woman who raise the most money wins the title.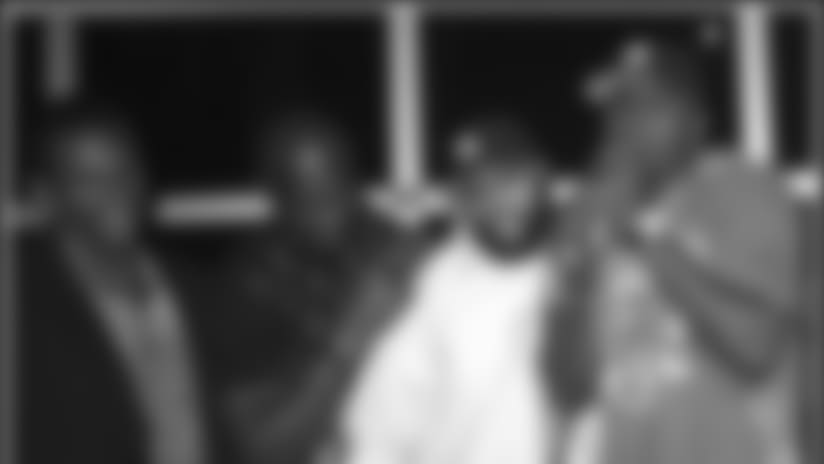 From L to R: CB Nick Harper, DE Jevon kearse, S Chris Hope, and LB Keith Bulluck entertain fans with an R&B classic during Tuesday's fund-raising event.

"What Cortland and the other Man & Woman of the Year candidates are doing to raise vital funds for The Leukemia & Lymphoma Society is not only noble, it's so much fun," said Monica Ramey, Senior Campaign Manager for LLS. "Karaoke for a Cure was a great success and it brought together two very important industries in Nashville -- sports and music. Seeing Cortland's fans, teammates and friends get up to sing and ask others to support our mission was a memorable experience! We're very appreciative of everyone's efforts to make the event the success it was."
In addition to RCA recording artist Chuck Wicks, Titans players attending the event included Ken Amato, Rob Bironas, Tony Brown, Keith Bulluck, Jeremy Cain, Marquice Cole, Casey Cramer, Chris Davis, Ryan Fowler, Vincent Fuller, Nick Harper, Reynoldo Hill, Chris Hope, Jevon Kearse, Eric King, Calvin Lowry, Jason Murphy, Josh Stamer, David Thornton, Kyle Vanden Bosch and former Titan Johnathan Orr. Titans Coach Chuck Cecil and Scout Johnny Meads were also in attendance to support Finnegan.

Finnegan (right) had help from teammates Rob Bironas (left) and Casey Cramer (middle) on this song.

The evening included a silent auction, cocktail reception and plenty of entertainment as Titans players got up to sing their favorite tunes in the name of charity. Ryan Fowler's "beat box" solo, along with a tribute to Boys to Men from Bulluck, Hope, Harper, Kearse and Thornton were two highlights of the evening. Finnegan and Cramer sang Shania Twain's hit song, "Man, I Feel Like a Woman" as a challenge by other teammates that added to the hilarity of the evening, while Brown gave an impressive performance singing an R&B classic.
The event was Finnegan's first event during the campaign with others to follow, including a tailgating event in May in which details will be annouced. Since it's a competition, Finnegan does not want to reveal his fundraising efforts to date until the finale on June 5.
For more information about The Leukemia & Lymphoma Society visit www.lls.org or if you would like to donate to Finnegan's campaign, email: celebmission@yahoo.com or call the LLS office.