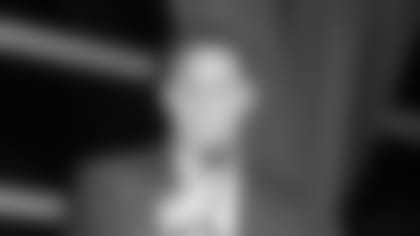 Titans cornerback Cortland Finnegan hosted his 3rd Annual Karaoeke for a Cure April 1.
NASHVILLE, Tenn. --** Titans All-Pro cornerback Cortland Finnegan celebrated April Fools Day by hosting his 3rd Annual Karaoke For A Cure event at Cabana Restaurant.

The event included a reception, silent and live auction and lots of laughter for the patrons, raising an estimated $37,000 for the 2010 Leukemia & Lymphoma Society's (LLS) Man and Woman of the Year Campaign and Finnegan's "The Ark 31 Foundation," a non-profit organization committed to serving children with special needs and disabilities throughout Middle Tennessee.

Finnegan created Karaoke For A Cure as his signature fundraiser when he was nominated as a Man of the Year candidate in 2008.  It was such a success, featuring many of his fellow Titans and country music celebrities, Finnegan decided to make it an annual event.

"Anytime you have a chance to give back to the community, it's a wonderful thing," Finnegan said. "This event is a great opportunity to bring some of my teammates together and have a fun evening all in the name of charity."

The evening was again emceed by GAC host Storme Warren with Titans players Kareem Brown, Michael Griffin, Ahmard Hall, LeRoy Harris, Jovan Haye, Chris Hope, Jason Jones, Stanford Keglar, Sen'Derrick Marks, Gerald McRath, Alvin Pearman, Nick Schommer and coaches Chuck Cecil and Tim Hauk in attendance to support Finnegan's efforts.

Country Recording Artist Declan McGarry, The O'Sheas from CMT's Can You Duet, Dino and John Elefante from the classic rock group Kansas were also on hand to lend support and their vocal abilities to the evening's festivities.

The evening's highlights included Titans EVP of Administration and Facilities, Don MacLachlan's rendition of Thank God I'm a Country Boy by John Denver, as well as Finnegan's family singing Sister Sledge's 1979 hit We are Family.

But one could hear a pin drop when nine year old Tristan McIntosh of Clarksville took the stage to sing two songs that brought the house to their feet in a standing ovation.

The Man and Woman of the Year competition nominates a select group of candidates who compete locally, raising money for LLS through a variety of events over a 10-week period.  Finnegan was nominated last year as a candidate for The Leukemia & Lymphoma Society's Man & Woman of the Year after taking a leadership role in the charity's "Light the Night Walk."

He was also named a Titans Community All-Star in 2008 & 2009 due to his involvement with The Leukemia & Lymphoma Society and Special Olympics of Middle Tennessee.  Finnegan hosts an annual holiday dinner at LP Field for families from those charities.  In addition, he regularly makes appearances at various schools, community centers and charitable events.

For more information about this event and Finnegan's ARK 31 Foundation (Random Acts of Kindness), log on to www.ark31.org.  For more information about The Leukemia & Lymphoma Society's Man and Woman of the Year Campaign visit www.manwomanoftheyear.org/tn.