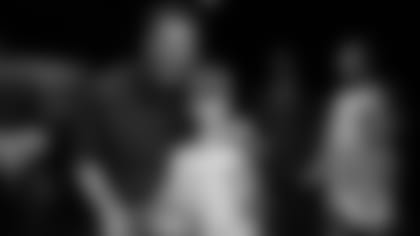 NASHVILLE, Tenn. -- Having worked almost 30 years in professional sports, this writer has witnessed several wonderful stories involving young fans and their sports hero. This true story is one that even the most talented Hollywood scriptwriter would be challenged to top.
And before we get too deep in the story, be sure to watch this week's "Titans on 2 with Jeff Fisher, Final Countdown" on Saturday, Oct. 9 at 6:30 pm CDT on WKRN-TV Channel 2 in Nashville to see this story unfold!The story begins on the night of Dec. 12, 2009 when Titans season-ticket holders Beverly and Mike Fussell invited their neighbors to attend the Titans – Rams game the next day. Cade Brindley, now eight years old, had never been to LP Field to see the Titans play and was excited about the prospects of seeing his first game. It was not the first game for Carey Brindley, Cade's mother.
Just the chance to go to the game was a dream-come-true for Cade. The magic continued as during the first 15 minutes of the game, Cade found himself the object of an LP Field camera man, who flashed Cade's big smile on the huge Titans video boards for all 68,000 fans to see.
The Titans defeated the Rams 47-7 that day and one of the many stars of the game was Cortland Finnegan, who intercepted two passes in the game.  Following one of those interceptions, Finnegan found a very excited Cade standing on the front row and proceeded to hand the ball to him as a souvenir.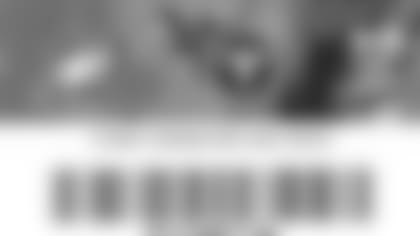 "He was in the section I run to right after I'm introduced at the games and I go and high five the fans there each week," Finnegan said. "I hoped to find a young man in that section that would enjoy the memory of getting the ball and I found Cade there with open arms!"
A photographer captured Finnegan giving Cade the ball and that image was one of ten photos featuring players to be printed on the Titans 2010 tickets. When the Fussells got their season tickets in the mail this summer, they were thrilled to see young Cade's picture with Finnegan on the tickets for the upcoming Eagles game on Oct. 24 and quickly showed their tickets to Cade and his mom.
Cade knows he's a lucky young man to get the ball and then his year-long dream of meeting Finnegan and having his ball autographed came true during a recent taping of the Titans on 2 with Jeff Fisher TV show.
"Cortland Finnegan is my favorite football player," Cade said. "He intercepted the ball and ran across the field and gave me the ball. I felt so excited. I'm going to keep my ball forever. I was scared and nervous when I had to go on stage, because I did not know him. I know him now and next time I see him I'm giving him a big hug."
"When News-2 first profiled Cade's picture on the ticket over the summer, it only made sense to see if we could have Cortland sign the ball," said John Dwyer, host and producer of the three-time Emmy Award winning Titans On 2 with Jeff FisherTV show on WKRN. "When I pitched it to the Titans, the idea about having it done on the Fisher TV show was brought up. Sometimes things don't reach expectations. Cade's expression, along with his mother's and friend's gratitude, exceeded all expectations.
"It's a good example of the real connection between the Titans and their fans," Dwyer continued. "We're lucky so many of the players 'get it' that they are revered in this town and make themselves accessible. I can promise that people will come up to me after the season and tell me their favorite part of the show during the 2010 season was when 'that young boy came up on stage'. I'm very good with that."
Cade's mother Carey offered the following reflection of the experience:
*"Meeting Cortland Finnegan was a planned surprise although when I told Cade he was going to go on stage and meet him to have his football signed, Cade was frightened. He got huge crocodile tears in his eyes. He did not want to go on stage in front of the hundreds of people at the Wildhorse. I have to say, if I was told I had to go up there I would have been so nervous too.
**A precious girl named Kelsey came over to Cade and told him that she knew Cortland and that she would go up there with him. It took a lot of convincing from all of us. She was so sweet and kind that Cade decided to go with her and our neighbor Mike Fussell. Surely with this much support he could do it. Well he did, still nervous but he did it. When I saw my sweet and extremely nervous little boy up there meeting his favorite football player and get his ball signed, I'm the one who ended up with the tears.
**We were able to talk later with Kelsey and found out that she met Cortland when she was in the hospital after being diagnosed with cancer in her leg. Cade was able to hear a few of her Cortland stories and decided that he now knew him and was ready to see his new friend again. Before we left the Wildhorse, Cade was ready to give Cortland a hug and thank him again."
Finnegan said he saw right away that Cade wasn't very keen on the idea of coming on stage once Dwyer began telling the story.
"I noticed right away that he was a little shy and didn't want to come on stage at first," Finnegan said. "Once he got past that shyness, he really took to the chance and I think it's something he won't forget.
"I didn't know that Kelsey was so persuasive in getting Cade to come up on stage," Finnegan continued. "She's an inspiration and a blessing to us all and I'm glad that God put her in my path to cross and I think it's a great friendship that I'm going to have with her and her family. I have told Kelsey that I believe she is an angel. She probably sprinkled some fairy dust on Cade to get him to come on stage."
There is no doubt that Kelsey played a key role in successfully getting Cade on stage and in front of the cameras.
"When I was sitting in my chair, I looked over and saw the little boy start crying and he seemed really nervous to go on the stage," Kelsey said. "I figured since I knew Cortland that I would help talk him into going up there to meet him. Also, I just love children!! Looking back at it now, I am so glad I went to help and also got to meet Cade's mother. We now keep in touch!"
Kelsey's story is also one for the Hollywood script writers. When asked how she knew Finnegan, she shared her own heart-warming story:
*"I was being admitted into the hospital on a Tuesday and I was waiting in the clinic to go up to my room. One of the ladies in the clinic announced that there were some Titans players coming over to visit. I have always been a big Titans fan so of course I wanted to see them!
**The nurse that was going to take me over said that my room was ready and we could go over whenever we were ready. I told her I wanted to wait because the Titans players were coming over and I wanted a picture with them. We waited for another half hour and they still weren't there so we decided to walk over, hoping that we would see them on the way. We got off the elevator on the 6th floor where my room was, and they were out on the patio!
**My mom and I went out there and saw Cortland Finnegan and Ryan Mouton! We got a picture taken with them and got their autographs. I said bye and then went to my room. We were sitting there and about 20 minutes later, Cortland and Ryan were there again. They ended up coming by about four other different times just saying 'Oh man, look who it is, there's that Kelsey-girl again!'
**They came back one more time to say bye and that they were leaving. Little did I know, that was not the last time I would see Cortland! Two nights later at about 9:30 pm, one of the nurses walked into my room and woke me up. She told me that she used to go to school with Cortland and that he had come back to give me something.
**She handed me a signed #31 jersey and tickets to every Titans home game this year! The seats are first row right behind the bench! I was so happy!
**I always get out of my chemo round on Friday mornings. Every time I get out, I think to myself, 'I have no time to be sick, I have a Titans game to go to on Sunday!!' I have been at every home game so far this season. Before every game, Cortland looks over and waves to me!
**It is amazing what a big impact Cortland has had on my life. He said that I am such an inspiration to him, but it most definitely goes both ways! He has inspired me to 'keep on keeping on' and to be strong no matter what comes my way!
**He has also opened my eyes to help others. I can't wait to be a volunteer for his ARK31 Foundation! I think it is amazing everything he does for people! I definitely believe that God meant for us to meet. I can't wait to go to the rest of the games and support Cortland, along with the rest of the players! Go Titans!!"
*Yes, some stories are just too good to be true! Fortunately for both Cade and Kelsey, their stories are indeed true and memories of them will last a lifetime!
And don't think for a minute that Finnegan will ever forget these stories in his lifetime either!
NOTE: While this writer was proofing the completed story, he received this email from Cade's mother:
"I totally forgot to tell anyone that when Cade was one day old, two Titans players, Eddie Berlin and Justin McCareins, came to my room and held Cade, visited for a while and signed a poster for him. So sweet! He was born on Sept. 22, 2002."
Ever since the Titans moved to Tennessee, the team has visited patients at Baptist Hospital each Tuesday during the season (and in recent years also at Saint Thomas Hospital). It seems Cade's dream experience with the Titans began when he was just one day old!  And he spent his first day in the "Titans' suite" at Baptist Hospital, a room decorated with Titans memorabilia thanks to a generous financial gift from Titans Owner K.S. "Bud" Adams, Jr. and his late wife Nancy.