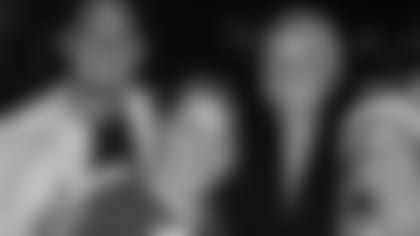 Titans CB Cortland Finnegan pictured with his wife, Lacey, and special guests during his annual Christmas party that raised $90,000 for local charities.
NASHVILLE, Tenn. -- Titans cornerback Cortland Finnegan was recently named the two-time Titans Community Man of the Year (2010 & 2011) for his philanthropic efforts such as the event held Tuesday night.  Finnegan and his foundation, ARK 31, hosted nearly 400 guests from his two area non-profit organizations of choice, The Leukemia & Lymphoma Society and Special Olympics, among several other charities, for Christmas dinner at Cabana Restaurant in Nashville.  Finnegan greeted guests, signed autographs and posed for photos before making a surprise announcement.
Finnegan surprised guests by announcing that his foundation, ARK 31, had made grants to twelve non-profit groups in attendance in the total amount of $90,000, just in time for Christmas.   The Leukemia & Lymphoma Society and Special Olympics both received grants at $20,000 each with
other charities receiving smaller grants. Safe Haven, Saddle Up, YMCA Full Circle Program, ABLE Youth, High Hopes, Best Buddies, St. Baldrick's, Gabe's My Heart, Friends of Metro Parks Disability Programs and The Down Syndrome Association of TN all received checks for $5,000. The ARK 31 Foundation made these grants based on their annual fundraising events and partnerships.
This is the fifth year Finnegan has hosted this special holiday celebration with many of Santa's helpers working diligently behind the scenes to pull the evening together.  Craig Clifft, general manager at Cabana Restaurant and board member of Finnegan's foundation, coordinated his staff to donate their time while vendors donated product for the event.  In addition, the Church of Green Hills members donated their time to help serve dinner so that the ARK 31 volunteers could partake in the evening's festivities and provided special holiday music throughout the event.
"I am so blessed to have so many friends…  Facebook can't capture this many wonderful people coming together. " joked Finnegan.  "I am so blessed and I need you as much as you need me.  This is my Christmas present to be with all of you and enjoy tonight.   I want to thank my foundation staff and volunteers as well as Cabana for making this event possible again this year."
More about Finnegan's two charities of choice:
The Leukemia & Lymphoma Society is the world's largest voluntary health organization dedicated to funding blood cancer research, education and patient services. The Society's mission: Cure leukemia, lymphoma, Hodgkin's disease and myeloma, and improve the quality of life of patients and their families. Since its founding in 1949, the Society has invested more than $550.8 million for research specifically targeting blood cancers.
The Special Olympics is an international nonprofit organization dedicated to empowering individuals with intellectual disabilities to become physically fit, productive and respected members of society through sports training and competition.
For more information about the ARK 31 Foundation, log on to www.ARK31.org.