**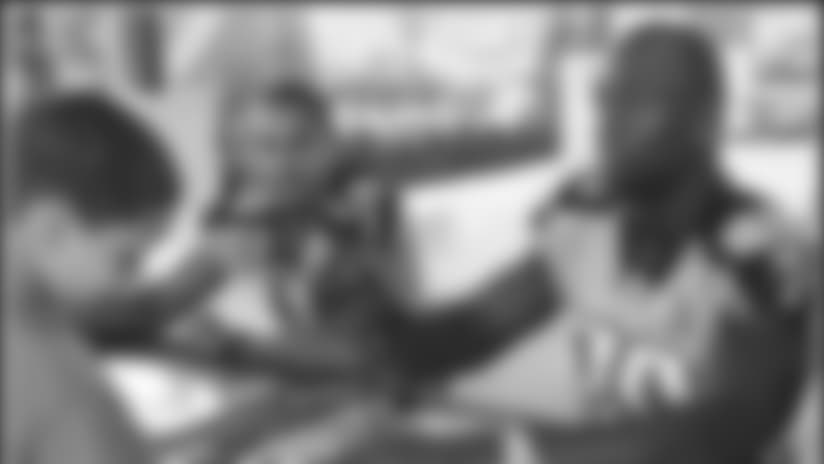 Wide receiver Justin McCareins (left) and defensive end Jevon Kearse (right) sign autographs at the Jackson Sportsplex Thursday afternoon in Jackson, Tenn.

MEMPHIS, TN, April 24, 2008 —** It was a homecoming of sorts for defensive end Jevon Kearse and wide receiver Justin McCareins on Thursday as Titans Caravan traveled through West Tennessee, drawing large crowds on the ninth day of the team's annual goodwill tour throughout the Mid South. Kearse, the team's first-round draft pick in 1999, played in three Pro Bowls during his five seasons in Nashville, recording 47.5 sacks (seventh in team history) before signing as an unrestricted free agent with the
Philadelphia Eagles
in 2004.
As a fourth-round draft pick in 2001, McCareins was a clutch playmaker for the Titans during his first three NFL seasons prior to being traded to the New York Jets in 2004.
Both players returned to Nashville during the off-season, re-signing with the team in which they enjoyed their most NFL success. On Thursday, they reacquainted themselves with hundreds of Titans fans that welcomed them back to Tennessee with open arms.
"It's great coming back to familiar territory," said Kearse, who addressed students at American Way Middle School in Memphis. "Tennessee is where it all started for me and where I made my name in the NFL. There's no better place than Nashville and it should be a great situation for me coming back here."
Seeing the vast support he received throughout the day made McCareins realize why he missed Tennessee during his four years away from the Volunteer State.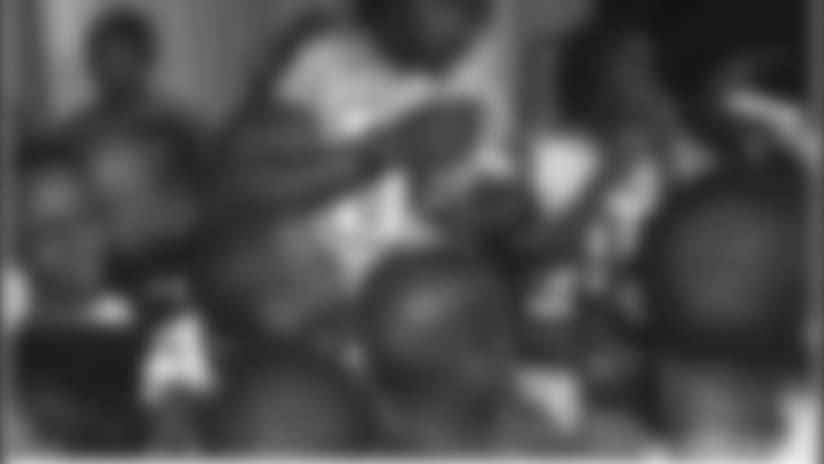 Kearse was surrounded by students seeking his autograph at American Way Middle School in Memphis.

"There's less connection to the fans and the public in general in that New York area," McCareins said. "I missed playing in Nashville and being around such positive fans. The level of support here is obvious when visiting these schools and seeing so many fans who appreciate interacting with us at the various Caravan stops."
The Titans began the day at Hardin County High in Savannah before making their way to American Way Middle School, where enthusiastic students listened to Kearse speak about the importance of staying in shape, eating right and refraining from drugs.
The hundreds of students packed in the assembly hall took in each and every word from the NFL player known as 'the freak.'
"Just the name 'Titans' was enough to get them excited, then the message they delivered was something that we certainly need here in the public school system," said American Way Middle School Principal Russell Heaston. "Many times we can tell students how important it is to get exercise and stay off the snack foods, but when someone else comes in to tell them, it reaffirms what we've already tried to establish. To hear it from an NFL player that they really look up to meant a lot."

McCareins made this young Titans fan happy after signing his football at the Jackson Sportsplex.

"We're very honored to have had American Way Middle School selected to participate in the Titans Caravan program," said Staci Franklin, coordinator, Communications & Marketing for Memphis City Schools. "They did a wonderful job in expressing the need for students to make healthy lifestyle choices.  Their interactive program with T-Rac the mascot and Jevon Kearse made it all come alive for the students.  By the expressions on their faces, we know many will use today's experience as an inspiration to begin making wise choices for themselves."
Long lines had already formed by the time the Titans Caravan bus arrived at Hasting Entertainment in Cordova. Michel Hoffmeyer of Bartlett was first in line, but said the hour and a half wait was well worth it to meet Kearse and McCareins.
"We were big fans of theirs when they were here before and now we're really glad to have them back," Hoffmeyer said. "I think Jevon is going to balance this defensive line very nicely. Between him and Kyle (Vanden Bosch), it's going to be one heck of a pass rush. We were a little disappointed to lose Travis (LaBoy) and Antwan (Odom), but getting Jevon back is alright."
Christina James was in town visiting from Pennsylvania, where she closely followed Kearse's career in Philadelphia. Now, she said, her loyalties are with the Titans.
"I used to like the Eagles because of Jevon Kearse, but the Titans are my team now. I'm converted," she said.

Kearse, who signed the back of this Titans fan, was a hit with fans young and old throughout western Tennessee.

Tonya Wright, who met Kearse on a Caravan stop during his first stint with the Titans, said she's ecstatic to have him back in Tennessee.
"I think the Titans' defense is going to be hard to deal with having Jevon on one side and Kyle Vanden Bosch on the other," said the Jonesboro, Ark. resident. "I would be scared if I was a quarterback."
The Titans closed out the day by visiting with fans at the Jackson Sportsplex in Jackson, Tenn., one of their largest fan turnouts at a Caravan stop to date. As Kearse and McCareins signed autographs, shook hands and posed for pictures with adoring fans, both players realized how fortunate they are to be back in Tennessee.
"It's nice to be back here where it seems like people recognize me a little bit more and really appreciate having me here," McCareins said. "I've really enjoyed this Caravan. It's so much fun to be back."