**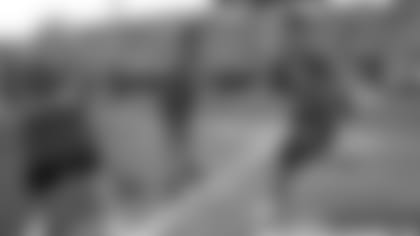 Titans head coach Jeff Fisher greets CB Cortland Finnegan prior to his charity softball game Sunday night at Greer Stadium.
NASHVILLE, Tenn. --** Despite temperatures reaching into the high 90's, Titans fans filled the stands Sunday night at Greer Stadium to see current and former Titans battle it out on the field during the 10th Annual Comcast "Jeff Fisher and Friends" Charity Softball game, presented by Pinnacle Financial Partners.
The night's festivities began with an exhibition game played by the Titans staff and a "Hit it Out of the Park" contest between the Titans players. This year's winner was former Titan Kevin Dyson, who hit three home runs.
Guitarist Rich Eckhardt, who plays for Toby Keith, performed the national anthem and Colonel Clay Hutmacher, commander of special operations aviation regiment, threw out the first pitch of the night. Titans coach Jeff Fisher spoke to Huckmucker before the game began.
"On behalf of the entire organization, I want to thank you for what you have done for our country," said Fisher.
Fisher's Comcast Triple Plays team included former Titans Brad Hopkins and Kevin Dyson and current players Tony Brown, Brett Kern, Chris Simms, Justin Gage, Michael Griffin, Leroy Harris, Craig Stevens, Jason McCourty, Nate Washington, Derrick Morgan, Cortland Finnegan, Phillip Morris, David Thornton and strength and conditioning coach Steve Watterson.
Alan Lowry's Pinnacle team included former Titan Chris Sanders and current Titans Ahmard Hall, Rob Bironas, Gerald McRath, Colin Allred, Ken Amato, Jason Jones, Kerry Collins, Lavelle Hawkins, Dave Ball, Vincent Fuller, Jovan Haye and secondary coach Marcus Robertson.
Some of the highlights of the night included run-scoring doubles by Marcus Robertson, Kerry Collins and Vincent Fuller. Lavelle Hawkins' inside the park home run in the 9th inning put Lowry's team ahead by one run.
In order to prevent a loss to Lowry's team, Fisher loaded the bases with Trenton and Tyler McNair, the young sons of late Titans quarterback Steve McNair, and brought in current Titans quarterback Vince Young to pinch hit. Despite those scores, the game ended in a 9-9 tie after 10 innings.
Following the game, Fisher named Kerry Collins as the game's MVP and Philip Morris as the Least Valuable Player.
The evening was capped by a fireworks display presented by Bridgestone and Best One.
This year's game benefited Soles4Souls Nashville Flood Relief, Nashville Children's Alliance, Mercy Ministries, Catch-A-Dream, 2nd Harvest Food Bank, Leukemia & Lymphoma Society and several other local charities.
"I want to thank all the sponsors, volunteers and fans for what you have done for these charities," said Fisher.