(This story was originally published on April, 20, 2022)
NASHVILLE – Taylor Robinson gets emotional just thinking about how supportive her parents have been over the years.
In fact, the 16-year-old daughter of Titans General Manager Jon Robinson broke down in tears when discussing her mom and dad while filming a video leading up to the upcoming JDRF Promise Gala.
Taylor Robinson, diagnosed with Type 1 diabetes when she was just six years old, will be the Fund A Cure Speaker at this year's gala. Jaimie Robinson, her mother, is a JDRF (Juvenile Diabetes Research Foundation) board member, an outreach volunteer, and in the eyes of her daughter, a super mom.
"This disease has taken over the past 10 years of my life, and my parents, they have been so supportive of me," Taylor Robinson said during a break in her school day. "My mom and dad, I can't tell you how much it means to me how supportive they've been, whether it's spending time, or financially, to help me or to help others. Diabetes is a very expensive disease, and it is obviously not something that I asked for. But God has put this on me for a reason and I do my best to (deal with) it.
"My mom, she does so much for me. And my dad, I am so proud of all he has done in his career, but he also gives so much back to our family, and he does anything he can to benefit me and my sister. I appreciate my mom and dad so much."
Mary Lyn Schuh, Executive Director of the JDRF Tennessee Chapter, appreciates Taylor Robinson, a sophomore at Franklin Road Academy who will share the stage with her parents during the JDRF Promise Gala on April 30 at the Omni Nashville Hotel.
Jon Robinson and Jaimie Robinson are two of the six co-chairs of this year's event, which will raise money for diabetes research. The last time the Robinsons chaired the JDRF Promise Gala the event raised a record $1.8 million.
At this year's event, Taylor Robinson will give her personal testimony about what it means to live with Type 1 diabetes. The Robinson family are heroes in the Type 1 diabetes community for their support of Type 1 diabetes awareness, fundraising and research efforts.
"Taylor, she makes it all look easy," Schuh said. "The day-to-day grind and the burden of this disease, she handles it all beautifully. And what we want the audience to understand is that while she makes it look easy, it's just because of how strong she is – because it is not easy. She is making life and death decisions each day to keep herself alive, and that is not what the typical 16-year-old is dealing with.
"She is incredible, really. She is so strong, and she has a great outlook on things."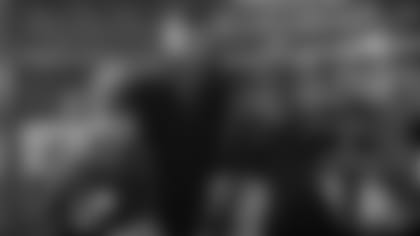 Type 1 diabetes is often diagnosed in children and young adults but can occur at any age. Since the immune system destroys the body's ability to produce insulin, those with the disease are required to take shots or use an insulin pump, in addition to regularly monitoring their blood sugar.
Taylor, the oldest of the Robinson's two daughters, gives credit to those around her, from her parents to her younger sister, 13-year-old Bailey, to her friends at FRA.
According to Taylor, her mom has been involved in her day-to-day, from filling insulin cartridges when needed to helping her manage her blood sugars. She promotes galas and diabetes walks. Schuh said Jaimie Robinson contacts families of those recently diagnosed with diabetes to lend encouragement and support. Dad Jon, GM of the Titans since 2016, has been hands-on as well, from helping her at home to providing Titans-related auction items to help raise money for JDRF. Bailey has also gone out of her way to help, Taylor said, and so have her friends at school.
Fighting diabetes is a non-stop group effort.
"My dad, he definitely has a soft side for his girls," Taylor Robinson said with a smile. "He will do anything for me and my sister."
Those who know Taylor have been impressed by her maturity and independence.
After being diagnosed with Type 1 Diabetes in 2012, Taylor wanted to start giving herself her own shots, multiple times a day. As a six-year-old, she initially cried after giving herself insulin injections. Eventually she moved to an insulin pump before transitioning to a Dexcom CGM (continuous glucose monitoring), a small, wearable sensor and transmitter that sends glucose numbers to a smart device or receiver.
Along the way, she's kept the disease from slowing her down.
Taylor Robinson is a cheerleader and a dancer, and she considers herself a normal teenager, despite having to deal with challenges thrown at her early in life.
And, she wants to encourage, and help others.
She plans to relay a positive message as the Fund A Cure speaker.
"Along with Type 1 Diabetes, I also have alopecia, which is a hair loss disease, and I also have arthritis," Taylor Robinson said. "But my big thing is, I am embracing it. I like to be fairly vulnerable with my life and social media and how I speak about it. I want people to know, with or without diabetes, that it is OK. There is nothing to be ashamed of about with anything. I want to encourage others.
"With diabetes, it is hard, but one day, with the help of others, hopefully there will be a cure."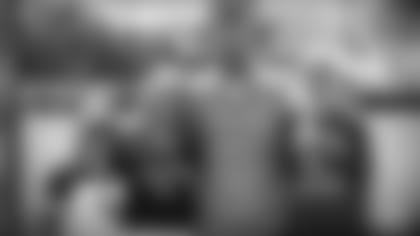 Schuh, with the JDRF Tennessee Chapter, is determined to make strides in Type 1 diabetes research, prevention, and finding a cure. In recent years, JDRF has led projects like the development of artificial pancreas systems as well as the development of a drug to delay the onset of T1D, a model to help predict which children will develop T1D during the first 10 years of life and a potential first-in-class disease-modifying therapy.
Schuh said the Robinsons have been instrumental in their efforts, from large donations to help raising awareness.
Jon Robinson, in fact, will serve as the guest auctioneer on April 30th, when several Titans items will be up for auction.
"The Robinsons, they have been such advocates for Taylor – you can just see it on their faces, and on Taylor's face," Schuh said. "You can just see how fiercely they love her, and they do whatever they can to try and remove this burden from her life. It is a powerful thing, really, seeing someone like Jon get a tear in his eye, and he does it almost every time thinking about his little girl and everything she deals with.
"They love their daughter, but they are also helping others, too."
For more details about the JDRF Promise Gala, ways to contribute, and information about the auction (which anyone can bid on remotely), visit jdrf.org/promisegala and follow along on the Tennessee Chapter's social media channels – Facebook, Instagram, Twitter, and LinkedIn.
WATCH BELOW: (from May, 2017) - Titans GM Jon Robinson has developed a reputation for being an aggressive wheel'er and deal'er in the NFL. An emotional Robinson made the winning bid on a special painting for his daughter at a JDRF fundraiser. (Video courtesy of JDRF | Middle Tennessee Chapter)