**

Former Titans WR Kevin Dyson (left) joined CB Cortland Finnegan and Titans Cheerleaders during the last stop on Wednesday's Caravan in Madison.

MADISON, TN, April 16, 2008 –** A current star and beloved player in Titans history teamed together as Titans Caravan made its way through eastern Kentucky and back to Nashville on the third day of the team's good-will tour throughout the Mid South. Cornerback Cortland Finnegan was only in junior high school when Kevin Dyson was making NFL history with his infamous "Music City Miracle" touchdown that defeated the
Buffalo Bills
during the 1999 playoffs. Three weeks later, Dyson's attempted game-tying touchdown stretch near the goal line would go down as one of the most memorable plays in Super Bowl history
On Wednesday, the generation gap made little difference to Dyson or Finnegan as they personally thanked Titans fans for their undying support over the last 10 years.
"I appreciate the support because I really don't expect anybody to remember who I was," Dyson said as he signed autographs at Academy Sports and Outdoors near Rivergate Mall. "At the same time, when your name is synonymous with a couple of plays in NFL history, it's good to hear it. It's good for your spirit, good for your soul to hear somebody that actually appreciated what you did for them and to be remembered in that aspect."
Dyson was on one of this year's Caravan stops featuring a player from the 1999 AFC Champion Titans, along with a current player in commemoration of the team's 10th anniversary as the Titans.
"It's fun to come out here and give back. That's part of what we did when we played ball," said Dyson, who still resides in Nashville. "The good thing about living here is you still get to feel a little bit of this. This is special because you get to take the helmet off and fans get to see your face. Being a has-been sitting next to a current guy right now is a little bit humbling, but it's fun at the same time."
Calling the experience "humbling," Finnegan was taken back by the great fan support he received throughout the day.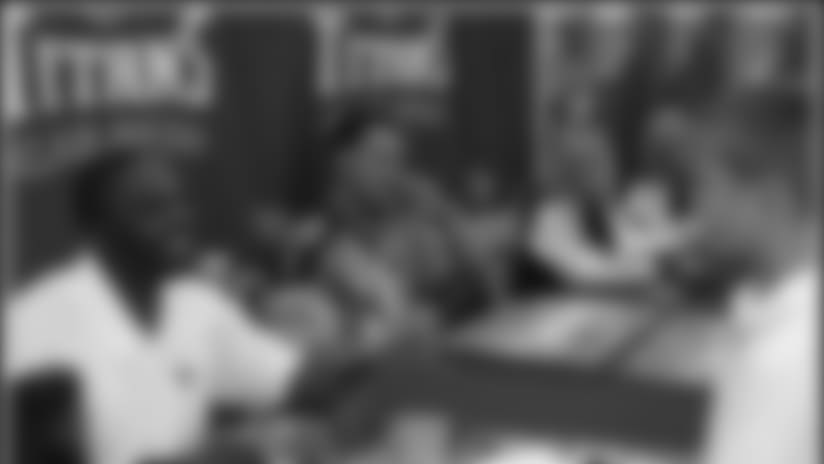 Dyson smiles as he signs a poster for a Titans fan.

"It's a great start for what we're trying to do as an organization and a team," Finnegan said. "Giving back to the community is the least we can do. It's also important that the fans have a chance to come out and meet and greet us without the helmet because not many of them get to see what we're like behind the helmet."
That's exactly why several Titans fans lined the isles at Academy Sports and Outdoors, waiting for their unique chance to interact with Dyson and Finnegan.
"Anytime you can be up close and personal with the team, it really makes you feel like it's your hometown team. I loved it," said Hendersonville resident Mike Mullins. "The players coming out here tells me two things – one, that they're not on that ivory tower and that they're really just like us. Two, it just shows that they care about the fans and they want them to be involved in what they're doing. I'm a big Titans fan. I just locked up my tickets yesterday. This will be my third season in a row for season tickets and I can't wait."
Hendersonville resident Mike Byrne brought his son, Chris, to meet Finnegan after seeing the event advertised in the newspaper.
"It was just a hop, skip and a jump from our house, so I grabbed my son and we came down here," Byrne said. "I know Cortland is a classy guy, so it was nice to meet him in person. It says a lot for the players because I know how valuable my time is, so for them to do this is great."
For one fan, meeting Dyson took on a more personal meaning. Roland Cox of Russellville, Kentucky had just lost his father the day before the Titans' playoff game against Buffalo. Knowing how important the Titans were to his father and family, Cox decided to attend the game, knowing that's what his father would have wanted.
"I wasn't going to go to that game because of the funeral arrangements for my father, but my family knew how much that meant to me and my dad knew how much it meant that I decided to go," he said. "I was heartbroken when Buffalo kicked the field goal to go ahead, but when Kevin scored, I just looked to the skies and told my dad, 'thanks.' I knew he had to have something to do with it. That's my favorite memory of the Titans because my dad will always be a part of it."
Nearly 10 years after he was drafted by the Titans, Dyson now fondly reflects on the special moments and fans he experienced along the way.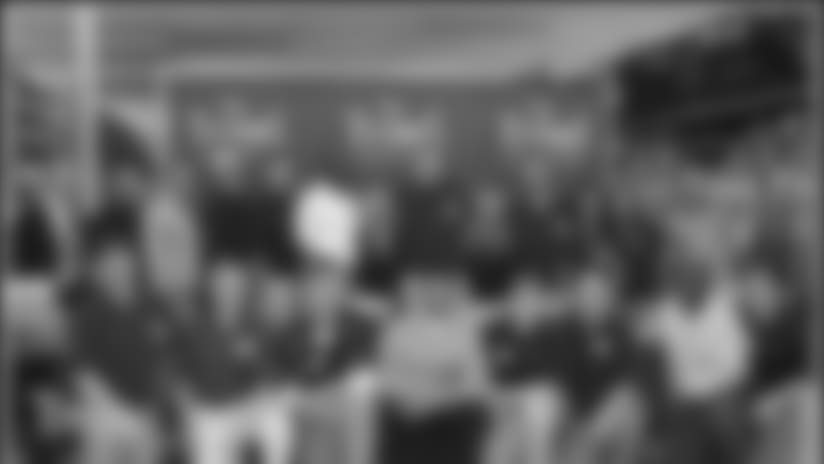 The 2008 Titans Caravan crew poses for a photo with employees from Academy Sports and Outdoors.

"I look back at some of the pictures I've been signing with the first year as the Titans and it seems like such a long time ago. I was a 22 or 23-year old guy and now I'm a 33-year old retired guy, so it goes by fast," Dyson said. "When I talk to kids, I tell them to enjoy it now because everything goes by so fast.
"You're always going to be looking back, but you don't want to be looking back so fast that you're missing out on what's in front of you. It goes by fast and you appreciate it, but at the same time, you hope that you've done enough so you're not forgotten."