**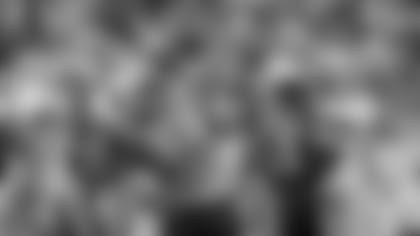 Improving third-down efficiency is a point of emphasis for the Titans the rest of the season.
NASHVILLE, Tenn. --** The Titans defense loves hitting the field, but wouldn't mind spending less time on it.
Tennessee's opponents have possessed the ball more than the Titans (5-4) in seven of nine games and in each of Tennessee's four losses. Opponents have kept the ball an average of 33:05 per game. That disparity has been magnified in the past two games because San Diego and Miami converted third downs at a higher rate than most teams have against Tennessee. Opponents have converted 40 percent of third downs against the Titans this season.
San Diego and Miami kept the ball a combined 70:51, compared to 49:09 for the Titans. The Chargers converted 12 of 18 third downs (66 percent), and the Dolphins converted 9 of 17 third downs (53 percent), sending the Titans on a two-game losing streak. Philadelphia also had success on 10 of 18 third downs (55 percent), but Tennessee was able to overcome that by limiting the Eagles in the red zone and with an explosive offensive performance.
"One of the big statistics is, for whatever reason in the last three games, we've had a lot more third and shorts," defensive coordinator Chuck Cecil said Thursday. "A big part of the third down success is being more successful on first and second down. They go hand-in-hand. You want to keep them in longer third-down distances."
Philadelphia went 7-for-8 on third downs with 3 yards or less to go, San Diego went 5-for-6 and Miami went 2-for-5 in those situations. A big difference between defeating the Eagles and losing to the Chargers and Dolphins was what the Titans did on third downs with four yards or more to go. Philadelphia went 3-for-10 in those situations (30 percent), while San Diego and Miami each went 7-for-12 (58 percent).
Cecil said third-and-short situations are tough to defend because opposing offenses have multiple options in the playbook.
"Those aren't the ones that really upset you or that you worry about so much, but when you get in third and long, third and 7-plus, that's when you really need to get off the field, and we've struggled the last few weeks doing that," Cecil said. "That's an area that we've talked about that we need to improve."
Cecil said teams have recently done a solid job against Tennessee's four-man pass rush and against blitzes.
Defensive end Jason Babin, who leads the Titans with seven sacks, said the Miami game, in which the Dolphins used three quarterbacks because of injuries and snapped directly to a running back multiple times, was frustrating.
"From a d-line perspective, we never got to get into our stuff, our hot rushes, our pass stunts … because they were converting downs, they were getting short yardage," Babin said. "There were short third downs. We couldn't do our d-line stuff because of earlier downs. They were hurting us."
Tennessee is tied for third in the NFL with 27 sacks but recorded just one sack against Miami, which Babin said used "max protect" personnel at times and moved the pocket at others.
"We know we're going to get it, especially the way we play and how we've been playing, not so much as of late," Babin said. "A lot of teams are doing that different stuff instead of trying to block us traditionally."
Cecil said the recent difficulties on third down are a combination of factors, from teams making a play to happening to capitalize on a communication breakdown.
"You really have to focus on your communication and being on the same page," linebacker Gerald McRath said. "On third downs, every inch counts, and you can't afford to have a breakdown on defense. It's even more crucial that everybody's on the same page.
"We feel like once we eliminate our mental mistakes, everything else will come," McRath continued. "We know that we've let some games slip through our fingers by the little things. Doing the little things right, the big things will come."
McRath said in some cases, offenses can make long conversions even when the defense does its job.
"You're going to have some teams that can convert third and longs," McRath said. "Those players are getting played as well. Those players are in the NFL for a reason."
Titans coach Jeff Fisher said Monday that the team addressed the communication lapses against Miami during film study, and that the Titans had some timing and tempo issues coming off their bye week.
Safety Chris Hope said Fisher warned the team about possible loss of communication and a lack of focus on the details that can occur in a game that follows a bye. Hope said the defense is focusing on "executing our assignments, being on the same page, tackling and taking advantage of every opportunity when we have a chance to make a play" as it prepares to host Washington (4-5) Sunday.
"It's so simple, so fixable in the film room, and you just kind of get frustrated knowing that you had an opportunity to get off the field and get the ball back," Hope said.
Cecil said defensive success will come after tightening up the details.
"A lot of times it's just execute the defense, and try and focus on the things that we're stressing," Cecil said. "If it's a little extra film study, if it's a little extra time, a little extra walk-through, we're just trying to stress the little things. Take care of the little things, and it will help us get off the field."