Tight end to appear in Brownsville, Brighton, Bartlett and Memphis; will be joined by Alterraun Verner and Colin McCarthy in Jackson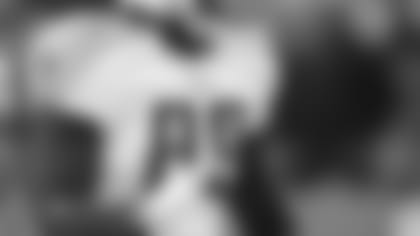 Tight end Jared Cook headlines Titans Caravan on Wednesday, visiting the communities of Brownsville, Brighton, Bartlett, Memphis and Jackson.
NASHVILLE, Tenn. --Tennessee Titans tight end Jared Cook will headline Titans Caravan on Wednesday, May 2, the third day of the team's annual two-week tour through the Mid-South.  The 14th Caravan, sponsored by Grange Insurance, will stop on Wednesday in the communities of Brownsville, Brighton, Bartlett, Memphis and finally Jackson, where Cook will be joined by cornerback Alterraun Verner and linebacker Colin McCarthy.
Cook will begin the day with an 8:30 a.m. visit to East Side Elementary School in Brownsville (1315 Jefferson Street East).  The Caravan then heads to Brighton Elementary School (1201 Old Highway 51 South) at 10:30 a.m. and then to Bon Lin Elementary and Middle School in Bartlett (3862 North Germantown Road) at 1:30 p.m.
The Caravan school program features a high-energy, educational message from seven-time Pro Bowl Titans mascot T-Rac, host Rhett Bryan and at least one Titans player.  The Titans use the opportunity to speak to the youngsters about the NFL's Play 60 program, which stresses the importance of getting at least 60 minutes of active play each day, and also the benefits of making good choices in all parts of their lives. T-Rac and the Titans school program are sponsored by Tennessee State Parks, which celebrates its 75th anniversary in 2012 and will provide several unique surprises to viewers during the program. 
The day concludes with consecutive public stops: 3:30 p.m. at Shoe Carnival in Memphis (2261 North Germantown Parkway) and 6 p.m. at the West Tennessee Healthcare Complex in Jackson (250 Bancorp South Parkway), where Verner and McCarthy also will also attend.
The public events allow fans to meet the players, T-Rac and the "Voice of the Titans" Mike Keith.  Posters are provided to all Caravan attendees for autographs, and photos are encouraged.  Every Titans Caravan public event is sponsored by the Trusted Choice agents of the Insurors of Tennessee and is done at no charge to fans.  Public stops generally last one hour.
Also for the first time, the U.S. Army will be joining the Titans Caravan public stops.  Fans will have the opportunity take part in a cornhole competition, test their skills at a variety of team-building exercises and claim free commemorative Titans Caravan 2012 dog tags.  U.S. Army representatives will be on hand to share the exciting opportunities available in today's Army.
Cook enters his fourth season in 2012, has become one of the team's primary offensive weapons.  In 2011, the former third-round pick from South Carolina set career highs in every receiving category, including a total of 759 receiving yards, which ranked second in franchise history for a tight end (768 by Frank Wycheck in 1998). 
Verner was a fourth-round pick out of UCLA in 2010.  In 2011, he played in all 16 games for the second consecutive season and notched three starts.  He totaled 50 tackles, two tackles for loss, one interception, six passes defensed and four stops on special teams. As a rookie in 2010, he notched a dozen starts and finished second on the team with three interceptions.
The Titans selected McCarthy out of the University of Miami (Fla.) in the fourth round of the 2011 NFL Draft.  In his rookie season, McCarthy entered the starting lineup after midseason and made a significant impact on the Titans defense.  His totals included 76 tackles, a team-high eight tackles for loss, one interception, two forced fumbles and two fumble recoveries.  Although he started in less than half of the team's games, his tackle total was the fourth-highest by a Titans rookie since 1999.
Titans Caravan began in 1998 as a small effort to spread goodwill through the region. This year, six full-time staffers will travel to 50 total stops with Titans players and T-Rac through the Mid-South on a specially-decorated motor coach provided by Grand Avenue.  Since 1998, Titans Caravan has made over 700 stops, traveled approximately 50,000 miles, visited close to 300 schools and allowed the team to interact directly with an estimated audience well in excess of 100,000 fans.