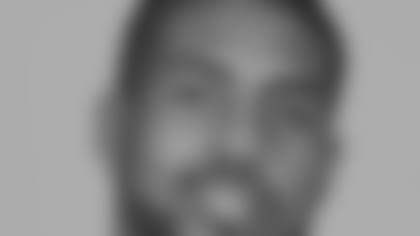 (on if he is looking forward to facing the Titans again considering the success he had the first time around)
In this league, you never know how a team is going to play from week-to-week.  They can come out and totally gear up and stop the run, so you just take each game one game at a time and don't really focus on what the team's done in the past.
(on how he went from being on the practice squad most of last year to being one of the best running backs in the NFL this year)
A lot of hard work man.  Getting up in the morning, running, lifting, good old fashion hard work.
(on if his brother, Abdul, played a big role in helping him improve)
Yeah, a huge role, he's my trainer.
(on what his brother Abdul did to help motivate him)
He didn't do nothing to get me motivated, the opportunity motivated me.
(on if he agrees with Texans head coach Gary Kubiak saying that work ethic and consistency were among the things he needed to prove to take the next step)
Somewhat, I never felt like I had a problem with those things.  I think I had that tag unfairly out of college, but yeah that's always been in my characteristics.
(on if he thinks the chance to sweep the season series with the Titans would be big for the Texans)
I think these last three games are important to us.  It will give us a chance to stay at .500 on the year because you don't want to go out a loser, as far as your record is concerned.  You don't want to go out on a losing note.  These last three games we're just taking them game-by-game man.  The team on the other side of the ball doesn't really matter at this point.  You obviously know this is a little bit of a rivalry, AFC South, it gets very physical.  There are a lot of emotions that run into this game.  You notice it, but you've got to remain even keel and just play.
(on if he thinks he's earned the respect of players and teams throughout the NFL because of his success this year)
I don't know man.  I really couldn't tell you.  I guess that's something you'd have to ask players around the league and people around the league.  I feel like I play this game the way it is meant to be played, I guess that's all I can say about it.
(on what he thinks about Chris Johnson as a running back)
I'm a fan of him.  I told him that too.  I love what he did his rookie year and of course last year, and this year I don't think he's given a lot of opportunities to do what he does, but I still love the way he runs the ball.  He's fast, he's got vision and he's one of the elite backs in this league.
(on returning to the state of Tennessee where he played collegiately at the University of Tennessee)
Actually this is my first trip back to Tennessee.  Last year I was on the practice squad when we made it up there, so I wasn't on the travel squad.  Yeah man, I've got a lot of people coming to the game to support me and my team that are from Tennessee, so that's good.
(on what his memories are of playing at the University of Tennessee)
I had a pretty good college experience.  I met a lot of life-long friends there that will go with me to the grave.  I met a lot of good people there, a good college experience.
(on if he's had a chance to meet the new University of Tennessee coaching staff)
No, I haven't had a chance to meet anybody up there.  I haven't really gone back.  I think I went back once, and that was last year at the beginning of January-ish I went.  I haven't been back and met anybody.
(on if he has any regrets about returning for his senior year at the University of Tennessee considering how it negatively impacted his NFL Draft stock)
Not regrets, I mean hindsight is 20-20.  The reason why I stayed is because I felt there was more that I could do to help myself for the next level and for the university, but hindsight is 20-20.  I don't want to say regret, that's a bad thing to live with and I don't really have regret, but if you look back the obvious decision was to leave.  I made a decision as a man and I've got to stick with it.
(on if he ever got any explanation as to why he wasn't drafted)
I've heard things.  I pulled my hamstring at the Senior Bowl and that played into it, so I didn't get to do anything at the Combine.  At my Pro Day I was still unhealthy.  I heard some things that my coaches at Tennessee said about me that are kind of just off speculation, so I don't really know.  It was just an accumulation of things.
(on what he heard his University of Tennessee coaches said about him prior to the NFL Draft)
Just that I had an attitude and I didn't work hard and things like that.
(on what he thought when he heard that his college coaches said he had a bad attitude and wasn't a hard worker)
I thought it was unwarranted and untruthful.  You can say what you want about me, but you can't say I don't work hard.
(on if he has a sense of satisfaction coming back to the state of Tennessee as one of the top backs in the NFL after his career at the University of Tennessee)
No man, because I'm not really vengeful.  I'm not, it doesn't really bother me.  I think that people reap what they sew man, I really do.  I don't hold any grudges or anything against anybody over there.  My college experience was my college experience and I'm moving forward as a man and as a person.
(on how much he saw of the Andre Johnson-Cortland Finnegan incident and how much does he think that people will be paying attention to that matchup on Sunday)
I saw the whole thing.  I was actually on the sideline watching the play and I saw the whole thing transpire and I saw the whole thing get real big.  Of course people are going to keep an eye on it, media loves negative news.  You guys love to report negative things, so you guys will probably pump it up.  This is the society that we live in right now.
(on it being rare to see punches thrown in a NFL game)
But it's not rare for a hockey game or a baseball game, but it's just not blown up like that.  You guys just like to have negative news.
(on if Andre Johnson will be able to keep his composure against Cortland Finnegan on Sunday)
Yeah, he will.  I can almost guarantee it.
(on if he got to experience playing against Cortland Finnegan in their matchup earlier this season)
No man, he's a little scrappy player.  He throws his body around, he likes to try and get in your head—I'm the type of player where I'll talk back, but I won't ever let it go past the field of play.
(on if Cortland Finnegan annoys any of the Texans players)
I mean, yeah, you can hear it across the league.  The way he plays, some people don't really like the way he plays.
(on if it's tough to bounce back after a tough loss on a short week)
We lost and that's part of the game, it is part of life—you win some, you lose some but we all, as professionals, have a job to do.  We all love what we do and we're going to do it to the best of our abilities.  We've still got a close group of guys, we've got a good locker room atmosphere and we're all trying to finish this season out on a positive note.
(on his interest in Eastern Philosophies and if they help him as a football player)
I've always been interested in other cultures and stuff like that.  I don't know how much it helps me out as a football player though.  I guess some of my off-field endeavors do because I get into yoga and I'm really into my diet, what I eat.  I watch what I eat, I don't really eat a lot of junk food, so I guess my interest in other cultures kind of gets my body a little more healthy.