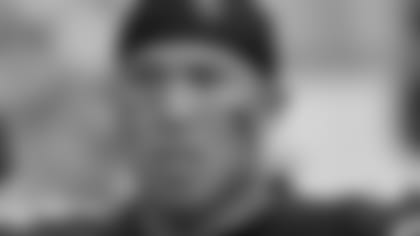 (on whether the matchup with the Titans is still special)
Yes, it is always going to be a good battle each time we play each other.  Two years ago, we went down there and got our tails handed to us.  Last year, we opened up the season with them and won in overtime.  It has always been a close battle.  There has never really been a true, true blowout but any time you have Tennessee playing Pittsburgh it is always going to be a physical matchup.
(on whether Steelers fans have forgiven the Titans for stepping on the Terrible Towel, especially since the perpetrators are no longer on the Titans)
No.  When you disrespect the towel, you are disrespecting the people here in Pittsburgh and all of Steeler Nation.  They still remember it and they will always remember that.
(on whether the Steelers players will remember it)
It doesn't matter.  It is a disrespect to us, but we don't play for somebody stepping on a towel or not.
(on whether opening the season with a physical opponent is good for a team or if it takes some time to recover)
A win is a win.  We will take a win by any means necessary, if it's overtime or a blowout or closer, at the end of the day we are 1-0 right now.  It is always great to start the year off with a win.  It gets you going in the right direction.  It is something to build on.
(on Dennis Dixon and the adjustments the offense has made with him as the starter and not Ben Roethlisberger)
We had to simplify some things.  We weren't able to run the whole package and do some things.  The think the more reps Dennis gets, the more comfortable he is going to become and the more we can expand our playbook.  You can't compare the two.  There is no question that you can't replace a Ben Roethlisberger.  He is an elite quarterback.  Dennis has great talent and its him just trying to take advantage of the opportunities that he gets.  We are going to ride this thing out with him and see how it goes.  He knows he has a tough challenge because Tennessee's defense is a lot better than the Falcons.
I love everything about Cortland, his little tenacious defense.  He is always going after guys in run block or passing and whatever.  I remember the one game we played down there, I scored a touchdown and he laid a pretty good hit on me.  He is a little feisty guy.  I like him because he plays with a chip on his shoulder, a young guy with great talent, coming out of a small school trying to prove himself.  You can see that each and every week he gets out on the field.  It is always a tough challenge going against Cortland.
(on if there are similarities to his game and Finnegan's game)
Yes.  He has a little nastiness, a little dog in him.  I like that.  Every time I watch him, I kind of smile.  We are still competitors.  We are going to go out there and compete and at the end of the game shake hands and wish each other good luck and go on about our business.
(on whether Finnegan does a lot of talking on the field)
Not to me.  We don't trash talk each other.  The respect factor is there.  Like I said, I just love the way he plays the game.  He doesn't take a lot of stuff from a lot of people.  You like that in a guy.
(on whether he communicates with former teammates Nate Washington and Chris Hope leading up to the game)
Yes. I always text and mess with those guys.  Chris and I have known each other for years ever since he first came here.  Nate, I kind of took under my wings when he first came.  Nate's mom still wears his T-shirt with his face on it.  He is still a part of the family.  I wish those guys nothing but love.  Even when they play us, I want them to have success.  I just don't want them to beat us.
(on Washington's game last week and if he thinks he will have a bigger impact this year)
Yeah.  Maybe after year four a light really clicks on for a guy to say, 'you know what, I can play at this level and I'm going to show everybody my talents.'  I think that is what Nate is going through.  He is comfortable with the system down there.  He has been down there for a while now.  He is starting to get comfortable and he made a huge play for the Titans last week.  It is something that he can build upon.  If I see something in his route, I'll always maybe text him or say that you should have done this or you should have done this.  He is still like a little brother to me.  I still like to see him go out and have success.
(on Washington's mothers' T-shirt)
Ask him about it.  His mom wore … I guess he got a spray-painted (shirt) with Nate's face on there and was wearing it around training camp, so all the teams was trying to get it because he is just a true momma's boy.  Tease him a little about it down there.
(on where he got his blocking skills from)
It was really the only way I could prove myself around the league.  When I first got to the league in Pittsburgh, we were only passing the ball maybe 15 to 20 times a game.  Me being the fourth wideout, you are only going to get one or two attempts.  I have to make a name for myself somehow.  I have always just played with a chip on my shoulder.  If that is how I have to make a name for myself is to knock somebody's head off, then so be it.  It is just a matter of people starting to recognize me as the best blocking receiver in the league, but at the same time in doing that they are looking at the stats and saying this guy is a pretty productive wide receiver as well.  I just try to be an all-around wideout.  Playing here in Pittsburgh, you have to be able to catch and score touchdowns, but at the same time you have to be able to block as well.
(on other receivers in the league with good blocking skills)
Anquan Boldin, I really like him.  I see a lot of similarities with him and I.  I just love everything about his game.  He is a great route runner.  He is good run after the catch.  He can get in there and block the linebackers and what not as well.
(on LP Field's ranking among the loudest places to play)
It is right up there.  Their fan base is tremendous down there.  It gets loud on the field.  It is something that we are going to work with with the crowd noise because every time we go down there it is something that we have to work on because it can be a factor if you sit there and don't take advantage of the opportunities you got down there.  Their fans get behind that team.  Coach Fisher has been there for the longest [current NFL tenure]; I remember coming in and playing in Nashville at the Vanderbilt old stadium he was still there.  I love everything about Coach Fisher and everything he means to that team and organization.  Every time we play them, I always give him a handshake and pat him on the butt, but he is a great coach and those fans really believe in him, the team and what he's doing, so it is a tough place to play at.
(on if he thinks that a coach's message can become ineffective with a team if he's there too long)
No, when you buy into a system and stuff—there are only so many motivational speeches you can do.  It's all about preparation.  Coach Tomlin did it the same way, when he first got here he gave us all these speeches and now he's kind of backed off from them now that he's been here for a while and knows his team and what not.  You have to adjust to your team.  I think Coach Fisher knows the type of team, knows the type of players that he brings into the organization.  So he doesn't really have to give a lot of motivational speeches because he knows the type of guys he brings onto this team.
(on if he thinks a lot of teams have a target on them for being the Steelers)
Why are we targeted?  We're supposed to be under the radar, we're supposed to be underdogs in all of our games without Ben (Roethlisberger).  I don't know, we know at the end of the day we have to play each other and it really comes down to whatever team executes their game plan.  We don't go into it looking at it as we have a target; they're our next opponent so they've got a target as well.  It's going to be a physical ballgame, there's no question, and it always comes down to what team executes the best and turns the ball over the least.  That's usually the outcome of the game.
(on if the Titans defense will be different without Keith Bulluck)
You know what, watching them on tape they are definitely not the same without him out there.  He's just an emotional leader, a great ballplayer, unfortunately he got hurt and is no longer there, but I don't know.  Somebody else has got to fill that void of his leadership.  Being out there he would put guys in certain spots, he sees things and he just has a great knack for football.  I remember going up against him and he's calling out routes and stuff like that, but you can't replace that.  They have some great talent out there as well, but losing Keith Bulluck they're definitely not the same defense that they were when he was there.
(on what stood out after watching the Titans defensive film from last Sunday)
They're flying around.  Their front four, that's the key to their whole defense.  They can get pressure with four guys, and it's very hard to stop and move the ball against them.  If they blitz and you can hit some hot routes and get open and protect your quarterback then you have success.  But just watching them against Oakland they just rushed four, and were making sacks all day and putting pressure on the quarterback.  Usually if you can do that, it really sets up for a great day for your defense.
(on how he anticipates the Titans game planning against Dennis Dixon)
I have no idea.  Coach Cecil is a tenacity, fierce guy, so I know he's always going to try to apply pressure on the quarterback and see if he makes mistakes and being that Dennis is young, that is what I foresee happening.  Just keep blitzing until you can pick it up or what not, but we've shown we can handle blitzes or what not, it's just a matter of, like I said, executing our game plan.
(on what are some of the most memorable games he's played against the Titans over the years)
Just over the years I remember the playoff game when Dewayne Washington ran into the field goal kicker.  That was a great ballgame; it just kept going back-and-forth, back-and-forth and you hated to see it end on something like that, but you guys won the playoff game and we went on.  It was one of those great games, it was one of those games that could have made instant-classic sports or whatever, it was just a back-and-forth game and I just remember it being a tight, physical ballgame.
(on if that was roughing the kicker)
I mean the rule is the rule, I don't know if it was really roughing the kicker—especially when he comes out and says he did a pretty good acting job on it.  But it is what it is, there is nothing you can do about it.
(on if he watches any of the stars of other teams from the sidelines and where Chris Johnson ranks among opposing stars)
He's a special runner now.  We watched some clips on him and he's a different, dynamic back that you probably can't even compare him to anybody because he's so different.  I'm always looking at the scoreboard, looking up and seeing the jumbotron.  I don't like to stand on my feet, but we are going to do as much as we can to try and contain him.  Hopefully he doesn't go over 150 yards against us, but he's a special running back and he definitely makes that team what it is offensively.  He takes the pressure off of Vince Young and that team goes as far as Chris Johnson goes.