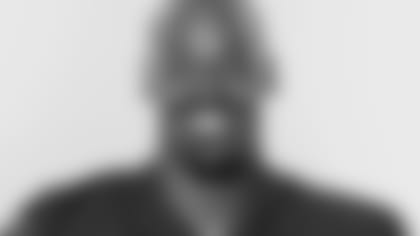 (on how the Redskins plan to rebound against the Titans with a short week after losing on Monday night)
You have to have a short-term memory in this game.  We obviously know what happened in the game and have seen the film and understand the mistakes that need to be corrected and for us to just focus on our next opponent.  We're playing a tough Tennessee team that is obviously also coming off a loss.  They're looking to change things as well.  We've all talked amongst ourselves and have watched the film and just looking forward to getting out this week and getting better and having a better showing this weekend.
(on if they're glad to have a short week because of the loss)
Yes, I could say that.  I think just the way of approaching this week is for everyone to be on top of their game mentally, as well as physically, and get ready for a tough battle.
(on why there was such a difference between the two games between Washington and Philadelphia despite there only being a few weeks between the games)
It is two different games.  You can't say that things will be the same the second time you play against them because they're going to make some corrections as well.  You tip your hat off to them for coming out and playing a different game.  There was a lot of things that changed in this game from last and it was just unfortunate that we were the ones that came out on the bottom of it.
(on how much Chris Cooley could be a factor with the recent success of tight ends against the Titans)
When you watch the Tennessee team they play hard.  They fly around well, they have some talented players, we just have to be more consistent on the offensive side.  It's not just trying to attack one particular player because people have had success with it, it's running our offense and being effective doing it.
(on his new contract extension with the Redskins)
I'm excited about it.  I've always said I wanted to be here and finish my career here.  For the organization to have that kind of confidence and the fact that they want me here, it says a lot.  You're going to hear different reports because no one has actually seen the contract yet.  You really can't harp on that, or spend your time thinking about it or whatever it may be.  My focus is what we need to do better here, in Washington.
(on if he wants to clarify how much guaranteed money he is getting)
It's really not for me to talk about.  I don't really ever talk contracts.  I'm sure when it comes out, everybody will now have the facts and everything that you've heard will be slightly different.
(on the fine line of playing through an injury and being too injured to play)
The first thought is to do whatever you need to do in order to get back out on the field.  You've worked, sweated and bled with these guys and you want to go out and help this team win, whatever it may be.  I think all players kind of have that mentality, that depending on how they approach practice with coaches, they may give them a rest, they may cut their reps, whatever it may be, but you want to be ready to go for Sunday to continue to contribute and help your team win.
(on how much you can help yourself or hurt yourself in the eyes of your teammates if you play through an injury or you decide to not play)
As far as helping your team, it shows that you're going to battle through anything for your team.  Your team sees that and they recognize it, and know they have the confidence that no matter what may have happened that you will be able to bounce back and get yourself ready to get out there with those guys.  I don't look at the setback aspect and neither do any of the players, I believe, when they get banged up as far as going out there and happen to re-aggravate the injury or make it worse.
(on how long it takes for a quarterback and a wide receiver to develop chemistry together)
It takes a little time.  For Randy (Moss), you have to remember, he's learning a new offense, getting the timing down with the quarterback, building that trust with them and with the rest of the guys.  It's not something that happens overnight, it takes a little bit of time.  You have your highs and lows, but I think for one it's really on each player, or I should say all players, for the time that they'll spend to kind of speed up the process.
(on if it is more difficult to develop that chemistry with your new team when you're brought in midseason as opposed to in the offseason)
It does.  It makes it more of a challenge.  Really it's a repetition of building that trust with those guys during practice, after practice, communicating off the field and things of that nature.
(on what he sees in Vince Young's development and how tough it is for a young guy to establish himself in the NFL)
It's tough.  Obviously, as you can see, some of the young guys that come into the league with high praise, they have a good year and then all of a sudden they start to crown them as one of the top players.  In this league you have to do it for consistent years, and I've seen Vince really play well towards the end of last year.  Started out pretty well this year, he got banged up a little bit, but he's definitely understanding the game and progressing, I know he's had some injuries but I'm happy for Vince with how he's been playing.
(on if he has a personal relationship with Vince Young)
(on if he tries to keep in touch with Vince Young)
I talk to Vince, not on a regular basis but I do talk to him.
(on if he's kind of a mentor to Vince Young)
I just try to communicate with all the guys and build that relationship.  To give them the comfort that if they ever have anything on their mind, or want to ask any questions or get an opportunity to work out together, I kind of leave that out there for them.  Vince is a guy that I've talked to many times.  I know his mother pretty well.  He's a great kid.
(on Jason Babin and how he's changed from last year when they were in Philadelphia together to now)
He has a high motor.  He started really playing well with Tennessee and he's continued it on.  I think it's more or less because of the repetition as well as the confidence in the guys for having him out there.  When you have a guy out there and you're showing him that you have the confidence in him for playing multiple downs, he's going to be able to make plays for you and he's stepped up and he's done that.
(on Albert Haynesworth not having the same statistical success for the Redskins as he had for the Titans)
He has had an impact when he's been out there.  He's made some big plays for us to help us win games.  Albert is a guy who's learning a new system and building that trust, from the coaching staff down to being able to trust the men in here.  We have the utmost confidence in Albert; when he's in the game he steps up and makes plays for us.  As far as numbers are concerned, I think a lot of people focus on the numbers too much because the numbers can be misconstrued at times.  Albert has done a great job for us.
(on if Albert Haynesworth has made strides with the Redskins over the last couple months)
Albert has gotten better with everyone.  Everyone supported him, just like I did early on, and we continue to support him.  We're family over here, a team that has each other's back in the tough times as well as in the good times.  I think for all of us we'd love to see guys be able to be successful.  Albert has done a great job for us so far and he'll continue to do a great job.
(on what stands out to him about the Titans defense)
They find ways to get to the quarterback.  They might not blitz as much, but the things that they do up front they are very successful with.  Obviously, (Michael) Griffin is back there and does a great job of trying to recognize what he is seeing and (Cortland) Finnegan as well, so it's going to be a challenge for us.