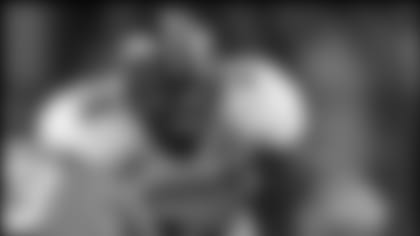 (On if this is where he thought he might be picked in the draft)
To be honest with you, the whole process I had my mind made up that everything happens for a reason. Everything was already in place and it was out of my hands. I think that this was where I was supposed to be.
(On if he thinks Titans coaches see him as an outside linebacker or middle linebacker)
I'm not sure. When I come in I want to be versatile. I want them to be able to use me wherever they see fit. If they saw fit to move me to safety or the defensive line, I just want to be coachable. I just want to work hard.
(On what kind of defense he played last year in college)
The basic 4-3 with a little sprinkled, real simple modified version of a 3-4. Not too difficult and not very complex.
Yes. In the previous years we played multiple defenses underneath the coordinator who is now at Michigan. I played for many from a 3-4, 4-3, 3-3 stack, dime, nickel. You name it, I've played a version of it.
(On if he looks forward to joining a team that went 13-3 last year and fitting into the defense)
No doubt. Just looking forward to pulling my weight and helping win the Super Bowl.
(On if he played against Titans draft pick Troy Kropog from Tulane in Conference USA)
I'm pretty sure I have. I'm very sure.
(On if he played against Titans running back Chris Johnson)
Definitely. I watched him from his freshman year on up, when he went into the draft last year. He's a great player, an awesome player.
(On if he laid any good licks on Johnson)
No, I made a few tackles. At the end of the day they pulled off an upset. In his senior year, we got the win though. That's bragging rights.
(On if he was shocked how well Johnson did his rookie year in the NFL)
No, I definitely expected it. Especially him coming from Conference USA, I know there are a lot of people and a lot of spectators that were probably amazed from the awesome things he did. I've been watching him since his freshman year. Conference USA has very talented players, so to see him do what he did last year, it wasn't anything new to me.
(On if he dreads having to try to run down Johnson in practice every day)
No doubt. I think if you go against the best everyday, ultimately in the end it should make you better.
(On which other NFL teams showed interest in him)
Philadelphia, Atlanta and Jacksonville. Those are just some of the few.
(On what went into his decision to leave college early)
I just felt like it was the time. If I was to come back for my senior year would I have any doubts or would I hold back any regrets of not coming out or coming out early. I felt like it wouldn't have been fair to my teammates if I was to come with indecisions. I feel like if your going to do something then you have to give 110 percent and do it all the way. When I made the decision it was, you hit it and hit it running and you never turn and look back. It was one of those things that I felt like it was the time. I felt like it was the next step in my life that I should take.
(On what makes him a good player at inside linebacker versus outside linebacker)
I really couldn't say. I love the game of football. I don't have a preference of where I line up on the field as long as I'm inside the white lines and I'm on some green grass I'm happy. It's something I've been doing for a long time. It's the greatest game alive and I'm just happy to be a part of it.
(On who he picked Southern Miss over coming out of high school)
I was really looking hard at Auburn. I took a trip to BYU. I took a trip to East Carolina as well. I could have been playing with Chris Johnson. Southern Miss just stood out to me. It's a blue-collar school. Nothing is ever handed to the guys that come out of Southern Miss. It's a battle everyday and just knowing that nothing is ever going to be handed to you, you have to go to work a little extra hard. You have to do the extra things because you know you are not going to get the same treatment that other teams or from other players. But at the end of the day when you do get something and you do something good, you appreciate it a whole lot more just because you had to work a little extra hard for it.
(On if Brett Favre ever showed up in Hattiesburg, Mississippi while he was there)
He did. I got a chance to meet Brett Favre I want to say my sophomore year. He came to our spring game. He spoke to us before the game and was our honorary captain.
(On if he knows any of the Titans players)
No, not right off. I know the new incoming wide receiver, Kenny Britt, I trained with him at API. I've built a relationship with him so I'm looking forward to meeting up with him again.
(On what he thinks about Britt)
He's awesome. He's very physical and very big. I love his passion and I love his competitiveness too. I feel like that is something that is going to elevate him, the way that he plays.