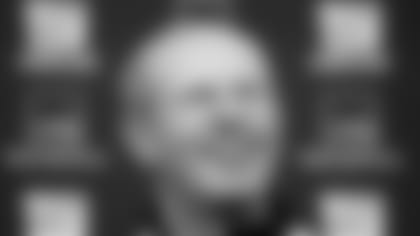 HEAD COACH TOM COUGHLIN**
(on whether the two teams are in a similar situation coming off losses after winning the opener)
Every game is important.  Every game deserves to have its own importance attached.  We understand that it is the third week of the season, but every game that you play early on determines the progress and the eventual quality of the team that you have and how your team is going to play in all situations and how they are going to bounce back from difficult losses, adversity and that kind of thing.  Without a doubt, this game is an important football game.
(on whether when he is watching film he recognizes a lot of the schemes)
Well we haven't played the Titans in a few years.  There is definitely some changes and obviously some personnel that is different from the last time that we played.  It is a basic Jeff Fisher team, and that part of it is recognizable.  They have improved it and built upon their foundation and so those are where I recognize the changes.
(on how his relationship with Coach Fisher has evolved)
Well we went to Iraq two summers ago and really enjoyed that experience and have great memories of that, which we share with (Bill) Cowher, (John) Harbaugh and (Jon) Gruden.  We are friends.  Jeff has reached out to the Jay Fund, my foundation, and has been a part of that.  We have been in this a long time and we have been friends for quite a number of years.
(on if there was a time when their relationship was a little more frosty with the division rivalry)
To be friends is one thing, to be competitors is another and we both know about that.  I don't know, probably when we didn't know each other very well when we were just getting started over in Jacksonville and Jeff was moving around a little bit with their franchise.  Those years were highly competitive in terms of that.  Over the years he has been at that a long time and done an outstanding job with the Titans.  We have known each other for a long time.
(on the impact of Keith Bulluck with the Giants)
Keith is a guy that we certainly knew well about, a tough guy, a Syracuse guy.  I watched him play for a number of years and had great respect for him.  I knew about the seriousness of his injury.  When we asked him to come with us and be a Giant, he was not really ready to play yet.  So we had to bring him along during camp as best we could.  He has had no setbacks and his playtime is increasing.  I thought I saw a little bit of the old punch last weekend.
(on how close Bulluck is to being 100 percent back)
He is getting close.  He is getting close.
(on Mathias Kiwanuka not bringing down Vince Young from the 2006 matchup and how that play impacted his game)
Going back that far, as a rookie in the league and sometimes it would be my fault, you sometimes overcoach the roughness penalty business and so on and so forth and be sure you don't do this and you don't do that.  I think very much that was on his mind.  He is an outstanding young man and an outstanding football player, very focused and tough guy.  He overcomes whatever you throw at him.
(on how helpful Bulluck has been with information regarding the Titans personnel)
I don't know.  I think that one or two of the coaches grabbed him.  Basically he has been trying to learn our defense and trying to prepare himself as best he can for being a New York Giant defensive linebacker trying to prepare for a very good opponent in the Titans.
(on if it is too early to expect him to be a leader on the team)
He has been very much a pro about that.  He has kind of been an observer and been involved in a very quiet way, a very supportive way.  As this goes along, I would expect he would grow in that role.
It is beautiful, just a fabulous place.  It really is.
(on if the stadium has a similar feel)
I think it takes time.  It is going to be its own home.  It is very distinct in that way.  We are going to let that take care of itself, which I know it will.  It is a magnificent facility.
(on reeling in the potential bulletin board material)
We caution our players always that the game never changes.  If you say something that provokes someone else's interest it will certainly be reviewed.  There are so many outlets to information today.  I haven't spoken directly to Keith about that, but being the veteran that he is I would hope that he understands that part.
(on Brandon Jacobs' playing status after throwing his helmet into the stands last week)
The league has taken their position and we have taken our position in terms of making sure that that was understood in terms of why that is such a senseless thing that happened.  I think we are putting that behind us.
(on Jacobs' attitude moving forward)
(on what makes a stadium loud)
There are certain places where you have that whole combination, you have the excitement, you have the team, you have the fans, you have the fervor, you have all of that.  There are certain places that provide all of that for you.  Our stadium, even though it is an open-aired stadium, the fans are much closer.  That being the case, it does have a very nice noise ring to it.
(on how much the noise can affect the play of the opponent)
You better believe that it helps and it can be the famous adage.  You have experienced it right there, the fans can make it difficult to communicate and you really have to be focused in order to get that done.
(on if there are any regrets with the game plan against the Colts)
No, I have no regrets about the game plan.  It was well thought out.  It is a team that we studied this offseason.  We took the first week of the season and paid great attention to that as well.  The combinations that people refer to are not the reason that we got beat.
(on what the reasons were)
They executed very well.  They blocked us.
(on his impressions of Chris Johnson)
Chris is an outstanding football player.  Obviously, he had a tremendous year last year.  He has had two games in which he has had two long runs in both games.  He is a guy that you certainly have to point to if you are going to have a chance to win.  You have to find a way to try to slow him down a little bit.  We have great respect for Chris.
(on whether it is tough as a coach to have a running back by committee)
We have found our experience here that you need more than one.  No matter how we have gone about it, we have been able to rely on two and sometimes three.  When we had Derrick Ward here, we were blessed to have another runner who we could call upon.  That allows us to continue to go forward no matter what happens.  Whatever the situation is, depending on the team that you are coaching and what you have available, you adapt to it.  We have been able to play with a couple, sometimes three backs and utilize all of them.
He's continued to grow and develop.  He's a good football player to start with.  When he has a solid practice week, he's even better.  He didn't have a week of practice last week.  He did play, and he was significant in the game for us.  I look forward to his continued development as the season goes on, when he has an opportunity to practice and play.
(on former Vanderbilt linebacker Jonathan Goff)
Jon's doing OK.  Jon's done well.  Jon's had a nice training camp and had a nice fall and did a nice job last weekend as well.
He's a good, physical player, and he's become a guy who, I think, enjoys the task of a play caller and has a deep voice and the personality for it.  When called upon, he assumes any role you ask him to, and he's an outstanding team guy.