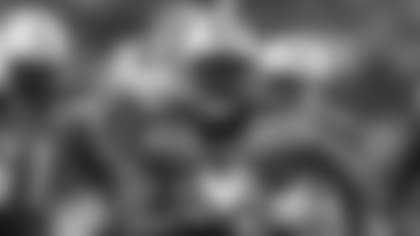 Rookie RB Javon Ringer rushes for a 36 yard touchdown Saturday night vs. Tampa Bay.
NASHVILLE, Tenn. --** One of the key aspects of Tennessee's 13-3 season in 2008 was its ability to run the football. Thanks to the one-two punch of Chris Johnson (1,228 yards, 9 touchdowns) and LenDale White (773 yards, 15 touchdowns), the Titans were among the NFL's best on the ground.
Johnson and White return in 2009, but now the Titans are hoping a third running back will emerge to compliment their dynamic duo. The competition is fierce. Javon Ringer, Tennessee's fifth-round pick out of Michigan State, has been impressive, currently ranked fourth in the NFL and first in the AFC in rushing yards during the preseason. Chris Henry, a second-round pick from 2007, is in the mix, along with Quinton Ganther, a seventh-round pick in 2006, and Rafael Little, who signed as an undrafted free agent from Kentucky a year ago.
"It's still wide open. There's a great deal of talent there and it's not going to be an easy decision," head coach Jeff Fisher said. "You just try to get them more carries. The more reps they get, the better off we'll be."
Ringer, who left Michigan State as the 10th-leading rusher in Big Ten History (4,398 yards), is coming off a senior season in which he rushed for 1,637 yards and 22 touchdowns. He had an impressive game Saturday night, rushing seven times for 51 yards, including a 36-yard touchdown run against Tampa Bay.
"I feel like the level of competition is pretty high. For me coming in as a rookie, everyone else here has a year or two under their belts, so I'm doing my best to compete as well as they are," Ringer said. "I'm just making sure I'm learning all the plays and protection and doing all that I can without the football in my hands."
Henry, meanwhile, is a physical specimen who Fisher said is enjoying a good camp. At the 2007 NFL Combine, the Arizona product ran a 4.4 second 40-yard dash, bench pressed 225 pounds 26 times and displayed a 32-inch vertical leap.
Now in his third season, Henry realizes he needs to capitalize on each opportunity he gets.
"It's the preseason and you don't really have any control over the reps, so each time I'm on the field I just cherish that opportunity and make sure I put in 100 percent," Henry said. "I'm feel I'm doing as well as I'm able to do right now. I feel like everyone running in the backfield is doing well. We're all having a really good camp so far."
Ganther, a downhill runner who packs substantial power in his 5-foot-9 frame, plays well on special teams and can fill in at fullback. He had an excellent preseason in 2008, rushing 15 times for 148 yards (9.9-yard avg.) and two touchdowns. He also carried nine times for 61 yards in Tennessee's regular season finale at Indianapolis last season.
"Originally I wasn't doing too well, but now I'm back to being Q," Ganther said of this year's training camp. "When I put my foot to the ground and anybody gets in my way, it's going to be a collision -- that's what I feel I bring to the team and that's what my strength is. I'm always looking forward to getting out there and playing ball and getting touches. Whenever I get them, I'm just going to capitalize."
Also in the mix is Little, a fleet-footed running back who spent his entire rookie season last year on the reserve/non-football injury list because of a knee injury he suffered at the Senior Bowl in 2008.
Prior to his setback, he was a highly-regarded tailback at Kentucky, ranking eighth in SEC history with 5,343 career all-purpose yards during his four-year career. He became the third player in conference history to reach 2,500 rushing yards (2,996) and 1,000 receiving yards (1,324).
Fisher said the Titans had a high grade on Little prior to his injury.
"He was a very productive back at Kentucky. He plays well without the ball, he's got good hands, he's a good, instinctive runner and he's a returner," Fisher said. "Our area scouts liked him, and so we thought it would be a good opportunity to get somebody like that and rehab him."
With three preseason games left, Little realizes he needs to take advantage of all of his opportunities.
"Basically, I just want to come out here and show my talent," Little said. "That's why they kept me around, because they know what I can do."