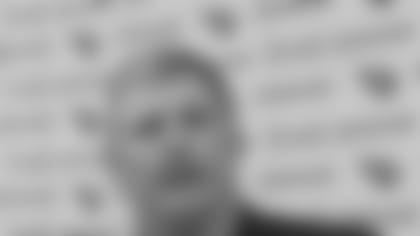 (on Joe Paterno's announcement that he will retire after the season)
Well, let me just say that to me this whole thing has been a horrible situation, it's been a tragedy that something like this can happen. I can't imagine what the victims and the families have been through going through all of this as you hear more information. As far as how the university is handling it and what coach Paterno is deciding to do, I think they know all of the information and that is information that only they are aware of exactly what did go on. I think he is probably doing what he needs to do. I think he probably knows what's gone on here and I'm assuming he stepped back and thought that this is what is best for the university and for him going forward.
(on if this may taint Paterno's legacy at Penn State)
I think that's the last thing that everyone is worried about right now. Time will pass and that will all work its way out. I think this is something that's obviously, like you said, more should have been done I guess at the time when people had an opportunity. They are going to look through all of that. The information will come out, exactly what happened, this is a long time ago that a lot of these things happened. It's something that right now is something that's unfortunate. Being from the university, I'm still proud of my university. I still think it's a great place to go to school, but right now it's just something that is very unfortunate, it's a tragedy that happened at Penn State.
(on if the incident is weighing on him)
I think it's just the shock of it all. The shock that I think whenever you know Jerry Sandusky, I was there four years and Jerry was there as the coordinator and to think that he is involved in something like this or accused of something like this is just very hard take in. The things that have been going on for this amount of time - and that's the part that when I think when people go through something like this, at some point you look at it and go, 'I never would have thought this possible,' and that's kind of the feeling I had when I first started hearing, when information started coming out over the past few months even when the investigation was ongoing and before all of this information started coming out.
(on how well he knew Jerry Sandusky and when the last time they spoke was)
I didn't know him like obviously…I haven't been back to Penn State over the years because of playing football and coaching it, so I wasn't close with Jerry (Sandusky) by any means, but obviously I was there with him for four years and knew a lot about him, but I never spent a lot of time with coach Sandusky.
(on how stunning it is that Joe Paterno made the choices he made given the integrity he has been legendary for)
That's the thing, without having the information and being in his shoes and knowing exactly when all of this went down back in 2002, I guess it was, of what decisions were made and what information he really did have, what he decided to do and I'm sure at some point he will explain all of those things. If he said what he said during the press conference, I'm sure looking back on something probably now he realizes that…I don't know what he knew at the time so it's kind of hard to judge at the time on what he decided but ultimately he is the guy that made that university what it is and ultimately he is responsible for anything that happens while he is the head coach there and so he has a lot of responsibilities.
(on what Joe Paterno has meant to him as a coach or mentor)
Like I have said before, from the day I got the job, when I went to Penn State I can't speak for everyone that's gone there but he was a great coach to be around. I knew the players, we were very important to him not just as football players but as people and he made that very clear. I thought the way he handled the team, the way he motivated us, the stories he told us were more about life, not just football. He was really concerned for what you did after football, the school thing was legitimate, he did want guys to graduate. All the things you heard about him were exactly true, I don't think that will change for anybody, anyone that's been around him. He has been a mentor at the university for 60 years and he has done some great things. The university wouldn't be where it is today without him. Unfortunately, right now it's not something that you are going to dwell on but at some point people will realize that it's just a matter of the question is had all this happened and I think that's something that will unfold over the next so many months I guess.
(on the if he has spoken to other Penn State family)
Just a lot of ex-players, just talking to players and they are the same way I am. Chet (Parlavecchio) is here on the staff and Tim Shaw is here from Penn State. When you talk to a Penn Stater, we all have the same story about our experience there as far as what the place meant to us and the pride we have in that place and coach Paterno and the staff. When you hear something like this and that there is something going on at your campus, it's hard to believe. The shock is, 'how could this have happened, how could this have gone on?' I think everyone is kind of the same way and most of us are all getting the information like everyone else is over the last couple of days with some of the things that have gone on 10 years ago.
(on if it's heartbreaking)
It is, it's heartbreaking for me. We get caught up in the football, it's the kids and the families that went through this. I can't imagine what they are dealing with and that will all be dealt with legally. For us, that it happened to someone we know and trusted and (Jerry) Sandusky is being accused of something that is just hard to fathom that he would be involved with something like this when he meant so much to the university at one time.
(on if there was ever any talk about Jerry Sandusky that now makes sense given the allegations)
No, not at all. I knew all of the stuff he was doing with the Second Mile and that organization and kids and but nothing that was ever…no.
(on if coach Paterno should coach the remainder of the season)
Not knowing all that has gone on with this, I would think that for now, if you just isolate the football part of this equation and take out all of the other things, I would think that there is nothing wrong with him finishing out the season at this point. He knows that he as well as all of the other administrators are responsible for anything that goes on on their watch on their campus. Obviously, they are going to make a lot of changes, they are going to do the right thing there is no doubt about it. I think they are in the middle of that now. I think the university will do the right thing and coach Paterno knows that. He is stepping down when the season/s over, so I'm assuming that there is nothing wrong with him finishing the season.
(on if he will view Joe Paterno  any differently because of this)
No, he is a man just like anybody else that is going to make some mistakes. I don't know what kinds of mistakes he made in this, I'm not going to judge him at all because I don't feel it's smart to judge anybody and especially when you don't know exactly what went on and what he was told. We all don't know the details of this thing, but for me, I just go on my experiences with him. I have made a lot of mistakes myself so it won't change how I feel about him, my relationship with him, what he has done for me and my career as a player. Those things will always stay the same, and my experience at Penn State. It's going to be a black eye for a while for Penn State University, but I think the university will obviously go on and recover from this and there are a lot of great people from that university. I think it's definitely going to be an issue for a while but in time, this part will clear up.
(on Nate Washington and his hip injury)
He is sore but it's one of those things that day by day he is getting better and we will see. We had four of five guys that couldn't practice today and he is one of them. We are assuming that Friday would be the day that he would get an opportunity to do some things. He is smart enough and he has been around it enough where he should be able to play on Sunday.
(on how he accounts for the Titans being 10% better at scoring touchdowns in the red zone than any other team and how to keep it from leveling off)
We can't let it. We were talking about that this morning as a team that we have to get down there more often and get more touchdowns. The thing is that when we do get down there that's a real good thing that we are doing obviously on offense that we are finishing with touchdowns which is huge. We just have to get down there more often. The coaches and players realize that when we get in there we have to finish these drives and at least we have done that and haven't made many mistakes in the red zone. When we have gotten close, we have finished drives off. We just have to have the ball more often and get more of those opportunities.
(on why Matt Hasselbeck was limited today)
Like last week, that was more of a coaching decision with Chris (Palmer) and myself and thinking that we would give him a little break. He could have practiced today but especially with the second half of the season, we thought that with the leg a little sore, his hand is a little sore, from this part of the season so we thought we would give him a little rest and then we will have him out here tomorrow.
(on what he has seen from Cam Newton so far)
He looks good, he is exciting to watch, and he was that way in college. They have done a good job of taking things that he does well, especially with the limited time with him. He is in the gun quite a bit, but he is still under center and doing things that people thought he couldn't do right away. He has a lot of great weapons, they're playing for him. (Steve) Smith is doing a great job making great catches. They have two good tight ends, two good running backs,  they have some household names on offense that they can use. He has extended plays with his legs and they call plays that he can run. I wouldn't say that he is a running quarterback looking to run, he is looking to make the big play. He has a strong arm. He has done real well. They score a lot of points and a lot of the yards they are behind in games but they have been close in a lot of their football games. No one has blown them out. They have struggles more on defense because of injuries, they are not what they thought they would be early because they lost some of their linebackers who were some of their leaders early in the season so they have given up more points than they thought otherwise they would probably be sitting here with a 5-3 or 6-2 type record.
(on if he is surprised that Cam Newton has been so successful so quickly)
Last week we saw the same thing. I think (Andy) Dalton in a different way, in a quieter way but a winning way is playing the same, in his way. He is not going to run around the field and all of that and be as flamboyant and be on SportsCenter every week, Dalton is not, but I think he is playing just as well. I think that's what Cam (Newton) is doing, he is playing his game his way and the good thing is Carolina is letting him do it his way. They are not trying to change him, they are obviously teaching him and he will get better at the drop back step, but he is a weapon. He is a human highlight real. He is going to be a challenge. It really forces you to be disciplined on defense with everything you do because you can't come off receivers when you think he is running. A lot of those issues you have to be sharp with. Sometimes you have to spy him. There are a lot of ways to attack him so you just have to be patient with how you do that.
(on if this is a must win if they are going to make the playoffs)
Oh definitely, in our mind like most teams are probably, we have to win them all. You can only win them one at a time obviously but we have to get a winning streak going and we know that. We can't go win one, lose one the rest of the year or we are going to sit here at .500 and that's not going to get us anywhere. We need to make a stand somewhere and it starts now coming off a game that we feel we should have won or had an opportunity to win, but we didn't play good enough in the second half to do that and we can't have any more of these conversations or we are going to be sitting here thinking that we are a pretty average football team.
(on if he will look to the practice squad is Nate Washington is still unavailable at the end of the week)
No, I think we will be OK with (Donnie) Avery and the three others. Right now I would think that that shouldn't happen, that we should be OK and Nate (Washington) should be OK to play. Maybe we don't play him as many reps or maybe he is a little more limited, but we are feeling at this point that he should be able to suit up and play.
(on what he needs to see out of Chris Hope to decide how much he can contribute Sunday)
I think just how he recovers day-to-day. The first time out there I think he split the reps with Jordan Babineaux and so now we will see how he does tomorrow and how his body responds to being on the filed two or three days in a row and determine how much he can help us on Sunday. Talk to Jerry (Gray) by Friday and figure out how much he can help us and how best to use him.
(on is Chris Hope will start when he returns healthy)
I think in that kind of spot it would be something where assuming all the what-ifs are he is 100 percent ready to go and they feel good about it, I'm assuming it will be more of a rotation thing where they will both play. I don't expect him to come in after missing five weeks and his endurance and all of those things will be in a position where we can put him in a position to play that much in the game but I don't know how many plays he will get. The starting thing's not important, it's more about can he contribute to us winning this Sunday.