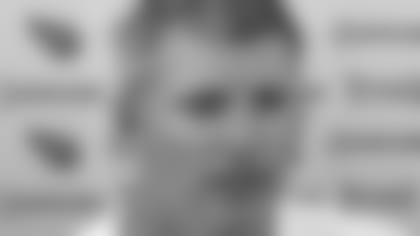 We had three good days- Monday, Tuesday, and Wednesday, we were in pads. I think the weather made it a little easier for us. Like I said yesterday, we were able to cover a lot of situations and finish the game with three two-minute drives. The offense had a little success finally in the two-minute drive, which is good to see. Earlier, we started with some competitive periods; the last play, we were trying to get into the end zone, which is a little tough on the offense; the (offense) did a great job there. So, a little give and take throughout the day, and I think it was good; I think they had three good days. We changed up the time of days we were practicing. That was the first time we were out kind of like a noon game in Jacksonville, where we have cloud cover, so it made it a little easier that way. Good, good work, and we'll start focusing a little bit more on the weekend.
(on why he has had the players practice with full pads over the last week )
I talked to these guys when we first got started; I told them that we all know the game is played in pads. I think you have to learn technique with pads on, as far as bending your knees, form tackling, all those things. I think you get in a lot of bad habits when you just constantly don't have the pads on. You don't have to go out and be out of control just because you have pads on, you can practice smart. I think we're learning how to practice as a team now with pads on. I think that's important just to be able to do, especially this early in camp before the preseason games. The preseason game takes us to the next level. Now it's tackling, now it's the rest of the things we haven't done here in camp. So, we'll have to see how that goes, but I think it's just important for our mindset. Having the pads on really doesn't mean anything; it's just like coming out with anything on. We're just going to do our work, no matter what we are wearing, and have great tempo and get things done. It's more about the technique part of it, and really to keep guys from getting hurt hitting shoulders.
(on the lack of many fights in training camp)
We had some early. The first time, we had two or three fights that first day. I think we had the full pads on during the evening practice and we just talked about the consequences of doing it. I don't mind the pushing and shoving, that's okay. We've had some of that, but at some point you pull off. You don't take that swing at each other, you don't try to grab each other's facemask. If that happens in the game, if that's your natural reaction, then on Sunday's that's going to be your natural reaction. When you get frustrated, you're going to grab something, you're going to take that extra swing, and it's going to be 15 yards against us. I think we really stressed those kinds of things the few times they came up. I had some good examples to teach from and present to the players. I think they realize that they don't want that to happen, and that just can't be your natural reaction when we are upset. So, I think you're seeing good, physical practices, but like I said, we're practicing better together the last week or so.
(on how long the starters will go on Saturday)
It's not going to be a whole lot different than people are used to in the past. We may play a little bit longer, but not a whole lot. I think that's something we'll start discussing more on an individual basis this evening and tomorrow with the coaches as we start limiting the plan a little bit. When these guys are out here on offense, and running practice, they've got the whole book thrown at them. We've installed a lot of things over the last six or seven days, so what you do in preseason games is you just kind of limit it down, especially for the young players. You can say, 'Here is the things we're going to call on Saturday, so you don't have to worry about all of the other stuff. Let's just concentrate on these runs, these protections, these routes, that kind of thing…These defenses, these blitz packages.' So, it's more simplifying it now during the next couple of days so we can concentrate on what we want Saturday night.
(on if QB Jake locker will get a chance to start or play with the number one unit in the pre-season)
We may, but I think the plan is to have him work with the ones each week probably. We will probably take Matt (Hasselbeck) out sooner, and leave him in there with the first group. Same thing with the receivers and tight ends, we are going to be smart. We want those guys to have an opportunity to be with our number ones or our best players, so we will rotate accordingly. Maybe each week we will give each of them a situation, but we will be evaluating all of them to make sure we have the right people working with the right people so they have a chance to show us what they can do.
(on his expectations of QB Jake Locker in his first NFL chance)
Well I think he has pretty much done what we expected to this point, which is very encouraging as a coach and as a staff here, and I'm sure Mike Reinfeldt and those guys when we made that draft pick… because there is always a lot of pressure on that first-round pick when you are making that decision. Like I said, he has done what I thought he would, he is exactly what we thought he was to this point. We know the game is going to be interesting just because it's his first time doing it, for him and the other rookies, Akeem Ayers and all the other guys that are going to be out there. It's different, you can't prepare yourself for that, it's just different and we will see how they respond. It's just hard when you are playing with guys you're not quite used to, so all that factors into it. The bottom line is you want them to go through the experience of the game, hope that they have success so they can see what we are doing is some good stuff and that we build on each week.
(on if the rookie defensive lineman are playing with the ones for experience or because they are playing so well)
Well I think first it's for the experience, and we want to see those guys go against our number one offensive line. we don't want them to just be going against the young rookies so I think that's part of the plan. When you do that, when you give a guy an opportunity like say a Karl Klug, and all of the sudden he goes in and does well and shows up and makes some plays, then you are going to give him more opportunities with that group. Like I said, it's not where guys are practicing, that doesn't mean a whole lot as far as how things are going to be in Jacksonville, but I think it's important. If he wasn't doing well we wouldn't keep him in those spots. So he is doing a nice job. (Jurrell) Casey is doing a nice job inside; he is doing exactly what we ask him to do. He has been getting some penetration, making some plays, showing he has some pass rush ability to him also. (Zach) Clayton, a seventh-round pick doing what we thought. He is a big nose tackle in there, has more wiggle than maybe people thought and he can put a little pressure on the quarterback. Three good players, we thought that when we drafted them, we were excited. 10 days into camp they are who we thought they were. Practice is one thing as we all know, and how they perform in a game against other people is another, so they will get a chance to experience that on Saturday.
(on last year's draft class playing well and their chemistry)
I think it's real important. I think that's what we try to encourage here with these guys spending time together. That's why a lot of us were more concerned about not having an offseason just because those guys are here together; they get in a routine from the end of March all the way through the summer of being together or working out together, golfing together, whatever it is they are together and that continues the bond with them and also with the coaches. That's what we were worrying about missing the most these past three or four months. We are presently surprised that the bond is good and these guys are getting along well. We think the coaching staff is blended real well so far on what we are asking them to do. I think we have done a good job as a staff of not putting too much on these guys in these first 10 days.
(on last year's draft class )
So far so good. Think you look back after three years and see how a lot of those guys panned out. They are going to start getting a lot more opportunities. I think that's a huge plus for Mike Reinfeldt and Ruston Webster upstairs and the job they are doing. This class here, so far every one of these guys have shown at one time or another that they have a chance to contribute in a big way. That's a good thing, but it's going to create roster issues at some point because you can't keep them all. You want to hit on them all and we are trying to bring on other free agents so we are going to have some really tough decisions which I guess is a good thing.
(on the importance of the preseason games to TE Jared Cook)
I think it's huge for him just because he became part of the offence in the last four weeks of the season last season. I think he just needs a chance to pick up where he left off. When we drafted him in the second round, we knew he had that kind of potential and now it's starting to come out. I think Chris Palmer is real excited about him and has been since he first came in the door and watched the film. So we are expecting a big year out of him and he needs to have a good camp like a lot of them these next four weeks.