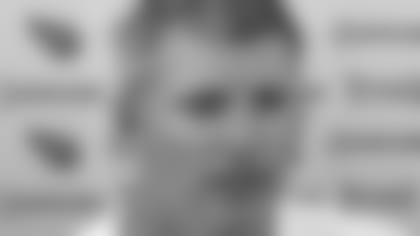 (on what he gets out of the final preseason game)
Just a little finality to it all and opportunity for guys to continue to play, there are still roster spots that we are looking at different guys and different positions, so it's still very important to a lot of guys and to the team in general. I think you just want to finish it up. It's kind of the signal that camp is over, it's an opportunity to go on the road one more time as a group and perform well.
(on the best advice he could give guys on the bubble)
To not worry about it, to know that all they can do is do their best and go out there and play and not worry about what may happen two days from then. That's pretty much all you can do. Give it your best and be on the film and hopefully between the Titans and we keep them or they have the opportunity to go somewhere else. You just have to relax and play and let you your abilities come out.
(on what the most competitive spots on the roster still are)
It's not necessarily a starting spot, it probably depends on where we go and if we keep eight or nine and you have guys making a case for that. Defensive line, do you keep 10 or do you keep nine? Secondary, it's all those last numbers of guys competing for us to see exactly what is the best fit, who we want keep, and what our opportunities are. I think you see a lot of that going on out there with these guys Thursday night.
(on how much playing time the first group will get)
Generally, the guys who have gotten the reps, like at quarterback just like the first game, I'm sure Matt (Hasselbeck) will get 10 snaps, eight snaps depending on what the drive is early. From there the offensive line is the same thing. You will probably get guys doing in that 15 play range. The offensive line may be affected by (Jake) Locker for a series or two with him. So I think in that area of first quarter, 15 snaps, and there are going to be some guys that you are going to want to play a little bit more than that that maybe haven't been playing so you will get a mixture on Thursday night.
(on what the early feedback on Kevin Curtis is)
He has experience, we like his speed, and we want to see how he fits with us. It's hard to do that in a short period of time and we all know that. So we will see what in a game like situation on Thursday how he does and that's what we will have to look at. We know what he has done in the past, so we are just going to kind of see where he is at for us for the future.
(on if he has admiration for what Kevin Curtis has had to overcome)
Of course, I think it's exciting to see him come back out here, be excited about it, and put it on the line to see if he can make the team this weekend.
(on how confident he is that Chris Johnson will be here when the season starts)
I don't know, you hope it's done this week. We want him here as soon as possible, we are running out of time for that to happen. We play this game Thursday and we are hoping to have him this weekend so he can be ready to play and help us in Jacksonville.
(on what his approach will be if Chris Johnson is not back for the opener)
If he is not here, then we have to address that position. The running back position will have to be addressed as far as how we go into the Jacksonville game. That would force us to take a hard look at that and see how we want to go into that game. We can't afford to be not at full strength in our opinion for that game. If he is not part of the equation for whatever reason, then we will have to move forward with whatever we think is best to do at that spot.
(on if it is encouraging that Michael Vick got a new deal since Vick and Chris Johnson have the same agent)
I don't know about all of that, I don't know how one deal affects the other guy. He is a running back, he plays for us and all we are concerned about is him agreeing to terms here. Other deals, I don't know how they affect or don't affect what he does. We all know what we want, and we want him here and we have been saying that for a month now and we have been patient and that's all we can be. If he is not here then we move forward without him.
(on how he handles checking in with Mike Reinfeldt and if it's everyday)
Probably more so early to see what the plan was and what we were thinking, kind of see where (Chris Johnson's) mind was at back when this first started six weeks ago. Then not for a while because it kind of got quiet for two or three weeks and then when he came to visit a week ago we talked when we knew there was an opportunity that he was going to come in and see where this thing was at. I don't talk to him much daily at all, I assume that if there is any good news that I will be one of the first to be told. So I will wait for that time to come but right now I have enough to worry about with the rest of the guys and getting them ready. And like we said, if we have to address that position by the end of the week or beginning of next week and we will.
(on who is affected most by the fourth preseason game)
The guys who are at 50, 51, 52, the last four or five guys that are making a case why they should be part of our team, and then injuries play a factor. You start looking at what guys may or may not be back at the beginning of the season and where do you have to carry an extra player. Guys that may think, 'well geez I'm out of this, I'm counting numbers and I'm done,' but all of the sudden a guy or two is not going to be healthy by the Jacksonville game or someone gets nicked in this game, then all of the sudden we are counting on those guys. I think it's important for all of them. It's good for us as a team. You want to still play well no matter when you go out on that field. It can be in different capacities whether its special teams where you are looking at special teams players, it's a great opportunity to see who might step up. There are a couple guys there you may be looking at to see how they respond in this game. There are a lot of little things like that as coaches and that's why for me it helps me and the coaching staff. It's not just about the players, it's us getting ready too. It's us making decisions on the two-minute drive or how we do things as a staff. I think we need them all. I think four games is good for all of us. If you cut back to three I don't know what the approach becomes. Does it become you only play two and now in the third one you are cutting back on guys? I kind of like the way it's set up, it's not that long of a training camp. It's six weeks, I don't think it's overdone.
I think that the fact that he had his knee scoped yesterday and I think that's common when you have ACLs that you go back for some clean up duties. Maybe the good thing there is that there was something actually going on in there that hopefully will help him with his confidence. It's something that he can be back in a couple weeks from. He is a guy that is going to miss the first game for sure and then from there you have to see how he will be in the second and third game. It's a small setback for him, I think it was hard in the Rams game when he felt it. We have been talking about that thinking that maybe he can get over it and avoid the surgery but he needed a scope and they did it yesterday. He will be back this weekend and now hopefully it's behind us and we have him for early in the season.
(on if he expects Chris Hope to play on Thursday night)
I'm not sure, he is one of those guys that are in between if we want to play him or not play him. He has gotten a little banged up with a knee and an elbow but it's nothing that's going to be a problem if we had played this weekend, but something that we may end up holding him over.
(on what he is hoping to see from Kenny Britt on Thursday)
Just to go out there and have some fun, finally put everything behind him and just be part of our offense like we know he can be. See him in the mix, get him 10 or 12 plays and hopefully get a catch or two out of that and get tackled, let him feel it to get all of that behind him so that now we can just kind of go on to the business at hand next week without worrying about 'well Kenny hasn't done this, and Kenny hasn't done that.' Let's just get him out there with us and he has been looking good and I know he is excited so it will be nice to at least get him out there for a little while.