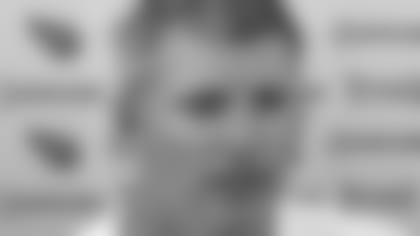 I thought the defense had a really spirited practice, and I figured it would be that way when it cooled down the way it did. It was the last night practice, probably for a while, so we covered a lot of things. We covered a lot of situations, moved from drill to drill at a good tempo, and it was fun to watch them compete.
(on what he looks to learn when the players are in full pads like they were tonight)
Just how they respond to it. You're not tackling, but you're doing everything else. It's kind of a mindset that we're going to come out here and get better at something. You could tell from some of the periods that the defense had the hand early, making some plays on us, and the offense held on there a few plays; just changing the periods around, making them think a lot, and putting them in a lot of stressful situations. We started the practice with five shots on fourth-down to get in the end zone and score with the first and second teams. There were 10 plays to start practice where they were competing to win the game. Then, we went right into a run period to get more of a grind of 15 runs in a row with all different personnel packages. The defense played a lot of different fronts, so they had to respond to the 46, the 4-3 stuff. I think you move into a four-minute drive, do a little four-minute, then the defense stops them and the offense goes into the two-minute. It was kind of fun just doing a lot of different things that we were able to cover in this practice. As the practice went on, you saw the competition levels taken up, so I think it was a good workout for them.
(on how Jovan Haye has played after bulking up in the off-season)
He's done well. I think that's where he was most comfortable when he was in Tampa. We brought him in here and he did what was asked of him and lost the weight. He's battling and doing a good job. He's hanging in pretty well and getting good push in the pass rush, so far so good.
(on Karl Klug playing with the first-team)
I think it's both. I think with first and second down we're leaning towards going a little bit bigger. Third-down, passing downs, you're probably going to see different combinations. I think its just rotating guys around. Like I said, they all know that even though (Karl) Klug started the game, it doesn't necessarily mean he's a starter. In threeweeks he could be, but you don't know how that lineup is going to end up. I think it's now just working with guys to see what their strengths are. Jerry (Gray) and Tracy (Rocker) are doing a good job of moving guys around to see who fits well together and what their strengths and weaknesses are, so they can use them in different situations.
(on what will be expected of Derrick Morgan)
We are going to be expecting a lot out of him. I think you saw a little more energy in him tonight. I think he came to life and made some nice plays and got some nice pressures on the edge. Like I said before, it's just confidence for him. I think any time you come off of that type of injury it's going to take some time. He is out here working every day and he showed some great flashes tonight in the drills, getting pressure, getting push, caving the pocket in, and that's what we expect out of him. He is a big ole' man and can stop the run and do a lot of things. He is like another first-round pick that didn't get a chance to do a lot last year. We feel that we are blessed with some very good talent on the defensive line.
(on if Jordan Babineaux has an advantage because he worked with Jerry Gray last year in Seattle)
I think that has helped him a lot. I think that is part of the reason we felt so good about bringing him in was the fact that he felt comfortable and there wasn't going to be much of a learning curve. Jerry knew exactly what he was going to get and how he could insert him into this defense. That was a huge plus for him. He came in and obviously contributed right away on Saturday night. He is right in the mix and is competing for playing time.
(on if having such a deep and experienced offensive line will help in the evaluation of Jake Locker)
It will help a lot and that was our thinking. You always want to have two lines because if the one group is not playing well, and someone gets hurt it's on the offensive line, especially in preseason when you are playing a lot of people so you want to have some experience there and have some good depth. When we knew that David (Stewart) was probably going to miss a game, we wanted to make sure we were sound there, especially with (Troy) Kropog not being here today with his knee he could be missing a little bit of time. We wanted to have some depth so that we didn't get shorthanded. We didn't want to have to play (Michael) Roos, you don't want to have to play your starters longer because you are shorthanded at the tackle position. This allows us to play Mike (Roos) as long as we want to without over-playing him or (Mike) Otto. You don't want to put him in and have him play the whole game, so (Adam) Terry allows us to do some of that.
(on the decisions to be made on the roster at offensive line)
I think we are going to have a lot of tough decisions, not just with the offensive line but with the secondary. We have some good competition with linebackers, defensive line. There are a lot of bodies out here. When you can bring 90 guys in or 88 or whatever we have, we brought in some guys that aren't just bodies. We have a lot of guys that are competing. There are going to be a lot of tough decisions and that is going to be one of them on the offensive line because a lot of times that's the position you try to cut. You keep eight instead of nine, so there is going to be some tough decisions.
(on if he would like to keep nine offensive lineman)
You are always fighting for that last spot and that ninth guy is always fighting the extra defensive back, or extra linebacker. Most people think a lineman is not going to help you in any other way, but it's hard to find the big guys and if you get someone hurt you are happy you kept nine.
(on what kept Barrett Ruud out of practice )
Shoulder. I think he got a little whack on it yesterday and just again, we are going to be careful with that too. This is the time, especially with veterans, that you don't have to panic and put those guys in there too much and just kind of see how it settles down for the next couple of days.