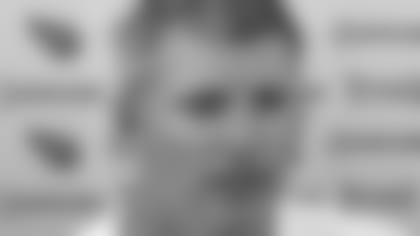 Uneventful day. Great weather, I think it must be 10 degrees warmer than it had been last week, so we were able to do a lot of things. Came out in full pads and we had some competitions early. Got some two-minute going on early, finished with some nice third-down period for about 12 plays. We got a lot of good different situations covered and we were able to finish the whole practice. It was great because we didn't have to cut back at all, so it was a great work out for us.
(on why he has removed the rookie periods at the end of practice)
We just incorporate them into the regular plays. We have more plays built into each period. Instead of having 12 or 15, we have 18 plays in a lot of periods. We're getting a good mix of young guys going in. I really believe in having all the guys out there together as much as we can so they get that we're all in this together kind of feeling. A lot of the extra guys are getting mixed in with the seconds during their period, but just bigger periods so we can get more work done that way.
(on what point this week he is going to sit down with Matt Hasselbeck to go over the game plan for this Saturday)
We'll talk as coaches after tomorrow. We'll get tomorrow in; tomorrow will be another good work out for us and then we can kind of start thinking more towards the weekend. As coaches we'll do the same. As coaches we're already looking at Minnesota a little bit just to get a feel for it so we are organized and prepared for the game. As far as who is going to play, and talking to the players, that will be starting on Thursday.
(on how the coaches will ease Kenny Britt back into practice)
Yeah, he was in pads today, so he's getting comfortable doing more and more, and that was our plan. A little more each day and he's been responding well. His hamstring is doing well, so we'll continue that tomorrow and then have him for the weekend.
(on being cautious with Kenny Britt's hamstring )
We will be because in the past he's had a history of having issues that have forced him to miss a lot of football time. We are trying to avoid that with him and we've done the same thing with other guys that have had those injuries. We're being cautious, but he looks pretty good.
(on the progress of the young defensive tackles)
Well, I think they're getting a lot of reps. The way the system was set up and with some of the guys missing, (Karl) Klug got in and he's been looking really good. He's making a lot of plays. He's great with his hands and makes things happen, so I think that group of guys, (Zach) Clayton, the same way has done a nice job in the middle. (Jurrell) Casey, those three guys have really looked good for young guys that have missed the whole off-season. To come in and compete against the first team, the second team, and the third team, I think coach (Tracy) Rocker is doing a nice job of working those guys in versus the first groups. Those guys are getting a feel for some of the type of guys they are going to play against on Saturday, so yeah they've done well, all three of those guys.
(on how much does it hurt a young guy like Kenny Britt to miss a lot of camp)
I think he's been here. He's been here mentally since day one, so he hasn't missed anything that way. He's been on the field with us. He's been there participating in all of the walk throughs, which are the three quarter kind of practice with no helmet on. He's gotten a lot of reps that way in there, so I think he wll be fine. I don't think that will hurt him at all. I think they all need full-speed football, which will start this Saturday. I think we do a lot of good things out in the preseason games. We have four of them, so once he is able to play in those, him and the other players, that will be the next step that we need.
(on how Anthony Smith fits into the system )
I think it's come out and compete like we've been doing. I think that's the third defensive back we've brought in with (Jordan) Babineaux, (Frank) Walker, and him. Like Mike Reinfeldt said from the beginning, when we think there is someone out there that can help us get better, that will help us push the other guys and find the best group, we're going to do that. There's another example of it. They're all good special teams players also, so it's just bringing him in and seeing what that best fit is going to be. I think it will be better to feel that out once we start playing the games on Saturday.
(on if he is adding players because of injury, or for competition)
I think it's a little of both. I think we are taking advantage of the 90-man roster. In the past you couldn't do some of these things, so I think we are taking full advantage of it. Like you said, having a couple guys nicked, (Robert) Johnson and (Nick) Schommer we wanted to see this week and it's unfortunate that they have missed so much time. We can't sit back and see what's going to happen, and we are being proactive I think in that way by bringing guys in. We thought we had enough numbers, but usually what happens in training camp is you get a couple injuries and then instead of having 80 guys, you have in the 70s, then all of the sudden other guys are getting too many reps and they get hurt. So, we want to have enough numbers to get through practice like this where we had a lot of reps today. It's the same thing we will do tomorrow with pads on and then with the game of Saturday so we are not going to be forced to have somebody do to many reps.
(on how much he will communicate with Vikings coach Leslie Frazier and his plan for the game Saturday)
I think you do what's best for your team, I'm sure he will. I don't think it's going to be any different than any other time. As we talk as coaches on Wednesday and Thursday we will decide on how much to play but I don't think the lockout or not having an off season will affect us at all in that regard as far as how much or little we play. I think we are ready to play like we normally would, and the decision is usually from week one, to two, to three on how much you want to do. That's kind of who we will take that approach and we feel good about where we are at so I'm sure you will see the guys out there at least as much as you have in the past, and maybe more.
(on LB Akeem Ayers and if he is exceeding expectations)
When we targeted him, we put a lot of pressure on him coming in because we were looking to get big at linebacker, and he was one of the few we had. He has come in and really been put in that spot from the beginning to see if he can maintain it, and so far so good. He is stronger than we thought and saw on tape, maybe we will ask him to do more things that way. It looks like he has a lot of talent to rush the passer. He is going to be a very interesting guy, there are a lot of things he can do, and he is just going to get better and better.
(on LB Akeem Ayers' toughness)
He has that personality. Like I said from the beginning, he is going to be going against some good tight ends out here in (Craig) Stevens and I think they are going to make him better and make him have to compete every snap. He is not going to be able to take a play off, because if he does (Daniel) Graham and (Craig) Stevens will let him know. So I think it's great competition we have out here and it will make guys better. It will teach him what it's going to take to be a pro in this league.
(on DB Cortland Finnegan playing some in the slot today)
I think that's why Cortland (Finnegan) is excited. I think that when he talked to you guys yesterday he realizes that we are going to use him in a lot of ways that maybe he hasn't been used in a while to take advantage of his skills. He is a tough kid, he can rush the passer very well, and there are a lot of things he can do and I think he is excited about that.