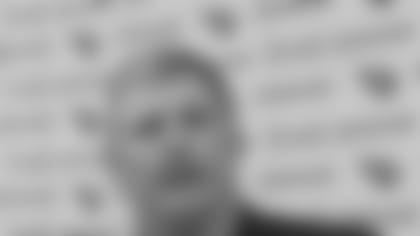 (on Matt Hasselbeck participating fully in practice)
Yeah, he looks good. This is how we thought he would look by Thursday and like he just told you all, he did everything, was able to make all of the throws. I think he is very confident and so are we, so we are ready to roll for Sunday.
…(Colin) McCarthy didn't practice again. He is on again off again like last week with the knee that he hurt a couple of weeks back. He had a good day yesterday so we are assuming that tomorrow he should be able to do more and be OK for Sunday so we gave him a day to rest his knee.
(on if he feels confident about Colin McCarthy not practicing but being able to play as a rookie)
I think so, I think that fact that he did practice Wednesday and he got a full day in even though he sat today. As you said, we would much rather him be practicing, especially a young guy. He is one of these guys like last week, one of the reasons that we feel comfortable with him is he is one of the first guys in the building and the last guys out. He puts a lot of time into it, it's real important to him and he makes up for some of the not getting the reps by his study habits. I know that he wants to be on the field and that gives you confidence when you are actually doing stuff on the field. I would think that we would hopefully get him out here tomorrow. I think he is the kind of guy that has shown that he could, with not getting all of the practice, can get through a game.
(on if Colin McCarthy's work ethic is encouraging)
Yeah it is and he has been that way since training camp. Coming in and being behind, he has done a nice job from the beginning of really spending a lot of time with Frank Bush and making sure he knows all of the ins and outs and why they are doing it. That's what we knew we were getting when we drafted him. That's what we heard about him and when we talked to him that's what we saw. We knew that he had those traits coming in and that's something that kind of impressed us. He has come in and obviously done very well when he has played in the two or three games that he has had a chance to get a lot of reps.
(on practicing on Thanksgiving and the players staying motivated)
I think because you tweak the schedule for them, you get started earlier and they are out of here sooner, I think it makes up.  I think they are fine.  I think the fact that all of these guys are home by 2:00 or 3:00 this afternoon, the way it is now, they can watch some games yet and if their family is in town they have plenty of time to spend a Thanksgiving dinner with them.  I think the big thing is this that they have time and once they get out of this locker room that they forget about football until tomorrow and just enjoy Thanksgiving.  The fact that they have so much to be thankful for and a lot of these guys don't have family in town anyways so they will probably spend a lot of time on the phone calling family and friends that aren't here.  Yeah, you would rather be home the whole day, but it is not bad the way the schedule works out.