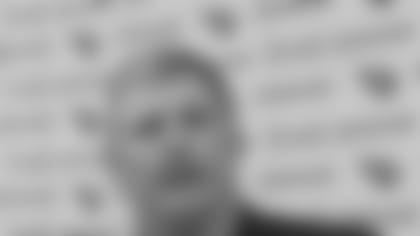 (on how much did the Titans do to get home field advantage back by beating Baltimore)
I think it was great step, we came out playing good right away with the defense and that's what you hope happens with the crown noise and the crowd level and a lot of the guys had not played here in Nashville. You tell them about it, you tell them about the sellouts, you tell them about the crowd noise, you tell them how this at one time was one of the hardest places to play and until they experience it themselves, which they did last week, now they realize what we are talking about. I thought it was great, it's a huge advantage, it will be a huge advantage in this game with the sellout and the Code Blue and the excitement. Expectations are a little bit higher now hopefully after playing well even though it was one game and there should be a lot of excitement at the stadium on Sunday.
(on if wins are needed to prove that the Titans are back)
Definitely, you just got to keep going, one game is not going to…if you don't play well and you are 1-2 then all of the sudden you take away from what you did a week ago. I think we all realize that and we know that's something to build on what we did last week, but all that matters now is Denver and I'm sure they are looking at it the same way. It should be a very good football game on Sunday.
(on if he is at all superstitious and will try to keep things similar to the way they were last week)
Not really, I think your schedule is going to be the same overall, but I'm not really superstitious about things. Once you get into the season, I think most teams do certain things the same, there is certain structure you have to keep, but no I think the message is always different when you are preparing for different teams.
(on Kenny Britt's practice)
Good, he was able to finish practice, he did a little bit more than yesterday. He looked good and I think he will be fine. Like we thought, he came back and did more today than he did yesterday and I don't see him being limited at all for this weekend and Chris (Johnson) is the same way. Chris was able to take reps at every period in the beginning of each period and ran hard which was good to see, especially in the run periods. I think his confidence will be good too for this game.
(on what being coached by a former quarterback does for the receivers)
I thought from the beginning that Dave Ragone has done a really good job with them, I think it's a different perspective. He sees the game through a quarterbacks eyes, he has played the position so he can teach these guys maybe some other things like, 'why the ball isn't coming their way, what it will take, why you have to run your route a certain way, the negatives of breaking off a route too soon or not coming back to the ball.' I think he can kind of put it more in perspective for them which are unique views for some of these guys who haven't had that. He is a hard worker, good coach, a lot of energy, comes up with different things to work on all the time and drills these guys really well. As they are having success they are realizing that a lot of things he is doing is really helping them. That's what he is here for and he has done a great job so far and they know that anytime you are getting the ball thrown your way and making plays, the excitement grows and the work ethic and you push harder because you realize that 'this ball could come to me' so that makes it exciting for them.
(on why he places so much emphasis on the history of the franchise and the NFL)
I just think that, to start with the Titans, if you are on this team, you should understand about this team. We were the Oilers at one time, we were in Houston, and you are part of something special. You can say it but they need to understand what happened and what makes it special and what this team has done in the past years and then when we became the Titans and the success that we had going to the Super Bowl and we had one of the better records in the league for about a five-year span. I think they need to see all that and understand it that they are part of something unique and special and 10 years from now they can come back and hopefully people are talking about their careers or maybe what this team did in 2011. I think they enjoy that, just like you do in college. Guys seem to be very excited about their histories in college and this just adds to it. It's just another dimension of why they should feel special to be playing here in Tennessee.
(on if he is surprised by what some of the players don't know)
I am, as I was coaching the line I would bring guys names up and you realize how many people they really don't know as far as just in general football, the history of the game and not just the history of the Titans. Once I lost, when I was coaching, once (Bruce) Matthews was gone, (Zach) Piller and those guys, you throw a name out there and the room would be dead silent and they would have no idea what I was saying. I would go, 'you guys don't know him?' Then I would have to go back and tell a story about why they should know this guy. A lot of guys don't open up the yearbook and read it. That's how guys are these days. If they don't see it on TV then they are not going to open the book and read about it. It's like you have to educate them about certain things and that's one topic that's important for them to understand is the team they are playing for. A lot of these guys obviously have very good knowledge of this team, but especially the young guys that don't.
(on if that disappoints him)
Yeah, I think that's why you try to change it. I think that's why you don't accept that. Guys are interested, once you throw a tape on and tell a story they are all in on it, but I think you just have to take the time to explain that stuff because there is no other time to do that so when they came in was a good time for me because of all the newness, myself, the staff. We kind of started from the beginning about my career, our coach's backgrounds. I think it's important for them to know that because the guys on their staff are ones they don't necessarily interact with, the defensive backs should know about Chris Palmer, otherwise they really don't cross paths so it's kind of interesting to know exactly the kind of coaches they have on this staff and the kind of history…when Eddie George walks in the building or Frank Wycheck or some of the Titan guys that they should know who they are.
(on if some players were surprised to learn that you are a Hall of Fame player)
I have had guys over the years that we would be sitting there and in the first couple days of practice and they would lean over and say, 'did coach play in the league?' Pretty good huh. Guys get drafted and they don't know, if you were from the west coach then you don't know much about the Tennessee Titans or the Oilers, then you come here and unless you open a book up or go online, they really don't know.
(on if he thinks the Broncos used Tim Tebow at receiver out of necessity or does he expect to see that)
If they are healthy, I wouldn't think we would. I think if they have their guys back, it sounds like they are going to be healthy or a lot healthier than they were a week ago, so I think that was an emergency situation just like we would do at quarterback if two quarterbacks got hurt and we had to put Damian (Williams) in there or (Daniel) Graham in there just to hand the ball off. It's something you work on but hope you never have to get to.
(on if Daniel Graham won the emergency quarterback job)
Yeah, he did a nice job. He ran a couple today that you have to have an answer because if you don't then it could get real embarrassing if you don't have anybody that can take a snap. You can't have tryouts during the game. I think he was the next one with Damian (Williams) getting hurt a week ago and not being quite ready. There are a lot of volunteers usually but he definitely did a pretty good job.
(on the Chris Hope injury situation)
If he is not looking better tomorrow, he was very limited today in what he did. He was out here with his pads on but he didn't do as much as I'm sure he hoped he would have done. Usually by tomorrow we will have a good feeling on that as far as where he is at and the good thing is Jordan (Babineaux) did a good job last week and so that's a nice thing to know that you have someone that can play very well if that's the way we have to go.
(on if it could be a few weeks for Chris Hope)
I would think he is close, that's why we would even be thinking this week still but that's something that if it's not this week then …just like with the defensive lineman when they couldn't play, when (Jason) Jones and (Derrick) Morgan weren't quite ready and we held them a week and it made a big difference when they played. So that's one of those things where we will see where he is at. It may be a difference that if we rest him then we definitely have him back next week rather than put him through warm ups and lose him early in the game and have him gone for two or three weeks.