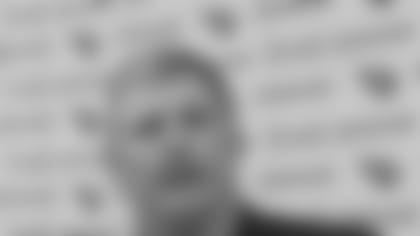 (on if there is a sense of urgency to get a win this week)
Well I think it's an urgency to just go out and play well, I think that's all we want to do. We are at home, we want to go out there and take care of business this weekend, play better than we did last week and if we do that we feel that we have a great chance to win, and then we will be one-and-one.
(on if Ray Lewis looks any different than in the past and how age has affected him)
He still stays on the field which is amazing, he plays every down still, and he plays it hard. Obviously, he has slowed down some, he is not making as many plays but he is a guy that you think 'well he hasn't made a couple plays,' then he makes the big play. He is still one of those guys who has a great feel for the game. He has a good understanding of what the offense is trying to do so he puts himself in position to make those kinds of plays. For some reason every time a ball gets batted by a lineman, no matter where it's at, it seems like he is around in that area. He made one of those plays last week, he has made them against us, so he is a guy you have to account for and you know he brings a lot of the excitement to that team. He gets guys to play better around him, I think when he is in the lineup, they all play better, and that's what a great player does for a team.
(on how much he challenges the offensive line to win the physical battle)
You try to challenge those guys every week because every week there is a guy there that is known to be a Pro-Bowler, can rush the passer, can push the line of scrimmage just like the two guys last week so they know it's a challenge. If you turn the tape on of this league there isn't a whole lot of talk needed. They know that if you don't play well or don't come out on the top of your game it could get embarrassing with a lot of players in this league. This happens to be one that is very good and this is as good a front that not only has good players but will fool you at times. They move in and out of three-down fronts and four-down fronts and they try to bring pressures to get mismatches so there is a lot going on in the line of scrimmage to make sure that we get the best matchups throughout the game.
(on the challenges of blocking Terrell Suggs)
He is just a guy that brings it all day long like when (Kyle) Vanden Bosch was here, a guy that just keeps bringing it. From the first snap to the last snap, he is playing hard. He is playing pretty much with his hand down more now than he ever did and truly playing more of the defensive end position than he ever has. They play a 3-4 where he is standing up but he is trying to do the same thing. In that case sometimes he gets some mismatches where he is on a back, kind of like the Steelers' guys try to get. They get some forward pressures that way, but he's obviously the real deal, he has had a great career of them, and he leads their team in sacks for the history of their team. He has really developed into a very good pass rusher and a very good player and is someone you have to be aware of all downs.
(on if he worried that the team may come out too amped since it's the home opener)
I hope we do, I hope we come out real amped and hope that's a good thing. I don't know that we came out flat, we came out and they made a play. When they make a play early it just gets…you just have to overcome that play and we didn't. If you don't on the first series as an offense, and then the defense didn't get off the field, so it magnified it. In the second series the offense really needed to respond in some way and we didn't so that kind of created a problem last week, especially early and we just have to avoid those kinds of things. You are going to get stopped for three downs every so often, a lot of teams do, but somewhere you have to make a play and get back on track and we didn't until too late in the game.
(on how the Ravens have been able to maintain their elite status over the years)
I think on defense they have done a good job of the keeping the key elements around. You mentioned (Terrell) Suggs early, you mentioned Ray Lewis, Ed Reed, and you keep around three guys. People talk about the triplets on offense, well those are the three pretty good guys on defense. They have done a good job drafting. Ozzie Newsome does a great job building his team… He is a hall of famer and one of the best tight ends to ever play the game... He has done a great job of building their team around the defense and then they went out and they get Flacco and then they draft Ray Rice and they have done a nice job of building that team and filling in the key spots with very good players that have turned out to be excellent players for them, credit to them for that.
(on what memories stand out from the last playoff game with Baltimore)
Just how fast the game…we felt like everything was going our way and working well. We all know we point to (Chris Johnson) getting hurt, that game took a turn for the offense, but it led to three turnovers in the first half that killed a lot of scoring points. Like I said yesterday, with this team back then especially, you had to put points on the board. They had a young quarterback, I think he was a rookie then, and we had an opportunity to put up 21 points in that first half and we didn't. We sat there at seven to seven or whatever it was and that cost us I think. Again the turnover thing, we let them take the ball off us three times in the first half and we blew scoring opportunities in the first half and it led to what happened at the end. They made a play at the end to beat us with a field goal in a season when we all thought we should have gone to the Super Bowl and we didn't. That's our last memory of playing them.
(on how much Joe Flacco has changed since the last time they played him)
You can definitely see that they are giving him more opportunities as you would. His rookie year I think they were just wanting him to manage the game, now their offense is totally different now. That's why it's scarier now I think because it's not just about running the ball anymore, it's about he does a great job play-action, he is very accurate, he threw some great balls last week and got them ahead of Pittsburgh right off the bat. I think there is nothing that he can't do now. I think his confidence is growing, the have been in the playoffs all three years he has been on the team…so he has done well and he sure is getting better.