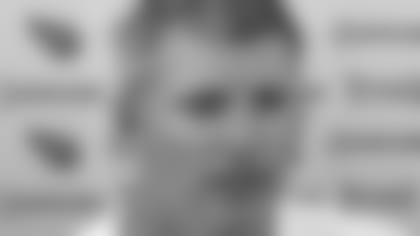 This was our first time to start concentrating on someone else rather than ourselves. You always worry about the effort and energy level when you start looking at cards, and I thought they did a nice job and we got a lot done with a really good pace. We ran a little bit there at the end and had another two-minute drill there at the end from the second team. So, we got a lot accomplished and we are focusing more towards this weekend. That's our first step, and we will do a little bit tomorrow, and get ready to play Saturday.
(on the progress of negotiations with RB Chris Johnson )
I haven't heard much about it…I'm just looking forward to them getting it all worked out.
(on what GM Mike Reinfeldt tells him about the status of Chris Johnson negotiations )
Just that they are talking.
(on at what point he feels like he should step in)
Well as a coach you want him here now; there is no doubt about that. He starts to figure out, 'well, he needs to be in by a certain day to be ready to play,' I think every player is different. We will worry about what that date is when the time comes, but I assume he is doing all he can do to get him in here.
(on if it's easier for a running back to miss time and come in and pick things up)
Well yeah, more so than a quarterback. I don't think things, especially on the offensive side of the ball have changed dramatically as far as plays. The running game is going to be very similar to what he has done, just a few formation changes. All of that will be the same, but I think it's still different, even though he may come in in great shape, you are not getting the reads, you are not running behind the offensive line, you are not making your cuts, all that kind of stuff is hard for any back to just come back and pick it up. We still have some time here and hopefully he will be here soon.
(on how many plays he plans on scripting for the game on Saturday night)
We don't, we just kind of prepare for situations. We have limited it down as far as the playbook goes so these guys can concentrate, especially the young ones, so they can concentrate on a lot less than they have over the last 10 days. I think we keep it simple. You want to put these guys in a position to be successful, to show us what they can do without trying to do too much. Both teams try to do that, you don't see a lot of adjustments in this kind of game. You hope to go out there and find out where you are at with some of these players. You want the starters, when they go out and play, to play well and have some success. It's a different way you prepare for this one. You want to try to get a lot of guys in the game, but the bottom line is you want to win at anything you do and I think you want everyone to play well when they are in there. That's the goal going in, and we kind of see how it goes.
(on the number of plays he expects the starters to play)
Well usually with me and the offensive line, it's not worth putting your equipment on if you aren't going to do a dozen plays or so. Lineman, I think you always look in that 15-play range. I don't think it's a group thing. You don't just say 'ok, first team is out on defense, first team is out on offense,' you may pull out the first team and pull off six or seven of those guys after so many plays and let a few more of them keep playing. There are certain guys you want to play a little bit longer that need more reps possibly. So you will see some of that on both sides of the ball. The younger players may get more reps than the veterans, and get the right mix of guys that you want to see with each other. You want to make sure that when certain guys are playing you have the right receivers, the right tight ends, the right line, with the quarterbacks and that kind of thing. So I think we will just be balancing it offensively and defensively that way. We have the guys working together, out there together and then next week you reevaluate what you need to do from there.
(on how much time he wants QB Jake Locker to get)
I just think play-wise, there is not a magic number there. He is going to play more than Matt (Hasselbeck) will, and Matt (Hasselbeck) will start it and we will see how it goes. You might have a great drive, you might have a 14-play drive and now it's time. You don't know how it's going to go. If he has a three-and-out, you might say, 'well, let's get another one.' I think it's a feel thing as the game goes. Anyone that's competitive, you want to go out there and win and play well, so you kind of start adjusting as the game starts.
(on preparing for a preseason game)
If you work on a team for two or three days, you're not over-studying because you don't even know who is playing. We don't know who is hurt on their side, we don't know who is going to line up when you block them, we don't know what their intentions are on the other side of the ball. You are really just studying themes; this is what you expect that team to play, so it's a lot different preparation for a player. They're going to see a lot of the same things our defense has done the last two weeks here. I think we'll be prepared. The thing that gets hard is when you're working a lot of different players in. You have to be smart that you have guys next to each other that are comfortable, so we can look like we know what we are doing and that these guys can have success. So, we have to put them in those positions and I don't think we will have too much going into this plan. They'll have a chance to show everyone what they can do on Saturday.
(on what he doesn't want to see on Saturday night)
I mean, the obvious things. You don't want to be sloppy, you don't want to turn the ball over, and you don't want penalties. You don't want those things to hurt the flow of the game. We've done a great job here in practice avoiding those things. So, when you go into a game you want to just have plays on both sides of the ball. You don't want your offense to have too many plays because that means your defense isn't getting any. But, you want your offense to have success, so as a head coach now, I want both sides to get a lot of reps, whereas before, when I was an offensive guy, I wanted all the reps for us, I think you're hoping there is enough reps to go around so you can evaluate guys, give them game speed, and let them tackle. I mean, really the thing you can't do that's the difference out here is that none of these guys have tackled anybody since January. The offensive linemen haven't tried to cut anybody in six or seven months; those are the things you're going to be doing that you haven't done in a while. Quarterbacks aren't wearing a red jersey on Saturday, so it's a whole different mentality when you're going back in the pocket; that's a step we need to take these next four weeks.
(on his evaluation of the last two weeks)
I think we're happy where we are at. We know we have a lot of work ahead of us, but we all expected the worst, I think, coming in because we hadn't been together. I think the players responded really well to us. I think they came out with some great energy. Like we said from the beginning, more so than you usually have for training camp. I think they were really excited to learn, and we took advantage of that as coaches. I think the concentration level has been great for two weeks, so it's just a matter of keeping that going and hopefully they can go out and have success this weekend.
Kenny (Britt) probably won't do anything this weekend. He's practicing now, but really on the show-team. He's running hard, looking good, and I'm sure that next week is when we'll start talking about how much he is going to play.
(on if it helps that the game is in Nashville, given the short time he's had with the players)
You know you have two of them here, so I think having the first one here is nice. We've been here, it will be nice just to come out and play in front of your home crowd. I hope the weather holds out, once again, so I'm looking forward to a great showing on Saturday.
I think he is fine. We've just been resting him and he'll be fine for Saturday.
(on Troy Kropog sitting out today's practice)
Same thing. I think just a little sick today, nothing that's long-term. I think it was just for the day, one of those how he feels things and he'll be fine tomorrow, I'm sure.
(on Robert Johnson's progression)
I think that those guys are working the hamstring. Like I said, we still think he'll be limited for this week, and that way he still has three weeks to prepare. We don't want to do something foolish with him and have him go out there when he's not quite ready; then we lose him for more of training camp. I think he's on target like we thought. He'll workout the next couple of days and hopefully we have him Monday going strong so he can play next week.