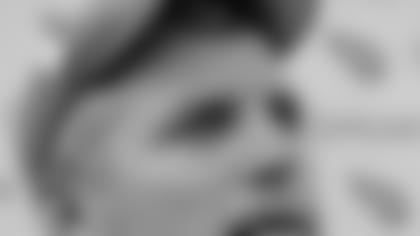 It was great having everyone together finally. We took our pads off. We were going to wear shoulder pads today as originally scheduled, but we didn't want to put all of those guys through that in their first workout. It worked out well. We came out and extended practice a little bit so we could get more reps and we were able to cover a lot of stuff today, the two minute drill at the end there, and the goal line. We were moving along well and it was good to get everyone out here and break a sweat and tomorrow we can pick up where we left off.
(on QB Matt Hasselbeck's first practice)
He was excited. I thought he was a young rookie he was so excited to be out here and the way we he was calling plays in the huddle and the speed. I mean, I thought we had a good tempo going up until now, but he really picked things up even another notch. That's why I can add periods because we are finishing things so quickly, and the quarterbacks have really been making sure of that. So, he brought a lot of energy, a lot of excitement, and I think the guys were looking forward to watching him work and I think he did a nice job today.
(on the other new players including DT Shaun Smith, LB Barrett Ruud, and TE Daniel Graham)
Same thing, they are just getting their feet under them. They are just getting used to the new terminology, what's being asked of them from Jerry (Gray). I think it was just a good first step for them to just come out and break a sweat. I think they all felt good, (Daniel) Graham at tight end. They were just kind of figuring out what we are doing and what's expected of them. So, it was just nice to get everyone out here so this team can start coming together as a group. I think it was a nice start. Tomorrow we will have shoulder pads on, so we will do even a little more tomorrow and a little bit more on Monday and then get a break and just finish the week strong.
(on if QB Jake Locker is showing progress)
He has been great. He has been what I think we thought he would be just in one week. For a guy to come in, and not just him because the other rookies have done well too, but him to come in with so much pressure on him being the first-round pick and so much expected, and a lot of terminology and things that he had never used before, he has handled himself well. He takes it one day at a time. He doesn't get caught up when he does make a mistake. Chris (Palmer) is on him pretty good and reminding him of the stuff and he takes the coaching well and he leads. These guys are responding to him, he is making plays with his feet when things aren't open. So, he is what we thought he was. We all know we got a lot of work ahead of us, but what we have done, he has done well.
(on his plan at outside linebacker)
Well I think (Akeem) Ayers, we brought him in to play Sam linebacker and I'm sure that's the position he will be spending most of his time at. Again, there is another young guy that is learning a position well and doing some good things showing up in practice. He is making mistakes, but he is a little more physical than I thought at times and when we have the pads on he is doing some good things. Frank Bush is going to do a great job with him and he is just going to get better and better every day. The other guys, I think we will see how it works out now that (Barrett) Ruud is here. At the Mike position, like I have been saying all week it just gives you more competition, it allows you to make more adjustments and see who is versatile enough to play a couple of spots. We do that at all the positions, but at linebacker, bringing a guy like him in, it allows us to do that.
(on late additions to the secondary )
Well, (Jordan) Babineaux, I haven't seen him yet. He'll be in tomorrow. So we'll see how that goes and Frank (Walker) practiced today. Again the same kind of thing today…the guy has a lot of experience. He's in a lot on special teams, can play a lot of positions, versatility; I think Babineaux's kind of the same way. So, because of the injuries we were able to bring people in that we feel that can help us, so that's what we're excited about. Mike Reinfeldt is doing a great job. They're bringing in people that will help this roster get better and I think these two guys will come in and will help us add some depth, add some competition and we'll see. We're not going to leak in so a lot of things can happen now.
(on Jordan Babineaux competing with Chris Hope at the safety position)
I think we will, we'll see how they perform for us; we like him, that's why he's coming. We thinks he's a good fit for us and we'll kind of see what happens. I think it's just sometimes you can get a bit surprised, you don't want to predetermine after someone comes in the door where we think we're going to slot him, especially with new coaches. I think that's the fun thing for these guys; they're all starting clean, we're letting them find their spots to some degree so I think that will encourage a lot of the younger guys and the guys that maybe haven't had a chance to go in the past to know that they have fresh eyes on them. They're going to have an opportunity to help this team win, especially in the secondary where we use so many players. Guys do get hurt out there unfortunately, so the more depth we create, the more it will help us as we get through the season.
(on if S Jonathan Babineaux can play strong or free safety, or does he blur the distinction)
I think you are...The way you use him I think you do. The good thing is that Jerry (Gray) is familiar with him. He coached him last year so he has a great feel for what he can do. We will find that out as a staff. We have not worked with him; we have not seen him yet. So, until we see him out here in our system, then I think you can make a better decision, but I think he could do both.
(on if he is looking for two drastically different skill sets at safety)
No, I'm not. It's also a special teams thing too. The fact that they have both done well at special teams, especially at that position is such a huge plus. We will get him in here and see how it works out.