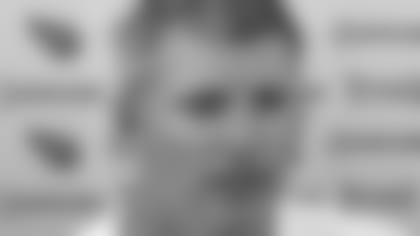 That was a good workout because Mondays are always tough after a game and a day off and because we came out in shoulder pads like we did last week. We had a good work day and got a lot done. We started off a little slow I think with the soreness and some guys played a little more than they did a week ago earlier, but we had good run periods and a good screen period and we finished up with a nice two minute and moved the ball so we kind of got a little bit of everything which was good.
(on why the traditional rookie hazing occurred on the second to last day of camp)
We gave some thought to it and we are going to give them off tomorrow. We won't have practice tomorrow so moved up the fun they like to have with the rookies to today and that's why I wanted to get a good work out in today so tomorrow will just be a chance for everyone to kind of take a break for a day. It's going to give the coaches a chance to look over things and kind of game plan for Chicago and players will get a chance like it's a Tuesday off during the week to catch their breath and get the treatment they need and then we have three long days where we are going to give them a full practice like we would in the season. We will get three good work days in so it will be good to take a break here after going through the training camp and the first two preseason games, let them get their feet under them and come back Wednesday ready to go.
(on why Matt Hasselbeck didn't practice)
Just to rest him, they didn't know they were going to have tomorrow off but we did so we thought that gives a lot of guys two full days to rest and be ready to go on Wednesday so that was the reason for him and some of the other guys.
(on the new rookie pranks this year)
They were trying something new. As you can tell the only part they really enjoy is dumping stuff on them and I don't think they care about the dizziness as much. There is a different little twist I think every year and they seem to enjoy that.
(on if there is anything good that comes out of Jake Locker struggling)
I think as a team it's good to have to your ups and downs and come out them. Obviously you want to win every time you play and have those things go on during a game and win all of the time. I think it's good, he has been through that his whole career. He has been part of a team that has had their ups and downs so he knows what that's all about. Even his first game when his stats were a little better he still had a few mistakes. He fumbled the ball in that game and threw a touchdown pass, this time he fumbled and wasn't quite so lucky. Things are different every week and I think he handles it well. I think that's exciting about him that nothing bothers him; you see him after a game and you don't know if he played well or poorly because his demeanor is very even keeled and he handled things very well.
(on if he expects Kenny Britt to get suspended since he is meeting with Rodger Goodell)
No, I think it's just something where he wants to get to know him. They have never met and they don't know each other. I think it's kind of like I did when he came back in, I just wanted to hear what was going on and what is expected of him and that there will be consequences if things go further. It ends up being a day we have off anyways on Tuesday so he will come back Wednesday and be ready to go.
(on if he is worried that Kenny Britt will get suspended because of his actions during the lockout)
Well we obviously hope not and I don't think it's going that direction but we don't know that.  It's a situation where there are a lot of players that have had some issues come up during the offseason are going to have to meet with the commissioner at some point and this is his turn.
(on how much loosing Kenny Britt would hurt the team)
There is no doubt that losing a guy that has his capabilities is going to hurt any team. I don't want to really worry about it right now, but of course if you are missing your top player it's going to hurt you to some degree.
(on if he is going to make a plea to the commissioner to not suspend Kenny Britt)
I'm not planning on it; I hope we don't need to go to that step right now. I hope it's just more or less wanting to talk to him like we did and let him know where he stands and kind of get to know what's been going on. It's always nice to hear first-hand from the player exactly what did happen during the offseason.
(on if he needs to know sooner rather than later if Kenny Britt is going to be suspended)
I'm not sure how the commissioner does it but I'm sure he is meeting with everyone as soon as he can once they got all of their other business put aside. I'm not sure. He didn't call us about it so I'm sure he is meeting with them all to get a feel for what has been going on.
(on how much stress the Kenny Britt and Chris Johnson situations are putting on him)
There is not a whole lot we can do about it, just like when we were worried about what we were going to do with the lockout and how we are going to practice and if you can wear pads twice a day, I can't control any of that. We have some very good football players here, if someone is missing there are still chances to go out and get players if it came to that. So we are just hoping for the best and assuming we are going to have all of our players in time and ready to go to play in Jacksonville, and if for some reason they are not then we will have to make other adjustments before that happens.
(on if there is any thought of moving on with the thought that Chris Johnson might not be here this year)
No of course not, we are assuming that's going to work its way out. There is still a ways to go on that but when you get this far you want something done. I wanted him here when camp started and we were running gassers out here the first day. You just have to put that on the back burner because there is nothing we can do to get him here, it's just a matter of hoping that it's sooner than later.
(on the kickoff rule change and if it will change roster decisions)
I don't think it will affect the roster at all to me.  I don't think it will as far as the kickoff.  I think it is hard to tell now.  I know they are saying in two games that there are more touchbacks, but it seems like more are bringing them out.  Teams are testing, last night (Saturday) they were bringing them out six or seven-yards deep in our game.  I think you are going to see teams do that.  Now will they do that during the regular season?  I don't know.  I think they are trying to experiment to see what kind of luck they have bringing it out from that kind of distance.  Teams will have to determine what their strategy is when we get into the season.
(on Eugene Amano and Leroy Harris working together for a second straight season)
I think it is going well.  If you look at the stats, yeah it is going well.  That is what people look at.  We ran the ball well both games, so yeah everyone will assume they are doing a really good job.  They still have things to improve upon.  Last year at this time Leroy (Harris) hurt his ankle and missed the last preseason game.  That is what really set us off after making a change and then having an injury.  He didn't play the last preseason game and was injured going into the season.  I think that kind of made it a little harder last year for him to get adjusted to playing.  The key is just for them to stay healthy.  They will be fine if they stay healthy.  They are playing well right now in just two games.  It doesn't mean a lot in two games, but it is nice to see them playing well.  They played 23 snaps and over 30 last week, so they're getting a lot of good reps together.  That is encouraging and they have had some success.  I think they want to have a strong showing this game.  I think we feel real good about where they are at.
(on some of the injured players practicing later in the week)
It looks like that.  (David) Stewart ran for the first time and he will do some drills tomorrow.  I'm hoping that means Wednesday he will be out here practicing.  The same with (Barrett) Ruud and Sen'Derrick (Marks) practiced some today for the first time in actual live drills.  That was good to see and we are hoping to get him some series this weekend.  I'm not sure who else we have on the list. The quarterback, (Matt) Hasselbeck, we are counting on him playing.  There is no doubt there.  (Javon) Ringer is the same way.  I'm hoping Wednesday he can start doing things.
In the game he played about five or six snaps and felt a little something in his knee.  He got a little nervous more than anything, so we took him out.  Like we said, the first game he wanted to play more and we only let him play 15 or 16 snaps.  The second week we thought we would let him play a little more but he got cut on it early and didn't feel real good.  We were being tentative when we took him out and because of having today and tomorrow and knowing we will get back going on Wednesday, we thought it was a good time to rest these guys for a two-day rest rather than one day.
(on if they have looked at Morgan's knee)
We think he is going to be fine.  He hasn't re-injured it or anything.  He is going to have his moments when you are coming off an ACL like this.  I was surprised something hadn't happen sooner.  He got through camp and didn't want to miss any days.  That was really the first time he actually felt a little uneasy that he wanted to take a break.  We did that and hopefully Wednesday he will be back on track.
(on the vocal leadership of Shaun Smith)
He is a lot of fun.  You need guys like him.  I think he is refreshing in a way.  I think that gets guys going a little bit.  It is almost like how you have music out here for the noise to get your mind off things.  He does a good job in the locker room, on the field, during the game, because he backs it up with how he plays.  He has played well.  It hasn't bothered anybody.  It is not in an upsetting way or nasty way, it is really good natured ribbing.  I think he does it with everybody and I think they all kind of enjoy it.  It is nice to have someone like him on the field.
(on Pannel Egboh not practicing)
The same thing just from the game, the grinding, late in the game he tweaked something but he should be fine.