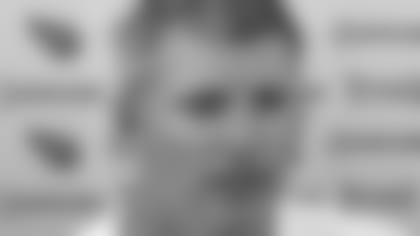 It's usually hard to get these guys back to work after a game and a day off, but we got them going a little slower. I think the weather helped us a lot with the sun going in and the pads on. We got a lot of good work done here at the end. I showed them a lot of different looks in the team period, and we got it going pretty good today.
(on Kenny Britt's return to full-practice)
This week, the plan is to get him more into the offense; doing more things to slowly get him into more periods to see how he reacts everyday. We'll see how the hamstring feels a day after doing a little more work. He has to get confidence in it so he can really unleash and go full speed. I think he's getting more comfortable with that, so hopefully as the week goes on, he'll keep getting better and better.
(on if he thinks Kenny Britt is at full speed)
With any type of injury, you kind of have that little holdback; he's looking pretty good to me though. I mean, he looks like he's going full speed to me, but I think he's got another gear. That's what makes him different, so hopefully, like I said, he won't have any more setbacks as we move forward.**
(on how he thinks Derrick Morgan has looked in camp)
Same thing, we're just glad to have him here. I know he's excited to be here. He didn't play as much as he probably wanted to play. We wanted to be very careful with him as far as how much action he would get. We still have a lot of time left before the first game, so we are real happy where he is at. I'm sure he's frustrated, and wanting to do more and more, but we just got to be careful with him. We're just happy to have him back out here and he's looking good. He's moving well, and I think the same thing, as you get more comfortable with a knee injury like that, the better you'll see him play.
(on how far he thinks Derrick Morgan is from being 100 percent healthy)
It's hard to tell. I've had a knee (injury) in the past, and you just don't know. He's not where he's going to be, I think he'll get better as he goes; time will tell on that.
(on how much more he will add to the playbook this week)
I think we'll just add some things that will compliment what we have done; I don't think more things that we will use more towards the season. Maybe we'll add a few different formations as we move into the second game. We just want to continue doing what we feel we're good at, doing it in different ways, and to work on things you're going to use as a compliment during the regular season.
(on if the Rams defense will show more looks in this week's game)
They're aggressive, no doubt about it. It's at their place, they won last week and have played well in the preseason. I think it's important for any team, like it would be for us, to play and win another one at home. Obviously the head coach (Steve Spagnuolo) is a defensive-minded guy, so we expect to be challenged, and really I hope we are. That's what you want. You want to keep your quarterback safe, but as far as an offense goes, you want to see if the receivers make the right adjustments, if the quarterback gets the ball in on time, if the backs and the line are in sync. You'd rather get tested now than you would when the season starts. I'm sure in the next couple weeks we'll be challenged a little bit more than we were last week.
(on Javon Ringer's health)
I think we are feeling good that Javon (Ringer) will be OK to play in the game on Saturday. Hopefully he will be out here tomorrow or by Wednesday. We don't think it's something that will keep him out of there, but if it is for some reason then we will just be smart how we use him. We would have to split the time and the three other guys would get an opportunity of a lifetime. They would get a lot more reps than they thought they would and they would be out there with the first group. We would probable let (Jamie) Harper play a lot longer. He would probably get a lot of playing time and we would find out real fast how good of condition he is in.
(on Jamie Harper in the Vikings game)
I think for the first time he did pretty well. You watched him, just like any zone runner, hit a couple of nice ones and then I think he learned from cutting back a little too soon on one. Then he responds on the next one and runs the touchdown to the pylon, which is exactly how you want to run it. That was a great run there, well blocked. He did some nice things in protections. He had a couple where he got there a little late, but we were lucky the ball got out. I think it's a learning experience for him and the rest of the guys. Those are the kinds of things you want your running backs to see. The speed of the game and that kind of thing, so I think it was a good experience for him on Saturday.
(on lots of push-ups on the field during practice)
That's just a real quick punishment, you can do 10 of those a lot faster than you can run the field. I don't want to take away from practice waiting on a lot of big guys to run a lap around the field, so I think the up downs they have been doing since they were eight years old, so they all know how to do those. They are tiring and you just move on to the next drill. So it's just a little something to add a little competition like we said last week and today it was the tight ends verses the defensive ends. It's something that they both need work doing so it was a good period.
(on if he sees any carryover from the energy of the competition periods into the next periods)
I do. I think it kind of gets them going and when you start telling them in advance, a coach may leak it out that today is our turn, those guys start thinking about it and that's what it's all about. Being a little uncomfortable, a little challenged, can I do it with the whole team watching. I think that adds a little more challenge to the period. I think it kind of wakes some guys up that are maybe starting practice a little slow and it has bled over into the next period so it's been good in that way too.
(on if David Stewart will miss much time)
I think we are going to be careful with him, and I'm sure we will probably keep him out this week and it's something that we feel probably next week he will be fine.
(on if he considers it a luxury to know coming into camp exactly who his kicker is going to be)
Definitely, those kinds of things are a great knowing that in the last few years we have been very blessed that those guys have done very well, punting well and kicking well. It's one less thing to worry about as a head coach.
(on what Rob Bironas has done to establish himself for an extended period)
I think it's just he has made the big kicks for us. We have put a lot of pressure on him the last so many years, especially the last couple of years when we are not finishing drives. You hate to count on your kicker that much, but at least we know that if we have to at the end of a game, especially for a head coach, to know how far you have to get before he can make the big one. He has done it for us so we have a lot of confidence in his ability and we hope to not lean on him too much and put him in too much pressure situations. But the way the league is the games get so close, they come down a lot of times to that kick, so it's great to have someone we feel can make it.
(on if Rob Bironas is still finding his way through this camp)
I think so, I think it's one of that you don't want to talk much about. You just kind of want to let him go and do his thing and it will work its way out. I won't start worrying about that until it starts costing us games in some way. I think he will find his way. I have no idea what camp is like for a kicker. I just hope that he is getting enough work out here and we have confidence that when the time comes and we start playing he will be on his game.
(on what percent of health is Kenny Britt )
If I just watch him out here in practice, and Derrick (Morgan) hasn't missed a practice I obviously feel real good about where he is at. I just think he will get better. His quickness will get better, his moves will get better, his change of direction will and that's just a natural thing when you are coming off of a knee. What you see now is that he is on the field and I think he is going to get much better as the weeks go on. Kenny Britt is the same way. He looks pretty special to me, but I think he has another gear too. I think that will come in time too and we don't need that right now, we just want to keep him healthy, keep him working because we know we need him when the season starts.
(on the health of Nick Schommer)
I am hoping he will be able to do more and we will see where he is at, but right now he is still questionable.