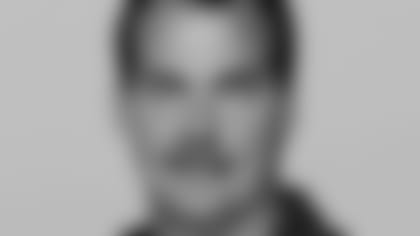 (on if some of the younger players are going to get more playing time against Indianapolis)
We'll probably have some players in the game yeah.  I'm not going to disclose who for competitive reasons, but we're probably going to have some younger players in the game.
(on how Michael Roos does against Dwight Freeney)
Mike's done a nice job against him.  He's one of the best rushers in the league and has been for a number of years.
(on if the message to the team for the final game of the season is to not quit)
We don't bring up the quit word, there is no quit in this football team.  We're going to play hard, we're going to grasp the game plan, go out there and make plays and play with great effort just like we've been talking about all year.  We have a huge challenge, obviously their motivation is a little bit different than us—they need to win this to win the division and we need to win it to win it.
(on what the Titans motivation is for Sunday's season-finale against the Colts)
To go out and win the last football game of the year.
(on what kind of a message it is to the team to go out on a winning note)
It's important.  It's very important.  You go out and try to win every game.  We know this is a tremendous challenge, they're playing well, they got their run game going, their defense is playing very, very well, but we have a good game plan in and we just need to go out and make plays.
(on him saying that winning the last game of the season and carrying that momentum into the offseason is important)
No I didn't, at that point if you go back (to 2004) I just said it's good to win the last game and it was great to see some young guys make plays.  I didn't make a big deal over it, as was speculated.  It's always good to win the last game.  There is one team that wins the last game of the year.
(on if the Colts are running the football more than in years past)
In the last three or four weeks, and they've done a great job.  Joseph Addai came back last week; he didn't play the whole game.  (Donald) Brown's running real well and Peyton (Manning) puts them in a great positions.  He has plenty of time to adjust and he puts them in a great position to run the football.  We're going to have to play very smart football on the line of scrimmage.
(on Marc Mariani being selected to the Pro Bowl)
I think anytime you have one of your players selected to the Pro Bowl it's quite an accomplishment, quite an honor considering they're voted on particularly by their peers.  For Babs (Jason Babin) and Marc to make it, that says a lot about their production.
(on how surprising it is for a rookie to make a Pro Bowl)
It's somewhat uncommon, it happens.  I mean rookies will make the Pro Bowl, but Marc (Mariani) had a lot of help this year from all those guys that were blocking for him.  Coach (Alan) Lowry schemed things up well and he took advantage of his opportunities—I'm just very happy for him.
(on finding a Pro Bowl kick returner in the seventh round of the NFL Draft in Marc Mariani)
It was a need going into the draft.  We felt like when Marc was there and Damian (Williams) was there, obviously, that we had a chance to fill that need.  Marc won that job and the rest is history.
(on why Chris Johnson hasn't had as many long runs as he did in 2009)
Again, I think it's the numbers on the line of scrimmage.  His numbers are still good, eight 100-yard games and he's not had the long ones—we've had some opportunities, but we've missed some holes, missed some blocks and we of course had a long one called back.  I think a lot over the middle part of the season had to do just with our lack of production in the passing game.
(on who he thought would be the Titans kick returner on draft day after drafting Damian Williams in the third round and Marc Mariani in the seventh round of the NFL Draft)
They had both done it in college, so we figured between either one of them we would solve the problem.  Back when early in the preseason as we were going through there, there was that opportunity to use them both.  I mean use one as the punt returner and one as the kickoff returner, but Marc took it and ran with it.
(on what they saw in Jason Babin to make them sign him in the offseason)
You know, we just felt that Jason had the skill set to fit the position and the way we play it.  He was an effort guy, he was a good get-off guy and had great hands and lean and we just felt like he would fit.  Obviously, we were hoping to keep Kyle (Vanden Bosch), but we didn't so we went to the next guy that we thought would fill that void.
(on if Chris Johnson has done what he would have hoped he would do following up his 2,000-yard season)
I think if you go back and look at those backs who had 2,000-yard seasons and look at what happened the year after, the high expectations are always there the year after, but I think CJ is probably ahead of any of those backs who had 2,000 yards.  The expectations were there, it just didn't happen.  He's still a terrific back and a big part of our offense.
(on Marc Mariani potentially playing wide receiver for the AFC Pro Bowl team)
You can imagine what a thrill it would be for him to catch a pass from Peyton Manning or Tom Brady, imagine that as a rookie.  It will probably happen.  Our experience over there is that the returner usually gets a chance to play offense or defense.
(on if Marc Mariani potentially playing wide receiver for the AFC Pro Bowl team increases the chances he'll get some reps at wide receiver in the season-finale against Indianapolis)
I don't know, you'll have to come up and watch.
(on the chances that the Titans will experiment with different things schematically or personnel wise in their season-finale with the Colts since they have been eliminated from the playoffs)
Probably a pretty good chance—defensively, obviously, you have to be smart taking into considering who you're playing against, but offensively their might be an opportunity to do some things.