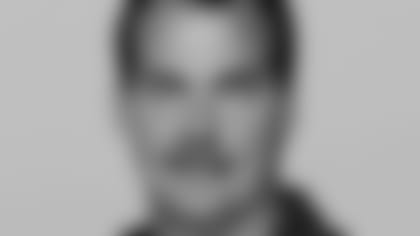 I just want to take this opportunity to recognize Mike Roos.  Mike was selected as one of 26 players in the National Football League by USA Football and the NFLPA as one of the 26 that represent fundamentals in the National Football League.  It's a great honor for Mike, there is a distinguished committee that looks at tape and that would include Carl Peterson, Jason Belser and Merril Hoge along with a number of other representatives from the NFLPA.  Mike was selected and will be represented—USA Football is obviously the organization that really fosters and promotes football development for the youth and they start with fundamentals.  Mike is one of 26 and I think there will be a $1,500 donation made to the high school of his choice.  Congratulations Mike and we're proud to have you representing that program.
(on Tony Brown being placed on injured reserve)
We've made several moves over the last couple days.  One was Eugene Amano (being placed on injured reserve), which we did [Monday] and of course Tony Brown.  Tony has been battling the knee issue, both knee issues, throughout the season and as you know, the guys who have been out to practice, know he's not been able to practice much.  He just came in really, really sore after the weekend of rest and I felt like the knee would be prohibitive from the standpoint of playing anymore this season, so we placed him on injured reserve.  We brought up Kevin Matthews and of course we signed Malcolm (Sheppard) on Monday when we IR'd Eugene Amano.  So we've got an offensive lineman and a defensive lineman for both.
(on if there is anything serious about Tony Brown's knee because he never really recovered this year)
This is the other one, this is the other knee.  He may have some minor arthroscopic surgery, but we're going to let it settle down and evaluate it.
(on how frustrating the injuries were for Tony Brown this season)
Well it was, everyone needs to practice and Tony got to the point where he was having a hard time protecting himself.  It was a courageous effort throughout the year playing with a great deal of pain and trying to help us win and be productive on defense.
(on what kind of opportunity is it for the coaching staff to get to evaluate some of the younger players through game experience)
I don't know how the active roster is going to shake out and how we get to 45, but it's an opportunity for a couple of young guys.  There is a chance where we'll have a defensive lineman who hasn't played for us on the active roster.
We really liked him coming out.  He is very strong, explosive, he has good feet and a very smart guy—Wash (Jim Washburn) was extremely impressed with how quickly he picked things up today.  He's one of those effort guys that kind of fits us well.
(on how Arian Foster was able to slip through the draft and have the success he's having now)
There are a lot of backs, not only he, but there have been some other backs that just for whatever reason don't get drafted.  Teams having running backs on their roster, they'll draft a running back here and there and then you go out and try and sign the best free agents.  It was a great pickup for them, he's a terrific back and he's going to be a big challenge for us.
(on if Arian Foster is the most shocking player in the league statistically speaking)
Well there are a lot of players in this league right now that are playing well, but considering his story that he was undrafted I think it's pretty impressive.
(on if getting healthier on the defensive line will help the Titans slow down Arian Foster)
It's a team effort as far as that's concerned, as far as tackling and run fitting.  We've benefited, clearly, from the weekend off.  Guys have come back.  Sen (Sen'Derrick Marks) practiced today, Bab (Jason Babin) feels good, JJ (Jason Jones) is healing up a little bit so we'll be okay.
(on what he is seeing from his players from an enthusiasm standpoint)
They are really excited about playing.  They had time off, well rested and had a great practice today.
(on how much it would mean at this point in the season to get a win)
That's what we set our sights for every week.  We haven't been eliminated, there are some things that can happen out there and if everything goes well this weekend, if we're fortunate to find a way to win and we get help then we're still alive.