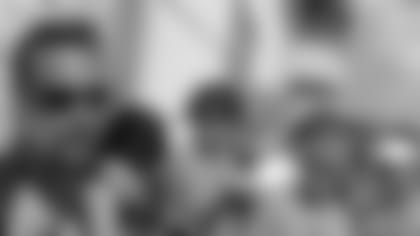 (on Vince Young saying he hadn't talked to Coach Fisher this week about being pulled)
Well, that's between Vince and I.  Vince had a great day at practice today, and he's ready to play this week and he's going to play well.
(on if he's planning on talking to Vince Young about pulling him from the Steelers game)
I'll talk to him like I talk to everybody else on this team throughout the week.
(on what he needs to do moving forward to not have that situation play itself out again)
He's just got to understand that and play well.  Just execute the game plan and play well.  Like he's been doing for the last couple years, this was a one-time thing and I discussed it.  There is no sense in rehashing it.
(on if he's concerned about Vince Young's confidence level)
No, he had a fine practice today, as if nothing had ever happened.
(on what he wants to see from the Titans in practice this week after the loss)
Just what I saw today, we put this thing behind us on Monday.  Most of them were in yesterday doing the extra work, and they came in this morning, installed the game plan and they have responded well.
(on if he addresses the team's current nine-game winning streak against the NFC with his team)
No, we don't ever talk in terms of those things.  What we talk about is getting to know an unfamiliar opponent.  We haven't played the Giants in a number of years and we have just a short amount of time to get to know this opponent.  We haven't banged heads, we haven't covered their receivers and they're for the most part unfamiliar to us.  The more time you spend familiarizing yourself with an opponent the better chance you have.
(on how much his history with Giants Coach Tom Coughlin will help in the familiarizing with the Giants)
Well Coach Coughlin has his own philosophy and they're going to do what they do.  He has a number of the coaches on his staff that have been with him before, but they different players—as I do.
(on how happy he is for former Titan Keith Bulluck in his ability to recover so quickly from his injury)
You know, he's playing well.  There is no question in our minds that he was going to have any difficulty with it (recovering from his injury).  He jumped right into rehab and was very aggressive with it.  He's always been a quick healer and I'm happy for him.  He's playing well, he's the old Keith back there and running around and making plays for them.  It should be a good challenge for us.
(on what they can do to try and help Chris Johnson get on track more during the course of a game)
We'll pick it up and throw it.  We did a little bit of that against Oakland and we can't rely 100 percent on CJ to win games for us.  We have other players in the offense, so the deployment of the defense and their defensive philosophy week-to-week will create a situation from which you have to adjust.  But the same thing, as we saw last week you're getting no gains, one yard, two yards, three yard carries and all of a sudden he goes 85.  You have to continue to get him the ball, but at the same time other players on the team can make plays as well.
(on Keith Bulluck disputing the claim that the Titans reached out to him during the offseason about a potential contract)
Well I'm not going to rehash that, we discussed that before.  Again, I'm happy for Keith.  I'm really happy for Keith.  He had 10 great years here and he went through the ups and the downs with us and was a tremendous player for us.  I'm not going to get into who said and what was said and what was not, but ultimately bottom line is Keith made a decision to leave.
(on if Keith Bulluck can help the Giants because he knows the Titans system so well)
You know, he understands our defense but he doesn't know what we're going to call when.  I don't know how much he paid attention to the offense.  He understands that we put things in week after week after week that are different.  I am sure from a terminology standpoint he might be able to share some ideas, but it's nothing that we're nervous about.
(on if it will be different for Bulluck trying to tackle Chris Johnson in a game as opposed to in practice as he is accustomed to)
Yes, I think he has a tremendous amount of respect for what CJ can do.  I am sure with Keith's situation there he'll eventually be back on the field in their nickel and dime packages, if he's not there yet.
(on Keith Bulluck saying he had his agent send around a tape showing how his recovery was progressing and if he had seen the tape)
I'm not going to go into that, what good does it do to discuss these things?  I'm happy for Keith, we're going to play the Giants, we're not playing Keith Bulluck, we're playing the New York Giants.
(on if defensive line coach Jim Washburn has lost any effectiveness now that he has to coach from a wheel chair for the next few weeks)
It's not an easy thing that he's going through right now.  He's in quite a bit of pain, but he's out there and he's working hard through it.
(on if Coach Washburn can still do everything he needs to do)
The job is getting done.  Yes, it's getting done.
(on if it will be strange seeing Keith Bulluck on the field in an opposing team's uniform)
It's really no different than anybody else.  I mean we went to Dallas and we saw Eddie George in a preseason game.  It's really no different, it's just the nature of this game.