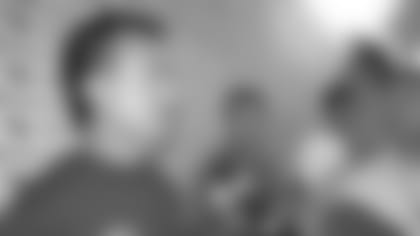 (on coming inside the bubble because of the storm)
"We're very fortunate to be able to do it.  We had planned on going outside.  I thought they handled the heat and recovered well the last couple of days but, you know, we got the work done."
(on Rusty Smith receiving praise from teammates)
"Well there's another side to that too.  The defense is giving up the big plays.  But Rusty (Smith) knows what he's doing and he's throwing the ball well."
(on Rusty Smith's improvement)
"He's picked up things.  This offense is not an easy offense to learn initially.  He hasn't struggled with it whatsoever.  He's spent the extra time and has made good decisions."
(on Paul Williams not practicing)
"Yeah we backed him down yesterday but I'm sure he'll be back here soon."
(on Kenny Britt's citation)
"Yeah, I don't like getting those phone calls at 12:30 in the morning.  Basically Kenny (Britt) got caught up in things that happen with young adults.  He had some issues.  He thought one thing was taken care of and it was not.  He'll get it resolved."
(on whether Kenny Britt missed curfew)
"He didn't miss curfew, he was late for curfew."
(on the organization's involvement with Kenny Britt's citation)
"Well the organization has been very much involved in trying to monitor things that need to be cleaned up early in the offseason and we were led to believe that they were taken care of.  You know we do have the capabilities and we probably should do a little bit more than we have, but when someone says everything is fine we assume that everything is fine."
(on Ed Hochuli's physique)
"Well he takes care of himself.  It's important to him to take care of himself.  He works out on a consistent basis.  He's an attorney and he's been in the league 21 years and he's done a lot for the league and the officiating department."
(on whether the offensive line is up to speed on Vince Young's running packages)
"It's just timing.  It's all timing.  The defense is ever-changing so you just have to practice those things and you have to be able to react and respond.  A lot of it is timing and I think the offensive line … You know when Vince (Young) is in the pocket and he decides to go, they don't have any control over it.  He just goes.  They try to keep the pocket as clean as they possibly can for him.  They know where he's going to be.  That's one of the things that he's done much better.  Whether it's a three-step or a five-step or a full drop, they expect him to be in a particular area.  Over his career he wasn't or he drifted or things like that and when you're trying to keep a clean pocket, but all that is coming around."
(on whether there will be less running plays for Vince Young this year)
"He made a lot of plays with his legs.  That's the added dimension to our offense.  We've got CJ (Chris Johnson), we've got a good group all around, but we've still got his legs.  He just makes better decisions now and he's throwing with better accuracy so there's improvement all around."
"He's picking things up and he's happy and he's powerful.  He's a powerful inside runner and he's got some move.  A lot will be determined on how he does at this level on how he does in the preseason."
(on LeGarrette Blount's weight)
"Yeah he's well conditioned.  He's got the quickness.  If he lost eight or 10 pounds it wouldn't make a difference as far as he's concerned."
(on whether the team needs the break on Sunday)
"We're going to come back and catch up on the film study on Sunday evening but they need it.  They're required to get it and they need it.  They know that it's an opportunity for them to recover and that's the most important thing anyway.  Many of them will be here on Sunday anyway, that's just the way they are."