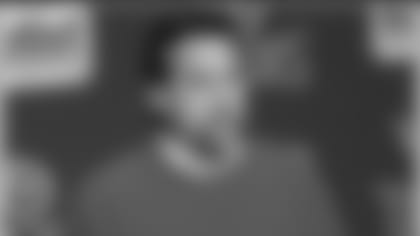 HEAD COACH JEFF FISHER, MONDAY, DEC. 8, 2008**
(On four different players scoring touchdowns)
I mean we're spreading the ball around a little bit. Of course, it all started yesterday with the running game, our ability to run the football. A couple of the touchdown passes were play-action-related touchdown passes. That's where it started. As I've said, I think on a weekly basis, the run game is a week-to-week thing. You want to establish it, keep it going. We talked about getting it back. Well, at least in the last couple weeks, we've run it with some consistency and so it's good to see.
(On having the second-highest scoring team in the AFC)
The offseason goal was to increase the scoring and however you do that, our red-zone efficiency on both sides of the ball has been good, that's the reason we're at where we're at. We put two drives together yesterday, we had a 94 and an 83-yard drives for a touchdowns. Then we had short drives. After the punt return we had a one-play drive that was good. We're getting the ball in the end zone and we're getting in the end zone for the most part on the ground, which is a hard thing to do. But we're committed to that and when Kerry [Collins] gets the opportunities like he did yesterday he made a couple plays.
(On the play-action success)
Well, we've made some plays down the field as a result of the play-action pass. Play-action also gives the quarterback a little more time from a protection standpoint.
(On what it says about Chris Johnson gaining 1,000 yards this season while splitting carries)
We had a situation yesterday where we were very close to accomplishing something that had never been accomplished, at least since 1976, and that was to have back-to-back, two 100-yard rushers. We had it for about 30 seconds and then we lost it on the fourth-down play. Both backs, I mean Chris is doing what he's doing because LenDale [White] is doing what he's doing and vice versa. We're keeping them fresh and we're able to spell them and they're not taking the pounding of a 30-plus carry game.
(On if he was aware that LenDale White had temporarily reached 100 yards rushing)
(On why there were many skirmishes after plays yesterday)
You got two physical teams and they're playing to the whistle and those things are going to happen. We had a couple things. Kevin's [Mawae] deal, I thought that was kind of bang-bang. But we're finishing plays and pushing downfield and blocking and they're trying to get off blocks. It happens.
(On the point after attempt where a Titans player was stepped on the head)
I have not gotten that tape yet. But he was. They got good penetration on the extra point [with] a field goal block and as he came through there I think he caught Ken Amato but I haven't looked at it yet.
(On if he thought anything was intentional on that play)
I'll have to look. I haven't talked to anybody about it and have yet to look at it.
(On the Browns calling back-to-back timeouts)
Yeah, the official shut the play down and the officials aren't supposed to allow that to happen. They don't want to necessarily penalize anybody for it but they should not allow that to happen.
(On what should have happened in that situation)
They should have said, 'Coach, you can't call another timeout, you just took one' and disregard it. But they restarted the clock, the clocks we had left in the stadium.
(On the stretch of Houston, Pittsburgh and Indianapolis coming up)
We go back and look at the entire season and we've had tough stretches all the way through. Nobody could predict the difficulties that some of our opponents had but yeah, I think it's going to be quite a finish. But again, we're focusing our attention on the next one.
(On Houston playing well right now)
Yeah, they will clearly be prepared and emotional and probably count this as one of the biggest games thus far this year. I'll take you back to our first game. I was very impressed with how they handled the game and how they played, considering the difficulties they went through because of the storm [Hurricane Ike]. We knew at that time that it was only going to be a matter of time before they start winning ball games. They've won six out of their last nine against some good opponents. They're very well-coached and [Steve] Slaton is everything we thought he was going to be and with [Matt] Schaub back now and the way the defense is playing, I know they only wish they had a better start so that they could be in the race, but they're building for next year, of course.
(On how important a win could be for the Texans)
Well, I mean each win is different, each opponent is different. Certainly, we have been fortunate for whatever reason to win our share of games against them over the last few years. So for them to put themselves in a situation where they could be successful this season, I think, could be huge for them.
(On the importance of the number one seed in the conference)
Well, there's clearly a difference between the one and the two seed as it relates to the championship game. It's a step-by-step process.
(On if he was disappointed with the Browns clock management in the final minutes)
I'll never speak or second guess the decisions of an opposing head coach. If I was asked to offer up an explanation for what they did, it's simple. Ken Dorsey had three snaps the week before we played them. He's going to have to finish the season for them as their starting quarterback and he needs opportunities and so I can't fault them for doing that. He's trying to put them in a two-minute situation, a live two-minute situation, to develop a young quarterback so they can finish the season.
(On if Dorsey were to get hurt during that time)
Well, that's the case any time you go in a two-minute situation.
Well, I don't have eyes in the back of my head but I was aware of what was going on. I guess I trusted the players that they wouldn't utilize such a tactic considering the weather conditions but I underestimated Keith [Bulluck] and Albert [Haynesworth].
(On what the Gatorade shower felt like)
It felt great. Were you out there or were you up in the warm [press box]? (laughter) You could imagine what it would feel like if you were standing on the sideline.
(On knowing the shower was coming)
You know, these guys did this this year. I didn't. They played hard and they did everything and we're managing the game. So I was just managing the game, that's all.
(On Kyle Vanden Bosch's groin and if he came out because of it)
We're going to look at it. We'll have more information for you on Wednesday. He did not go back in the game because he was being smart.
He'll be alright, he just twisted his knee.
(On Kerry Collins' second interception)
They made a play. I'm sure Kerry had a guy in his face. He was anticipating it, it was a timing route and he put the ball in a spot and they made a play. It was good defense. Mind you they held the Colts scoreless [on offense] last week so it's a very good defense. But this was the first game we were minus in the takeaway/giveaway all year. For our defense to give up six points after three sudden-change turnovers says it all.
(On if the team will add another player to increase the roster to 53)
I would expect us to be at 53 to take advantage of the opportunities.
(On if practice squad players would be possible candidates to move up)
That's a potential place we could go, the practice squad. Or we could look outside, too.
(On what the main message was to the team after the win)
Enjoy it, rest up and let's go win another one.